Fox Route 2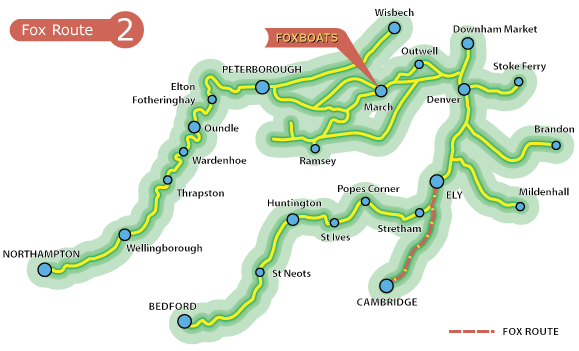 Map | 17 Miles | 4 Locks | Week Break
Google Waterways Map – GPS & 400 POI's
2 Ely to Cambridge
Approx 5 hours narrowboat cruising each way
1 week holiday return to hire base 4 hrs cruising per day (intermediate)
10 days 2.5 hrs cruising per day (relaxed)
Highlights
Free moorings
Wicken Fen
Punting in Cambridge
Cambridge Universities
Cambridge Museum of Technology
Excellent food & drink
First class historic sights
Popes Corner
Four and a half miles upstream from Ely we arrive at Popes Corner where the Great Ouse turns right to Bedford and straight ahead is the River Cam leading 14 more miles into Cambridge. The name of the Fish & Duck pub here reminds us of the original harvest of the fens before they were drained 400 years ago.
Burwell and Reach lodes
It is over six miles to the electrified, boater operated, Botisham Lock and on the way we pass the entrance to the short Burwell and Reach lodes at Upware Junction. Take the lode and cross the lock for Wicken Fen managed by the National Trust, described as it's oldest nature reserve and England's most famous fen.
Can be accessed from the GOBA moorings on Wicken Lode. Continuing along the Cam you reach the Swaffham and Bottisham Lodes. Above the lock we go by the Cam Sailing Club before arriving at Clayhithe Bridge where there are visitor moorings.
Fen Ditton & Cambridge
Two miles from Clayhithe we come to Bates Bite Lock, another boater operated electric lock, then go under the A14 road bridge and past the village of Fen Ditton. Around this point the usual rule of the river is reversed for the convenience of rowers so look out for the 'Keep Left' notices that mark this section. The Cambridge Museum of Technology is on the riverside and has mooring nearby. Once past this it is only two miles to the head of navigation for powered craft at Jesus Green Lock.
Cambridge Punting
If you want to go punting above the lock Scudamore's offer a wide range of tour and self-hire punting options.
Contact them on 01223 359 750 or via their website at www.scudamores.com and for more information on Cambridge see www.visitcambridge.org or telephone 0871 226 8006.