Day Boat Hire March near Cambridge & Ely
Day boat hire near Cambridge and Ely

Discover beautiful rivers and wildlife

Day boat hire perfect for family and friends

In the galley making the teas

Choose one of our route plans or self navigate
Day Boats
March Adventurer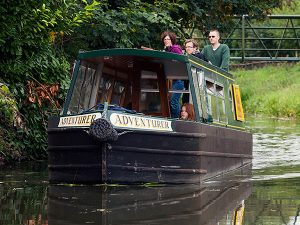 March Explorer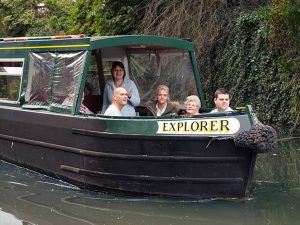 Enjoy a relaxing boat trip
Hire one of our narrow boats for a day and enjoy a tranquil boat trip along pictuesque rivers and spy the plethora of wildlife that lives on the fenland waterways. The day boats will carry up to 10 people. They are ideal for friends and family with lots seating at the front so everyone can enjoy the fresh air with a mug of hot tea. In case of a rain shower there is a see through cover at the front and plenty of seating inside. All our boats are pet friendly.
Celebrating a special occassion or wish to be pampered.  We have teamed up with Glam Grazing by Gem for platters to be available on arrival
New in 2018
We have become known as March Wharf  we are now a hirebase for ABC Boat Hire.
Interior
On board is a galley / kitchen area complete with hob, fridge and a sink. It comes complete with a dinette, equipped with crockery and cutlery. In addition there is a toilet and seating area.
Day Boat Hire details
Day hire times: 9.30am – 6pm
Number on boat: Up to 10 (must be 2 adults)
Pets: Dogs Allowed
Note: Security deposit £100 required
Routes
Take a trip eastwards through the town of March towards the picturesque villages of Upwell and Outwell (approx 6hrs 30mins) or…
Alternatively take a trip westwards towards Peterborough passing Floods Ferry Marina Park arriving at Ashline Lock and the town of Whittlesey.
More about our day boat hire routes or download our complete waterways map below.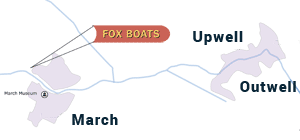 Availability
Our Day Boat Hire is available to book online on boats March Adventurer and March Explorer. Alternatively call our friendly reception staff who will advise and help you book. Our day boats are popular at weekends especially in the summer months so be sure to book early.