Following another successful fundraising year the staff and customers at Fox Narrowboats have raised £1744.76 for March Defibrillators during their Charity of the Year events.  March and the surrounding area has 35 defibrillators following a campaign started by March Councillor Rob Skoulding.  The cheque was presented by Fox Narrowboats Finance Director Tracey Baxter who said "I am always astounded at the generosity of the staff and public who support our charity events.  March Defibrillators is a worth while organisation and has provided the potential to save so many local lives." Events and activities this year have included a refreshment stall at the company open day, boat trips at March town St George's Fayre, evening boat trips, a second hand book stall and Christmas tombola.
Defibrillators in March are located in the following places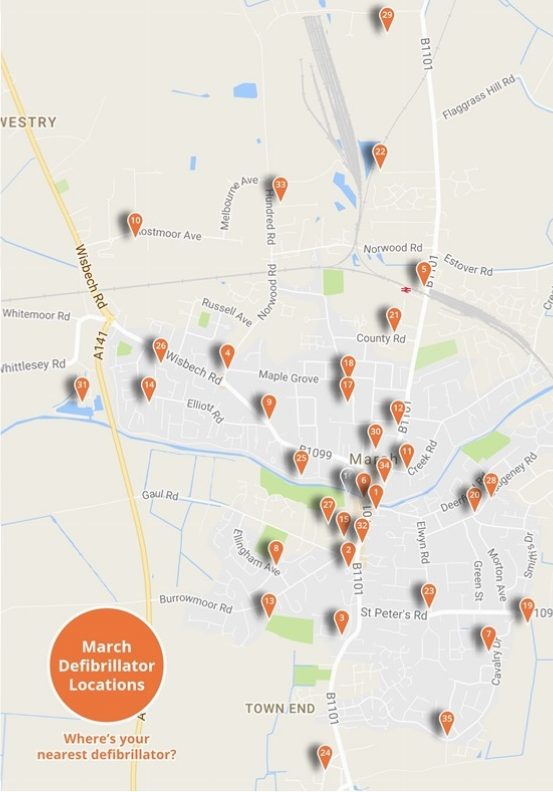 1.  Town Hall, Market Place, PE15 9JF (inside)
2.  Oliver Cromwell Hotel, High St, PE15 9LH (inside)
3.  One Stop Shop, The Causeway, PE15 9NT (inside)
4.  One Stop Shop, Maple Grove, PE15 8JP (inside)
5.  Braza Club, Elm Rd, PE15 8NZ (cabinet)
6.  Toilet Block, Broad St, PE15 8TP (cabinet)
7.  Cavalry School, Cavalry Rd, PE15 9EQ (cabinet)
8.  Convenience Store, Ellingham Ave, PE15 9TA (cabinet)
9.  Elliott Rd / Wisbech Rd, PE15 8EB (cabinet)
10. Tesco, Hostmoor Ave, PE15 0AX (inside)
11. Conservative Club, Creek Rd, PE15 8NF (inside)
12. Clovelly House, Station Rd, PE15 8LE (inside)
13. Cricket Club, Burrowmoor Rd, PE15 9RS (inside)
14. Elliott Lodge, Elliott Rd, PE15 8BP (inside)
15. Police Station, Burrowmoor Rd, PE15 9RB (inside)
16. Swimming Pool, West End Park, PE15 9LT (inside)
17. Football Club, Robingoodfellows, PE15 8HS (inside)
18. G.E.R., Robingoodfellows, PE15 8HS (inside)
19. Upwell Park, Upwell Rd, PE15 0DR (inside)
20. Scout Hall, Badgeney Rd, PE15 9AS (cabinet)
21. Fenland Hall, County Rd, March PE15 8NQ (cabinet)
22. Marwick Rd, PE15 8PH (cabinet)
23. Corner Shop, Elwyn Rd / St Peters Rd, PE15 9NA (cabinet)
24. St Wendreda's Hall, Church St, PE15 9PY (cabinet)
25. Riverside Practice, Marylebone Rd / West End, PE15 8BG (cabinet)
26. 118 Wisbech Rd, PE15 8EU (cabinet)
27. George James & Son, City Rd, PE15 9LT (cabinet)
28. CO OP, Badgeney Rd, PE15 9AT (cabinet)
29. PCML, Longhill Rd, PE15 OBL (cabinet)
30. March Community Centre, PE15 8LE (cabinet)
31. Fox's Boat Yard, PE15 OAU (cabinet)
32. Fossils Galore, High St, PE15 9LG (cabinet)
33. 2 Commercial Road / Hundred Rd, PE15 8QP (cabinet)
34. 2nd Scout Hall, Mill View, PE15 8SY (cabinet)
This is the 6th year the company has selected a charity of the year and since the inception has raised a total of over £12,225 for good causes.  In 2019 the company will be supporting  The Ladybird Boat Trust.
The Ladybird Boat Trust  (LBT) was set up in 2013 and is based at Hartford Marina near Huntingdon. The vessel Ladybird is wheelchair accessible and accommodates up to 20 passengers in a large heated cabin complete with kitchen and wheelchair accessible toilet facilities. The open foredeck area enables passengers to enjoy to the full the magnificent scenery and wildlife on the river. The service operates from mid April to early October and is crewed by a Boatmaster and trained crew, all of whom are volunteers who give up their time and skills to run over 100 trips each year. A typical trip is between 10am and 3pm, and is either upstream towards Godmanchester and Brampton, or down to the Hemingfords and St Ives.  Trips are open to groups of the disadvantaged or disabled, young or elderly (and their carers) based within reasonable road travel distance from their base on the Great Ouse near Huntingdon, Cambridgeshire.  Many groups return year after year and the annual boat trip is a highlight in their year.
Events for 2019 will again included boat trips at the March Town St Georges Fayre.