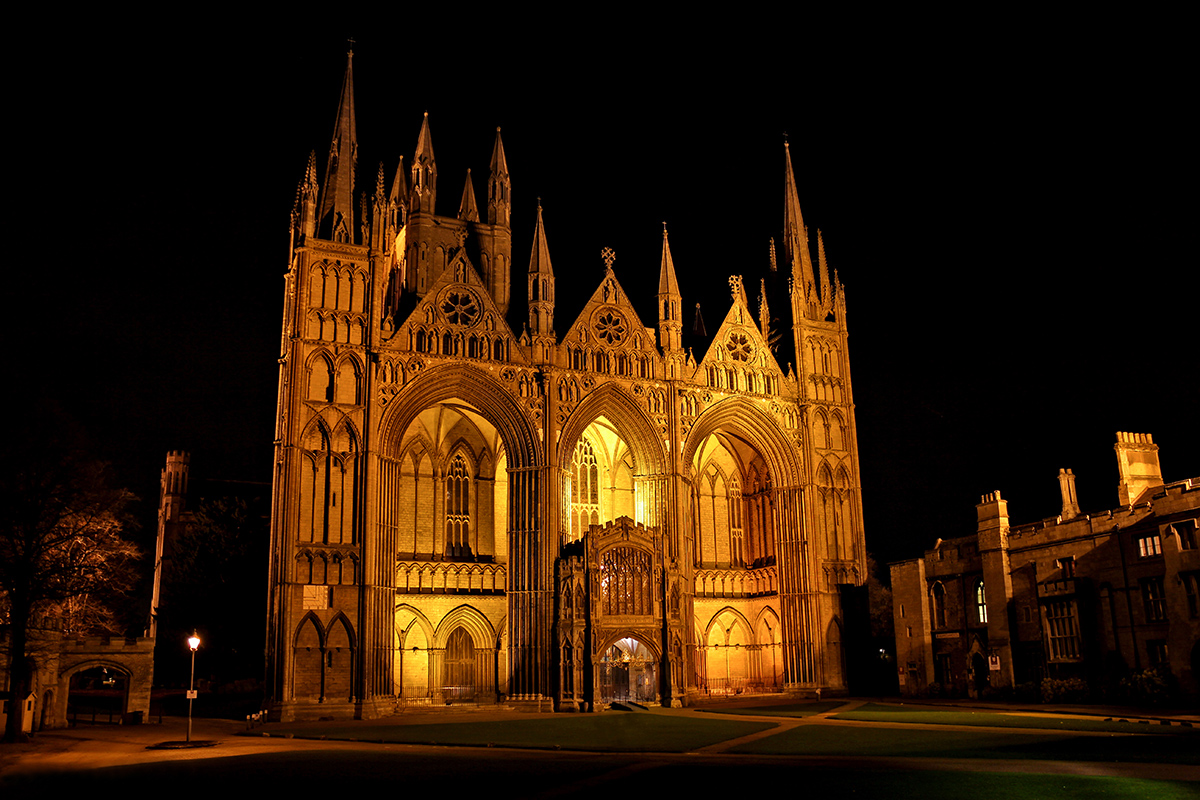 Christmas in England is synonymous with nostalgic traditions, Gothic churches, heavenly choirs, and charming town squares bustling with festive markets and twinkling lights. However, England's beautiful churches and cathedrals are almost forgotten for the rest of the year. Yet, many of these stunning buildings are worth a visit in any season.
Visit by Canal Boat
Many of the highlights of a Fenland narrowboating holiday are the ancient churches that link us to England's fascinating history. The former monasteries, now churches and cathedrals, of Crowland, Ely, Peterborough, Ramsey and Thorney have given the Fens the unofficial title of "Holy Land of the English." Although Ramsey Abbey was demolished after its dissolution in 1537 the market town of Ramsey is worth a visit by canal boat. (Moor on Ramsey High Lode and visit Ramsey Rural Museum.) In our article Four Churches to Visit When it's not Even Christmas we highlighted some impressive churches that you would see when cruising from March to Cambridge. However, if you choose to take the opposite direction when travelling from our March marina, you will eventually come across Wadenhoe Church, Peterborough Cathedral and Fotheringhay Church.
Church of St. Michael and All Angels
As you cruise along the River Nene you may enjoy the beautiful lock surroundings with ancient mills, before mooring up in Wadenhoe village to see the stone cottages, thatched rooves, the Kings Head, and Wadenhoe House. The beautiful Church of St. Michael and All Angels was used as the backdrop for the opening scenes of the 1999 version of A Christmas Carol starring Patrick Stewart, and is well worth a visit. (Read: 5 Ways this Unknown Village can Soothe Your Soul.) You can moor your boat near to the church and then take a bus to Peterborough from here, which gives you a day out in the city to visit the shops and cathedral.
Peterborough Cathedral
Peterborough Cathedral's impressive architecture is mainly Norman, following a rebuilding in the 12th century. With Durham and Ely Cathedrals, it is one of the most important 12th-century buildings in England to have remained largely intact, despite extensions and restoration. It has a rich and fascinating history and is the burial place of Catherine of Aragon, Queen of England under Henry VIII. If you go to Peterborough by boat instead of bus you might like to moor the narrowboat at Ferry Meadows Park.
Church of St Mary and All Saints
Fotheringhay is also worth a visit, says our mooring customer Chris Howes. This village is also on the River Nene, beyond Peterborough, cruising towards Northampton. This was the site of Fotheringhay Castle where Richard III was born and Mary, Queen of Scots, was tried and beheaded. Although the castle no longer remains, views of the village are dominated by a perpendicular style church, dating in parts to the 15th Century. Though the population of Fotheringhay has now diminished to just over 100 people and the village is quiet and peaceful, the size and splendour of this church tell us of Fotheringhay's historical importance. A local farmer charges for mooring here.
So as the New Year approaches, taking us closer to the unknown future, don't forget England's beautiful past. If you feel like you haven't got time for churches in your busy schedule, make them a part of your holiday plans with Fox Narrowboats next year!