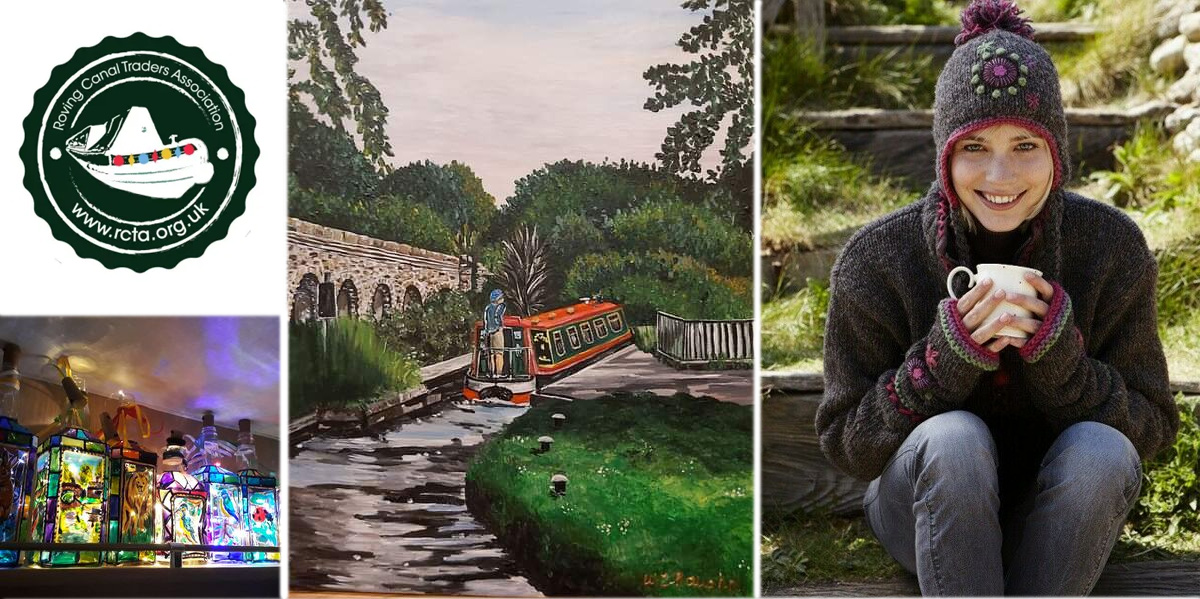 Photo: RCTA Roving Canal Traders (top.left), WendyBsfloatingartgallery (bottom+middle), nancymoo-22 ebay (right)
After the recent lockdown it's now more important than ever to support the small businesses and communities around us this festive season. By celebrating canal-based businesses and the products they produce we can celebrate the boaters themselves, and the stories behind them.
We have handpicked a couple of gift suggestions from independent canal traders to create a unique guide that will make your Christmas shopping simple and stress free. We want to showcase the talents of waterways artists, shop owners and independent book sellers whilst also providing a practical way to shop for your loved ones.
The Floating Market
The Roving Canal Traders Association are currently hosting an online Christmas Market Place on Facebook every day until 17th December 2020.  Boating business are posting their wares for sale daily, with links to their websites, Facebook pages, Instagram and Etsy shops.
RCTA Christmas Market: https://www.facebook.com/events/365873371151095/
This virtual online Christmas market is showcasing all canal traders, both floating and land-based.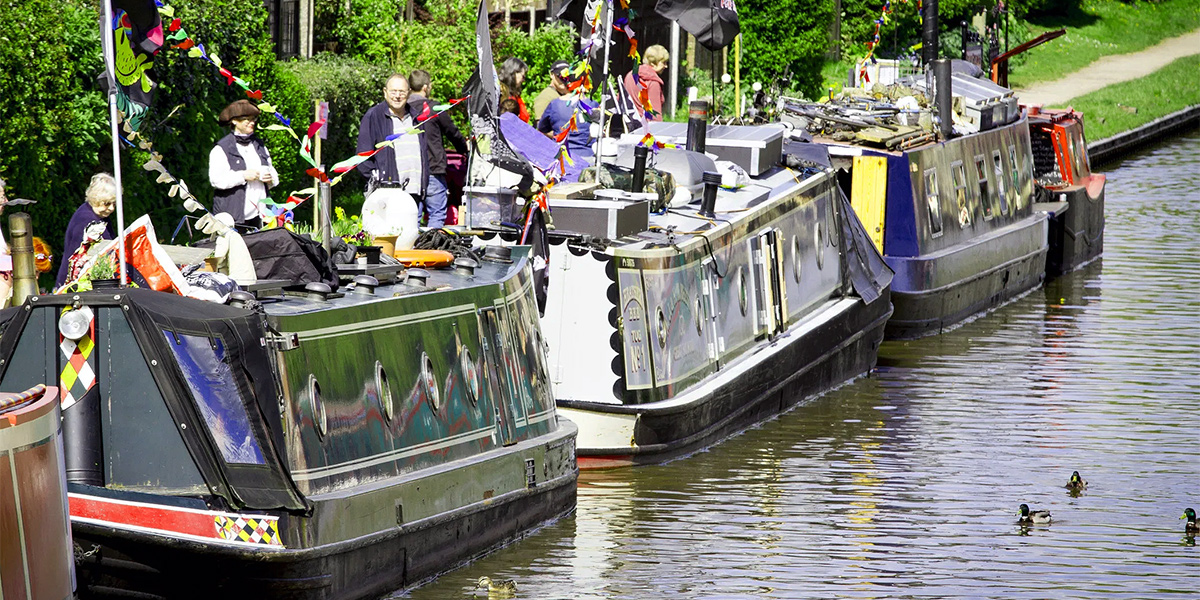 Photo: RCTA Roving Canal Traders Market
Unless you have extensively walked or travelled the canals of England and Wales, you will not have seen most of these traders or experienced the talent among them. The real fun of a floating market usually lies in strolling down a crowded towpath, chatting to the many characters that live and work on the "cut". But this year's pandemic has put a stop to such social events, and left many independent traders struggling. So please take some time to browse the posts knowing that floating traders are self-sufficient, and leave only a small carbon footprint on our world. It's a chance to find a special, one-off gift while also supporting small business.
The Floating Traders Online
Wendy Baughn is an international artist who used to be moored at Fox Boats marina. She has been painting all of her life, and offers acrylic paintings on stretched canvas boards. On her floating art gallery Facebook page you can see examples of her portraits, animals, scenic views and canal scenes.
Check out: https://m.facebook.com/WendyBsfloatingartgallery/
She is currently moored on the Shropshire Union canal.
Nancy Moo sells ethnic clothes, shoes, accessories and jewellery from her narrowboat, where she lives aboard with her two dogs. She sources the items herself, when travelling in India, and sells her wares while cruising the Grand Union Canal. Items include embroidered boho bags, a variety of beanies and other wooly hats, Tibetan yak wool shawls and throws, boho earrings, scarves, gloves, and embroidered silk cushion covers from Kashmir.
Check out her eBay shop: https://www.ebay.co.uk/sch/nancymoo-22/m.html
Word on the Water, the London Bookbarge, is A 100 year old Dutch barge, selling quality second hand and new books. They have classics, cult, contemporary fiction, a large range of children's books and art and photography, plus some quirky stuff that you would never think to look for but may be very pleased to find. Before Covid-19 restrictions, visitors could enjoy a wood-burning stove, poetry slams, readings and live acoustic music on their roof stage. To request any book for delivery to your door just use the form on their website. They also have a selection of Christmas gift suggestions. Let's support the little guys instead of Amazon this year.
Word on the Water: https://www.wordonthewater.co.uk/
The Gift of Family Time
Christmas can be a time to appreciate the people we love, despite the struggles our loved ones may have been through this year. Instead of giving gifts under the tree you may like to treat one another to an opportunity to spend quality time together in 2021.
If you book a day-boat hire trip for next spring you could surprise your family with the idea on Christmas Day. Boating appeals to all ages; so family members can be as active or relaxed as they like. You can bring a picnic, buy fish and chips, or find a pub or restaurant along the way. You may even get the kids away from gaming, and the adults away from their smart phones!
Find out more: Day Boat Hire near Cambridge and Ely
Tuition and lifejackets are included and there is no extra charge for fuel. You could ask the whole family to chip in, and agree to make some good memories together in 2021.
You may also like: The Ultimate Canal Boater's Christmas Gift Guide
Beyond Christmas: The Forgotten Churches You Should Visit by Boat
From all at Fox Narrowboats, Merry Christmas and happy shopping!
PS: One more gift for you! Click 'Blog' (top right) and look for 'Follow Blog' in the right sidebar to get the latest helpful holiday tips in these changing times. (We never share or sell email addresses, we'll only be sending you our local, insider knowledge, every two weeks.)
Photo: Copyright is held by the respective traders and associations