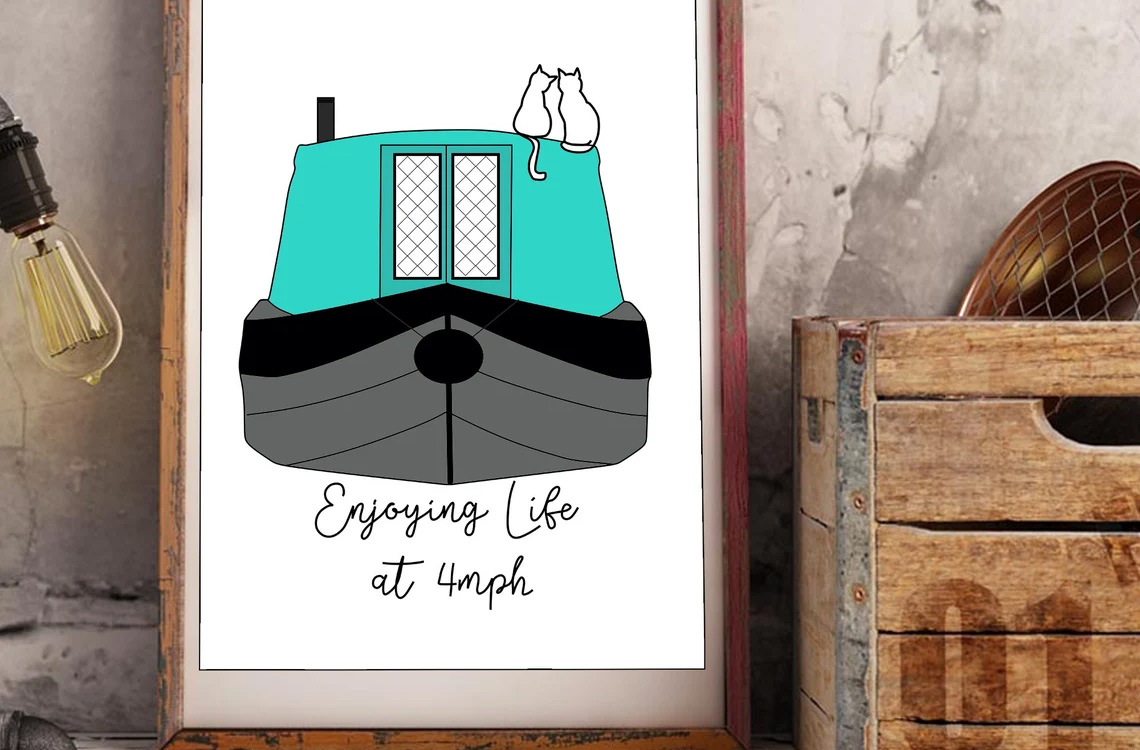 If you and your family love narrowboating and canal holidays, make Christmas shopping easier for yourself and check out these unique gift ideas. All of these presents can be ordered on line, so you can avoid the shops this year.
Although you don't need to learn lots of fancy knots to moor up a narrowboat, it can be fun to learn some different types. Knots and Splices by Steve Judkins and Tim Davison is a great little stocking filler. It's a small book that teaches some basic knots, splicing (joining ropes) and whipping (stopping the end unwinding). There are clear diagrams on every page. If you want to be a knot-tying geek this book will help the boater in your life to choose the best knot for any situation!
Many narrowboats around the country are actually floating businesses, known as Roving Canal Traders. In the summertime they sometimes join together to create a floating market, and last week in Nantwich they held their first ever Christmas market. The pandemic has left a lot of independent traders struggling, so if you can, This Christmas: Buy it Off a Boat! (2020 Gift Guide).
These anchor charm earrings are made by Ronni the Witchcrafter. Ronni used to be a roving trader, trading from her narrowboat, and now trades from The Hippie Shed, doing popular livestreams on Sundays from her Facebook page. She describes herself as a "HedgeWitch boater with an online and travelling Fairtrade, boho, hippie emporium, selling clothing, giftware and handmade Items. Check out www.WitchCrafter.co.uk
Dru Marland lives aboard a boat on the Kennet and Avon canal in Wiltshire. Dru's Etsy shop has original art work, maps, badges, illustrated poetry books, and art prints. Most of these items have a waterways theme. I love the Winters Eve pack of five greeting cards which shows a winter's scene on board the boat. Dru says, "The stove's going, the firewood's piled high, and there's whiskey and poetry. 'It must be cold in the winter,' say people who couldn't really be more wrong!"
For the serious boater how about this leather windlass holster? A holster on your belt leaves both of your hands free to use handrails properly, and reduces the risk of dropping it in the water. This is a handcrafted gift. In fact, Etsy is great for supporting small craft businesses. Try browsing for canal-ware painted with traditional roses and castles, canal boat mugs, or a personalised narrowboat art print. This one says, 'Enjoying life at 4mph'.
The late John Cunliffe wrote a number of Rosie and Jim books to accompany the popular 1990's children's TV series. Rosie and Jim are two mischievous rag dolls who live aboard a narrowboat called the Ragdoll, and come alive when no one is looking. My children used to enjoy Rosie and Jim: 50 One Minute Stories when they were younger. It's a collection of the stories which John writes in his book at the end of each of the Rosie and Jim TV programmes. The book is illustrated with decorated capitals at the start of each story. There are more suggestions of boating books to buy here: The Ultimate Canal Boater's Christmas Gift Guide.
And finally, to get younger children excited about their next narrowboat holiday try this Early Learning Centre Happyland Water Lily Canal Boat. The playset comes with two character figures and suits ages 18 months to five years. When it is not floating in the bath it can be rolled along the floor.
If you'd like to avoid tiring shopping trips looking for individual presents, why not treat the whole family to an unexpected boat outing? Our day hire vouchers for a trip on a narrowboat are for up to 10 people and make a wonderful Christmas gift. Read more: The Surprising Christmas Gift That the Whole Family Will Love.
Contact us today to arrange a gift voucher.
From all at Fox Narrowboats, Merry Christmas and happy shopping!
PS: One more gift for you! Click 'Blog' (top right) and look for 'Follow Blog' in the right sidebar to get the latest helpful holiday tips for next year. (We never share or sell email addresses, we'll only be sending you our local, insider knowledge, every two weeks.)
Photo credit: Personalised gift HannahsNarrowEscape Etsy