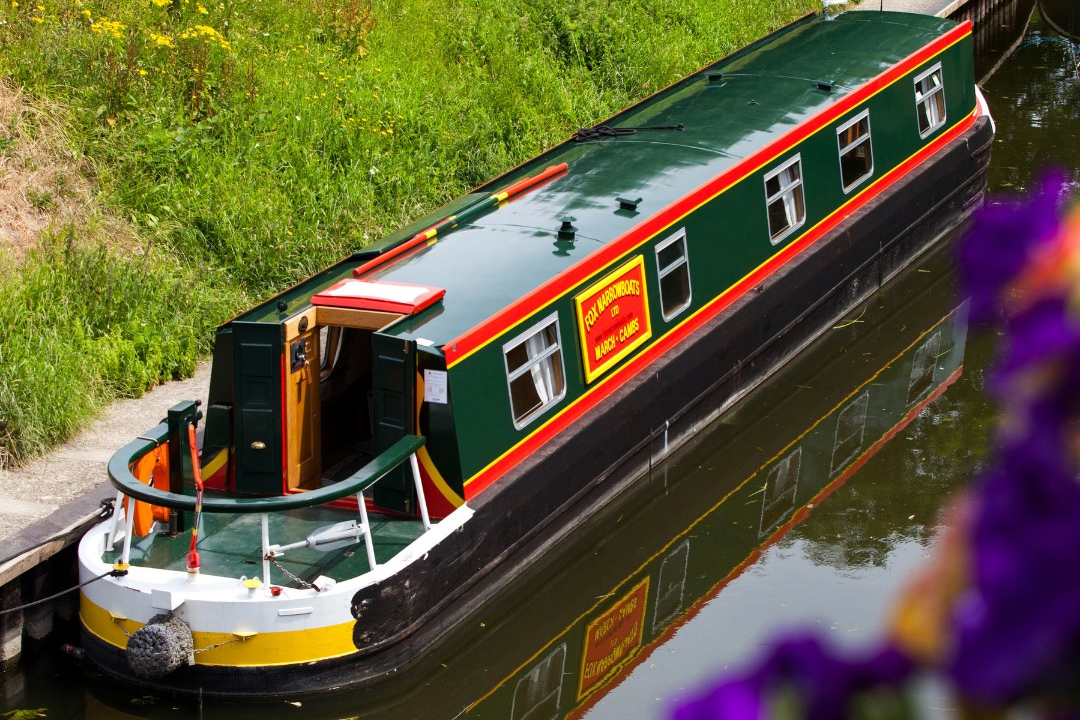 Credit: Fox Narrowboats
Now that the weather is getting colder it has inspired me to start browsing the internet for some holiday ideas for next year! If you're new to exploring the Fenland waterways you may like to use the internet to plan your next canal boat cruise, and daydream about the places you are going to visit.
If you're new to boating don't overestimate the distance that you can travel. While four miles per hour is the agreed maximum speed, in reality you will travel slower than this, and will stop for locks, pubs, shopping, wandering and exploring. It can take twenty minutes to work through a lock, and this could be longer if you find the lock in use when you arrive and have to wait.
Some boaters like to plan ahead, thinking about where to stop for lunch, or where you will moor the boat overnight. Alternatively, other people prefer to be more flexible about where they will end up. On some of the UK canal network you can moor almost anywhere on the towpath, but on our local rivers you may need to work out where you are headed. It is not always possible to moor wherever you like on a tidal navigation. Some rural moorings have steep banks which make it difficult to access the boat. It is also impossible to moor in some inner city areas where the towpath is sometimes solid paving or concrete, with no mooring bollards or rings provided. The 'off side' of the canal, opposite the towpath side, is usually private land and therefore not available for visitor mooring.
Environment Agency and other mooring sites are listed in the waterway guides and maps provided with your hire boat. Our company is also a member of GOBA so on the river Great Ouse their moorings are also available for holiday use.
If you are new to boating you may find it easier with two or more adults on board. It is not safe for young children to help with the locks and they will need watching while the boat is passing through a lock, so bear that in mind when you plan how many adults are to be in your crew. However, older children can and do enjoy boat handling if they are supervised.
Your holiday could be completely rural and quiet, or include a particular town or city that you have wanted to visit. We provide Imray guide books and Lockmaster maps with each holiday narrowboat. The Imray canal guide books cover our local area and describe local restaurants, pubs and attractions as well as detailing the locations of locks and boater's facilities.
When you've decided on your direction of travel and your 'must see' attractions, and towns, you will need to calculate how long the trip will take you and whether it is possible in the time you have available. You can use the guide book supplied with the boat  to help with this.
Alternatively, get the internet to do the planning for you! There are a number of canal route planners online. CanalPlanAC is an interactive online guide covering the inland waterways. It can be used to find local information such as pubs and shops. You can choose to assume a seven hour travelling day, or select your own preferred travelling times. The results page displays a lovely aerial map (by Google) and an optional slideshow of photographs so that you can imagine your cruise.
To plan you holiday select March marina as your starting point, then choose an out and back trip. Select a destination, for example Ely visitor moorings. The default time spent travelling is seven hours per day, but you may want to choose less than this, (say four hours) for a leisurely holiday cruise with lots of exploring on land! When the system displays your results you can click on any location on your journey to see a map and photos. It will also show you the nearest water point, rubbish disposal point and place to turn the boat around. You can also use this website on board. Wi-Fi is available on all our boats, which also have in-car chargers and 240v power supplies. There is a 1.25GB allowance for short breaks and 2.5GB per week.
You can also choose from our holiday route suggestions on this website. Our route guides will talk you through the boating journey, show highlights on the waterways and places to visit. You will cruise through rivers, canals and open sections during your boat hire holiday.
Now all you need is a boat! Choose which Fox Narrowboat would suit your family or group for a holiday and get day dreaming about the warmer weather!
Get more free tips for planning your holiday by signing up for our blog updates. Subscribe on the right, by email. (We never share or sell email addresses, we'll only be sending you our local, insider knowledge, every two weeks.)