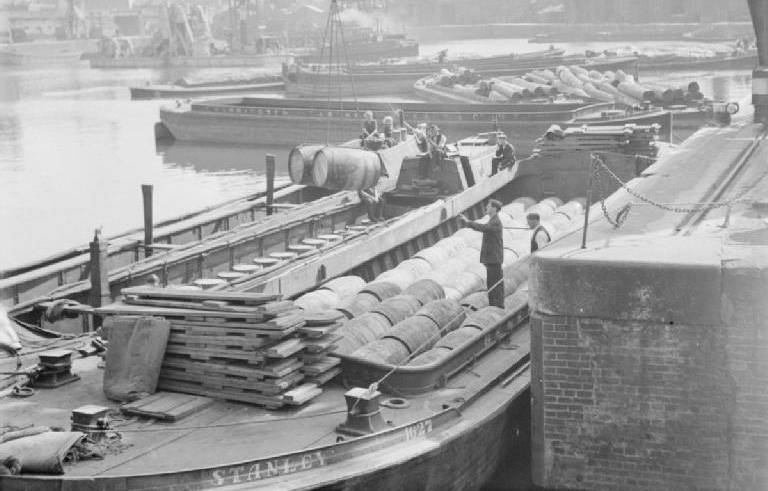 On Armistice day you may be surprised to learn that cargo-carrying narrowboats were an important part of England's war effort, and that many women volunteered to steer these boats when the boatmen were called up to fight. In her memoir The Amateur Boatwomen, Eily Gayford used her war time journals to write about her time training all-woman canal boat crews during the Second World War.
Read more: Secrets of the Amateur Boatwomen
So, on this day when we think of those who gave their lives, think also of the working boaters who kept our canals carrying essential cargo throughout the Second World War.
Next weekend The City of Ely Parish Council and Royal British Legion Branch invite all people in Ely to join them at the Cathedral on Sunday 14th November 2021 for a spectacular and moving service, as well as a march through town, parade and Act of Remembrance in the Market Square. All services at Ely Cathedral are open to everyone. Thousands of people visit Ely Cathedral every year and visitor tickets can be booked in advance. Cathedral tours include behind the scenes access to the cathedral's unique Octagon Tower, the West Tower and the Monastic Buildings dotted around the cathedral grounds. During the year the cathedral also hosts various events such as storytelling, talks, fairs and concerts, so check their website if you're planning a Fenland narrowboat holiday next year.
A narrowboat cruise from March to Ely takes nine hours, and Ely Cathedral can be seen for many miles across the surrounding Fens.  A tour of the Octagon tower on a fine day offers some stunning views.  A top tip when visiting Ely by boat is to visit midweek when the visitor moorings are less busy.
You could also visit Ely Museum, a bright and friendly local history museum, located in the Bishop's Gaol in the centre of the historical city. The museum takes you on a journey through time from prehistory to the twentieth century. Last weekend Ely Museum welcomed the teams from Khaki Devil and Great War Huts, who are leading experts on the British Army during the Second World War for a living history day.
If you're visiting Ely by boat you may also like to see Oliver Cromwell's House which has been refurbished to show how it may have looked during Cromwell's lifetime. The beautiful Stained Glass Museum is also in Ely Cathedral and displays an inspirational collection of stained glass, from medieval to modern.
You may also like: Are Museums Ever Fun? The Answer Might Surprise You
Our narrowboat holidays in the Fenlands are a wonderful opportunity to get lost in the past, wandering around quaint villages and market towns, and travelling like the boatmen of yesteryear. If you want to take your own nostalgic canal journey next year check availability now. We have some great holiday deals to enjoy.
If you enjoy reading about the Fenland waterways sign up for updates from this blog. (We never share or sell email addresses – your details are safe with us.) Just look for 'Follow Blog' in the sidebar on the right and we'll send you stories, tips and advice about narrowboating around the Fens.
Image: Ministry of Information Photo Division Photographer, Public domain, via Wikimedia Commons