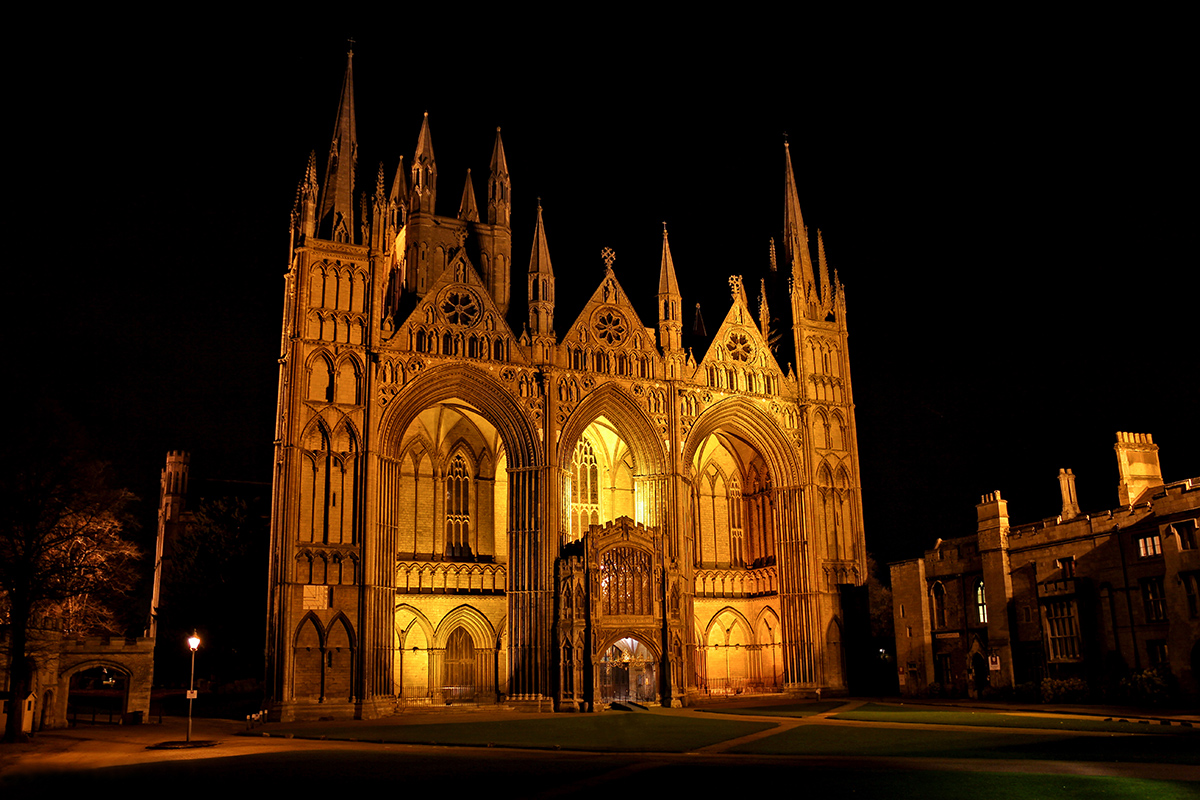 Traditionally Christmas is a time for carols and choirs, candle-lit services, holly and ivy, decorated trees, and children's nativity plays. So it's a popular time to visit your local church, or even a cathedral if you live near to one. We are lucky enough to be based between two stunning and historically significant cathedrals.
Peterborough Cathedral
This Christmas Peterborough Cathedral is offering concerts, with choirs and brass, carol services, a candlelight tour, a Christingle Service, and a theatre production of Charles Dickens' 'A Christmas Carol' as well as the usual Christmas Eve and Christmas Day services.
Peterborough Cathedral was rebuilt in the 12th century, and like Durham and Ely Cathedrals it has remained largely intact. It is the burial place of Henry VIII's first wife, Catherine of Aragon.
To get to Peterborough by narrowboat from our Fox Narrowboats hire base is a 12 hour return trip, which is ideal for a short break. On the approach to Peterborough the cathedral can be clearly seen across the flat fields that lead to Stanground Lock. There are visitor moorings on the River Nene along the length of a park which are convenient for the city centre. (Read more about this cruise: March to Ferry Meadows Country Park.)
If you visit Peterborough on your narrowboat holiday next year you can check out what events are on at the cathedral while you are in the area by looking at the website: Peterborough Cathedral
Alternatively, turning left from our marina you will shortly come to the Fenland market town of March where you will find free visitor boating moorings on either side of the town bridge. March to Ely is about 18 cruising hours return trip. (Read more about this cruise: March to Ely narrowboat holiday.)
Ely Cathedral
This cathedral is known as the 'ship of the Fens' because it is visible from miles away as you approach it. This Advent and Christmas Ely Cathedral is offering Christmas services and concerts with the Cathedral Choir, and various family-themed activities. There is also seasonal shopping in the cathedral shops, homemade festive food in the Almonry, guided tower tours up the Octagon Tower or West Tower, and a spectacular 30ft Christmas tree.
But you don't have to visit at Christmas to enjoy a cathedral tour, including access to the unique Octagon Tower and the Monastic Buildings around the cathedral grounds. While you are there you can also visit the Stained Glass Museum. Also in Ely you can see Oliver Cromwell's House, which is now a museum, the Ely Museum at the Old Gaol, and the antiques centre close to the river. There's so much to see here it's worth stopping overnight. If you're visiting Ely by narrowboat the city centre is just a short walk away from the moorings, up a steep hill.
If you visit Ely on your narrowboat holiday next year check out what events are on at the cathedral while you are in the area by looking at the website:  Ely Cathedral
Cambridge
Although Cambridge is famous for being a university city, it does not actually have its own cathedral. However, there are plenty of historic churches to appreciate when you visit. Cambridge falls within the Diocese of Ely (Church of England) and is associated with Ely Cathedral. Many of the churches in the city are affiliated with university colleges, having strong historical connections. All Saints' Church is a beautiful Victorian Grade-II listed structure. Our Lady and the English Martyrs has late 19th century, neo-Gothic architecture, a tall spire, wonderful stained-glass windows and many historic elements. Great St Mary's Church is near the Visitor Information Centre on Peas Hill, and dates from the late-15th century. Discover the 18th-century galleries and a tall bell tower, which can be climbed to see panoramic views of the city centre. There are many more noteworthy churches and colleges to wander around during your visit to Cambridge, and the journey there by narrowboat is beautiful.
From Ely to Cambridge is about five hours cruise each way. Read more about this narrowboat cruise: Ely to Cambridge.
Christmas in England is a chance to appreciate Gothic churches, choirs, and bustling markets in ancient towns. However, you could also include all of these joys on your narrowboat holiday next year. Check here to see what holiday dates are available.
You may also like: Four Churches to Visit When it's not Even Christmas
PS: A festive gift for you! Click 'Blog' (top right) and look for 'Follow Blog' in the right sidebar to get the latest helpful holiday tips for next year. (We never share or sell email addresses, we'll only be sending you our local, insider knowledge, every two weeks.)