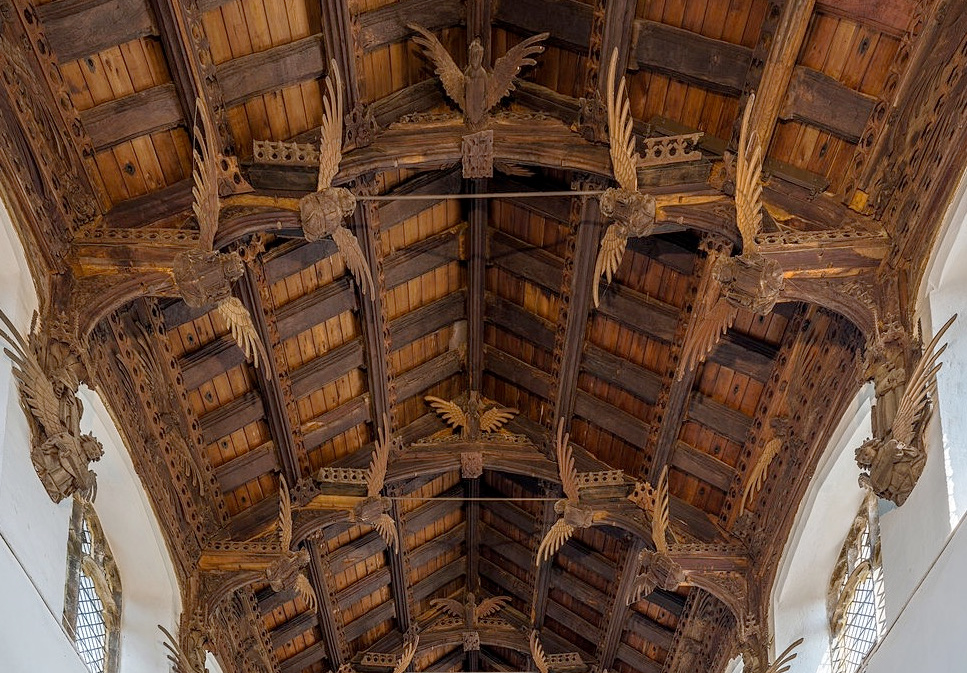 Image: St Wendreda's Church short walk from our Marina
(credit below)
The idyllic ancient architecture, candlelight, holly and ivy, and special services such as carols, advent, christingles and nativities make this a wonderful time of year to visit a church.
However, official statistics from the Church of England* suggest that Christmas is now the only time that British families go to church. While festive services remain ever popular, Sunday congregations are seeing a steady decline in attendance. If you're planning a canal boat holiday on the East Anglian waterways we would hate for you to miss out on the stunning churches that we have on our doorstep.
Here are four churches you won't want to miss on your canal boat holiday next year.
St Wendreda's Church
Before you set off from Foxboats marina in March, check out St Wendreda's Church which is just a short walk away. This beautiful church is the oldest in our town and is known for its magnificent double-hammer beam roof with 120 carved angels; it is regarded as one of the best of its kind. John Betjeman described the church as "worth cycling 40 miles in a head wind to see." (If you want to try this you are welcome to bring your bicycles on a narrowboat holiday!)
St Peter's Church
As you cruise through the Middle Levels you will come to the village of Upwell on the Well Creek; one of the most picturesque villages on the Fenland waterways. St Peter's Church originating in the 13th century, is well worth a visit because of the unusual tower. Inside there are 25 carved oak angels in the roof looking down into two Victorian galleries.
Ely Cathedral
If your holiday plans are taking you along the River Ouse then you must visit Ely's skyline-dominating cathedral. Its origins have been traced back to AD 673 and it has a historical connection to William the Conqueror. The cathedral is known as the 'ship of the Fens' because of its dominant position in the landscape, visible from miles away. Its most notable feature is the central octagonal tower, with a lantern above.
The gothic architectural design is stunning and you can also take a tour, around the Stained Glass Museum, which has a fascinating collection of rescued stained glass windows stretching back 1,300 years.
Ely has good moorings, and there is plenty more to see in this charming, ancient town so it's worth stopping overnight.
Kings College Chapel
If you have time on your holiday, do continue from Ely along the River Cam to Cambridge where there are many churches and chapels to visit, as well as the impressive university colleges. Don't miss St Peter's Chapel, the smallest church in Cambridge dating back to the 12th century. St Mary the Great is known as the university church and all distances in Cambridge are measured from its location. And finally, King's College Chapel is a true masterpiece of English craftsmanship.
Not Just for Christmas
So, while it may be that more people will watch the Queen's speech this year, than go to a Christmas church service, remember that churches aren't just for Christmas. They are a wonderfully preserved part of our heritage, with stories to tell and incredible craftsmanship to behold. Make sure to include some churches into your holiday plans with Fox Narrowboats next year.
For more surprising stories of things you didn't know about the Fens and Cambridgeshire subscribe to our blog in the right sidebar; look for 'Follow Blog'. (We don't send spam or salesy type stuff – just surprisingly interesting articles about our local waterways!)
*The Telegraph 28th October 2016.
Image Wiki Commons
By David Iliff (User:Diliff) – Commons file St Wendreda's Church Ceiling, March, Cambridgeshire, UK – Diliff.jpg, CC BY 3.0,