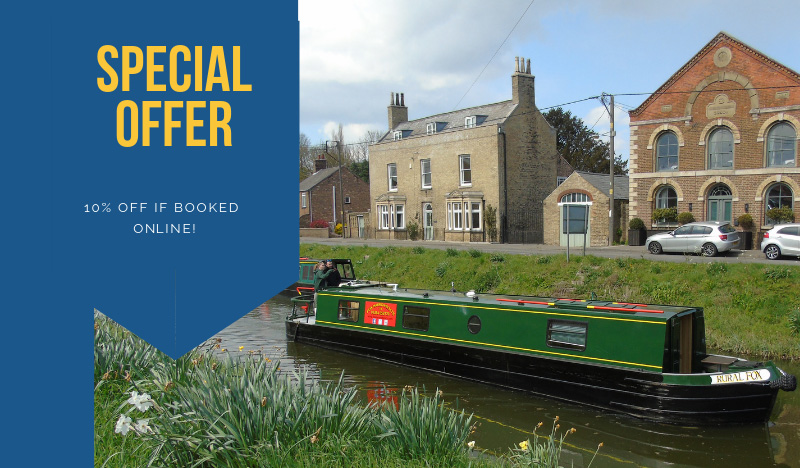 Do you find that luxury cruises are just out of your price range?
Do you lack the funds for the lavish yachting holiday you deserve?
Are you still struggling to save for a boat of your own?
No problem! A narrowboat holiday on the Fenland Waterways is a low-cost solution to your waterways wishes.  These uniquely British boats are quirky, slim and specifically designed to navigate the inland waterways. Canal holidays offer very good value for money.
Boat-lovers searching for a convenient vacation this summer need look no further than Cambridgeshire to quench their thirst for adventure and discover some of England's hidden treasures. If lavish boating holidays are beyond your budget we have several low cost alternatives for families, friends and couples on a budget.
Group Narrowboat Hire
If you want to enhance your relationships with your friends or family, suggest hiring a narrowboat as a group together. Some of our holiday boats sleep up to seven people, with all modern conveniences on board for your comfort. Make memories together, visiting quaint market towns, and mooring at country pubs, sharing picnics and meals out, and browsing ancient streets, cafes and shops. Self-catering in your own little gallery kitchen will save you more money; and fuel, Wi-Fi, bed linen and towels are all included in the holiday cost.
Day Boat Hire
Want to spend even less? The March Adventurer and The March Explorer can accommodate up to 10 people for a day out, so bring along a group of people that you love, and even bring the dog if you like. There is lots seating at the front so everyone can enjoy the scenery and wildlife. In case of rain there is a see-through cover at the front and plenty of seating inside. Bring a picnic, or grab some fish and chips for an economical way to eat out in the countryside. Our day boats are very popular at weekends, especially in the summer, so be sure to book early. Prices start at just £160 depending on the time of year that you take the boat out.
Online Discounts
Booking a holiday online can often save you money. Search by price range, holiday type or boat on our Special Offers Page.  You could also try booking out of season. When the busy summer season is over we offer some very affordable bargain breaks. Also, it's not too early to think about planning ahead for Spring 2020. The best priced deals are often the first to go, so save money by booking your canal boat holiday early. Our all-in price includes hire, damage waiver and fuel.
It might not have the glamour of a yacht, or the extravagance of a cruise ship, but narrowboat holidays come with the freedom to steer your own boat and plan your own itinerary.
With these three low-cost options ready and waiting, it's time to take action. Check out our special offers today.
You may also like: How to Save Money on Your Narrowboat Holiday
Hey! Are you new here? Subscribe on the right to receive more holiday tips from the Fenland Waterways, by email. (We never share or sell email addresses, we'll only be sending you our local, insider knowledge, every two weeks.)