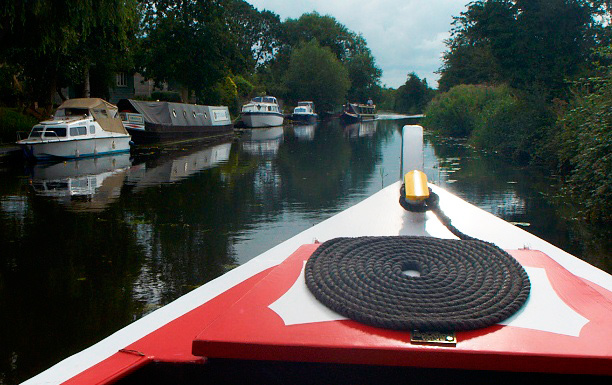 Hiring a canal boat is a great holiday choice for anyone who enjoys beautiful rural scenery and cosy country pubs, and early in the year is a good time to start planning ahead, to make sure you get the best boating holiday deals in 2016. Here are five ways to save money on your 2016 canal boat holiday.
Book Now for Spring 2016
If you've previously tried a canal boat break in the summer, this year you might like to benefit from the best prices by booking now for spring. A spring narrowboat holiday means that the waterways are less busy, the wildlife are awakening from hibernation and new baby animals and waterfowl are born. Trees blossom and daffodils, primroses and other English flowers unique to the season will brighten your cruise. Also, it's lovely to have cygnets and ducklings as visitors to your boat. Check out When Swans are Your Neighbours: What You Need to Know. (However, since I wrote that article I have learned that in spring it is best not to feed swans, ducks and geese as their natural diet is best for them.)
Try Day Boat Hire
Day boat hire is a wonderfully low-cost way to relax on our beautiful waterways, taking in the scenery and wildlife. With lots of room at the front and rear of the narrowboat everyone can be outside. Our day hire narrowboat has a galley, dinette, toilet and seating for 10 people. It's an economical alternative to booking a narrowboat holiday, and only 90 minutes from London by train. Book a day boat hire online.
Book Online
To get the best deals you can book a canal boat spring break online, it's easy and may save you time and money.
Book Travel Tickets in Advance
You won't need your car on a narrowboat holiday so some people choose to arrive by train. Rail operators offer quite good deals if you book 12 weeks in advance. Search for tickets to March.
All Inclusive Prices
At Foxboats our all-in price includes hire, damage waiver, fuel and gas. An all-inclusive pricing policy makes it easier to budget for your holiday.
More Choice
Our phones are busy in Spring with boats booking up fast, so if you have a particular boat in mind, or a particular date for your holiday then reserve your most suitable boat now to avoid disappointment.
Book Early
Be ahead of the rest; it's not too early to think about it! There are lots of advantages to planning in advance. The best priced deals are often the first to go so save money by booking your 2016 canal boat holiday early.
Special Offer.
All season 20% off Platinum Fox and Urban Fox booked before 29th February 2016