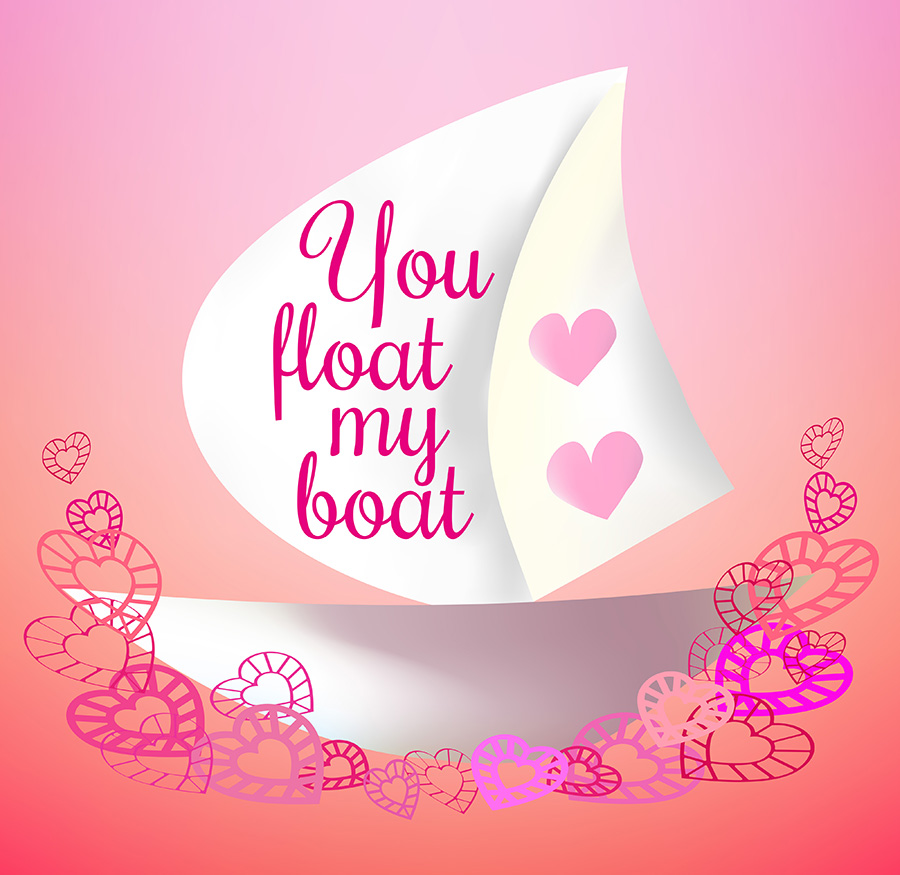 If you're looking for a Valentine's Day break, a romantic canal boat holiday could be just what you need. Surprise your loved one on 14th February by revealing that you have booked a short Spring break for two on the beautiful Fenland waterways.
Cosy central heating, a flat screen TV, a double bed made up for you on arrival and a tranquil rural mooring make a narrowboat the perfect romantic getaway. Decide at your own pace where to go, what to do and where to moor. These two romantic mini-breaks can be taken as a weekend break or a midweek break. (We do of course also offer longer narrowboat holidays as well.)
Two Valentine's Day Surprises to Rock Your Boat
1) A Tidal Adventure into Olden England
This trip involves about eighteen hours of cruising, so it can be done in a long weekend by a couple of enthusiastic boaters. It includes the added adventure of going out on a bit of tidal river on the Great Ouse.
Setting off from the Fenland market town of March you will pass through the twin villages of Upwell and Outwell, where the village streets line both sides of the river. If you visit in springtime the river banks are full of daffodils as you cruise past houses, gardens, shops and churches, and there are moorings if you wish to stop. After passing Outwell Basin and travelling through open countryside and another village you will make the tidal crossing to Denver. You will then pass more little villages and a few navigable tributaries of the river before arriving at Ely.
Ely is a historic cathedral town full of charm and beauty. Don't miss the Antiques Centre close to the river, the Oliver Cromwell Museum and the many shopping opportunities. You will also find plenty of choices of venue for your romantic meal before heading back towards the hire base at March.
For more details about this trip see: Fox Route 1 March to Ely
2) Market Towns, Meadows, Lakes and Woods
This twelve hour return trip is ideal for a short break. Crossing the Greenwich Meridian your cruise will then take you down Whittlesey Dyke. Whittlesey is a historic market town with visitor moorings above Ashline Lock. On the approach to Peterborough you will travel alongside a deep brick pit, and then the cathedral becomes visible across the flat fields that lead to Stanground Lock.
In Peterborough there are visitor moorings along the length of the park which are convenient for the city centre. Nene Park occupies around 500 acres of meadows, lakes and woods and runs for six miles alongside the River Nene. A series of guillotine locks really add interest to this journey.
When you reach Ferry Meadows Country Park Meadows you'll find cycle hire, a visitor centre, shop, a miniature railway, kite-flying, pony riding, nature-spotting and fishing as well as water sports on the ponds and lakes. There are pontoons provided for narrowboat visitor moorings on the Nene.
For more details about this trip see: Fox Route 3 – March to Ferry Meadows Country Park
Our Urban Fox 5 star narrowboat is ideal for a couple and the hire price includes all fuels used (diesel and gas), VAT, car parking, towels and bedlinen. If you want to float away with the one that you love this Spring we are now taking bookings from March 2016 onwards.