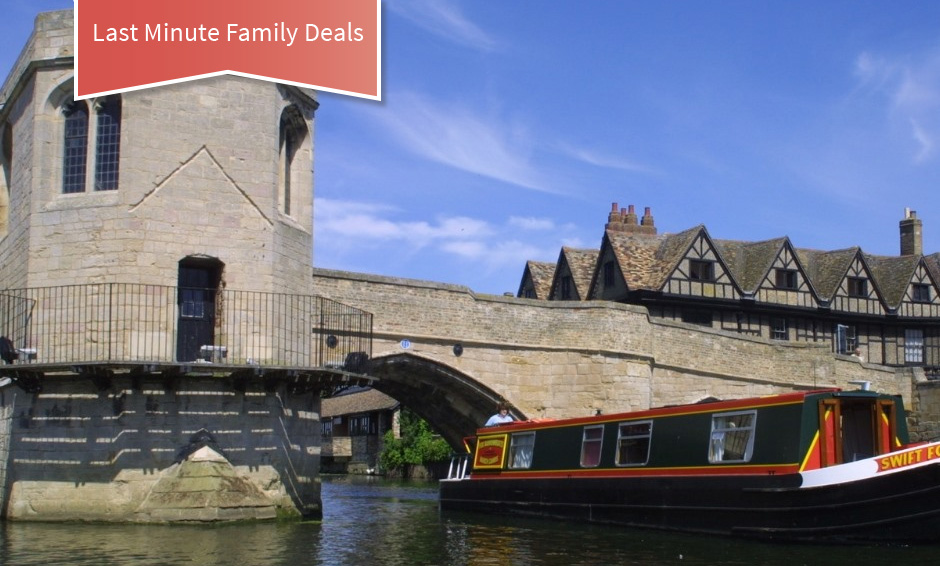 Looking for a cheap canal boat holiday?
Hoping for a last minute deal on a narrowboat break?
Are you researching online discounts?
Our last minute offers could be just what you are looking for. We understand that searching for holiday bargains can be time consuming, which is why we've put together this simple article to help you to find our latest deals.
Checking our last-minute discounts on our narrowboat holidays is easy using our website holiday search option.   Simply select your hire type, number of guests, and preferred holiday start date, using the holiday search box. You will immediately be able to see the offers available, on different narrowboats, with breaks beginning on different dates. Prices start from just £699.
A family boat trip offers real quality time together, and eliminates the hassle of road traffic and airport queues that are usually associated with holidays abroad.  So get the kids away from the TV and their devices and out enjoying the beautiful Fenland waterways this summer! (Don't panic – there is still a TV and WiFi on board, and charging points for all their devices!)
School holidays used to be a time for children to spend their days running around outdoors, and a rural narrowboat holiday can give your family an experience reminiscent of simpler times. Towpath walks, helping with the locks and playing in the countryside will help maintain the fitness levels of the whole family. Older children may enjoy steering the boat, or helping to plan the cruising route.
A picnic also offers the opportunity to spend some quality family time together. Check out these three simple tips: How to Use Your Canal Boat Holiday to Plan the Perfect Picnic.
Before setting off you will be shown how to steer the boat, and children will be provided with life jackets, and made to feel part of the crew. You can even bring your dog.
However, prices can vary depending on when you want to travel.  If you are looking for a low-cost boating holiday, and you are flexible about when you can go away, then consider taking a break outside of the main school holiday months of July and August. Our boating season runs from March through to the beginning of October.
So, for up to date pricing and discounts simply select your dates in the holiday search box and book your holiday easily and securely online. There are no credit cards charges and the all-in-one price includes boat hire, fuel, and a damage waiver. You can even save up to 20% off the hire prices by booking online.
Please note, we have a limited number of narrowboats for hire at our marina, and when we feature special offers these holidays often sell quite quickly, so all our discounts are subject to availability.
If you can't find the hire boat or holiday dates you are looking for using our holiday search box then don't hesitate to give us a call on +44 (0) 1354 652770.  We are a small, friendly, family-run business, and are always happy to give you advice about a holiday that will suit your budget.
Check out what to bring: Don't Go On a Canal Holiday Without These 5 Kids Essentials
To ensure you don't miss out on our latest holiday tips and advice, sign up to our blog updates in the side bar on the right. Look for 'Follow Blog' and click 'Subscribe'.