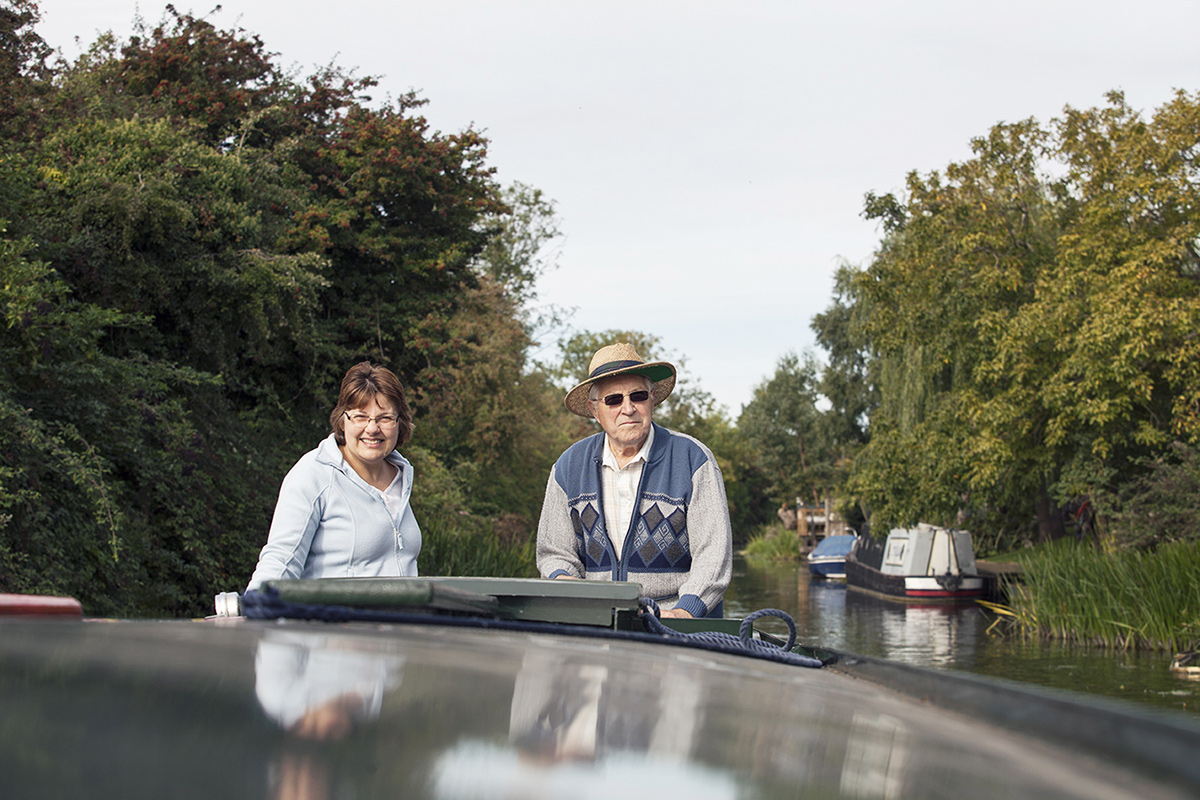 Are you new to narrowboating?
Are you wondering if it's difficult to learn the ropes?
Will you be nervous about turning the boat, or mooring?
"Don't worry. It will definitely be OK"
When somebody asks me what it's like to actually steer a narrowboat, my first response is, "Brilliant. I love it." There is nothing like the feeling of being connected with nature, gliding under tree branches, noticing ducks passing you by on the rippling water. There is an amazing sense of freedom, and a feeling of being part of the world, in a way that you never get when travelling cocooned inside a car. Travelling by boat is slower, obviously, and it is this slowness that allows you to mindfully notice all that is around you.
But can anybody do it? Yes, I think so. Even supervised children can do it, and they did do it during the canal age when whole families lived and worked on boats. The new series of Great Canal Journeys on Channel 4 should be an inspiration to anyone new to boating, as you can watch Gyles (72) and Sheila (87) learn how to steer, moor up and operate locks.
At Fox Narrowboats we have qualified instructors that will give you full training during the boat handover.
"We took our family on March Adventurer out to Whittlesey and back on Saturday. It was a great day, the team at Fox's was very accommodating and the driving tutorial made the whole thing a doddle (mostly!) Had a fab time, and would highly recommend it to anyone!"
– Lawrence Weetman (Facebook review).
Before you set off, start the engine and keep it in neutral while it warms up a little. Untie the front and back mooring ropes from the bank, but leave them tied to the boat, ready for use when you want to moor up again. On rivers, untie the downstream rope first. Make sure your ropes can't fall and trail in the water, particularly at the back, as you don't want them to get accidentally wound around the propeller. Remove any mooring pins from the ground and stow them on board in a place where you can easily get them when mooring up again. Push the boat away from the bank so that you can make an easy departure with your propeller in deep water. In shallow water you may need to reverse the boat away from the bank a bit, before changing into forward gear.
On the waterways we travel on the right, so remember this if you meet another boat approaching from the opposite direction. Take it slowly, particularly past moored boats, fishermen and other waterway users. If your boat is creating a breaking wave behind you, you're going too fast!
Canal boats are steered with a tiller. Pushing the tiller to the right will make the boat turn left and vice versa. This can feel counter-intuitive at first. You will need to plan ahead, as the boat will take a few seconds to respond to your intentions – nothing happens quickly on the cut! Most boats pivot from around the middle of their length when you are turning. This is useful to remember if you're passing through a narrow gap like a bridge or a lock. Look out for currents that could push you off course, and be aware that steering on a windy day can be a bit more challenging!
Give yourself plenty of time to stop, because there are no brakes! To stop the boat, move into neutral, and then use reverse gear to slow down until you finally come to a stop. Bear in mind that it's very difficult to steer a canal boat when you're going backwards. Don't let any passengers stand or sit in the way of the tiller – at best they could interfere with your steering, and at worst they may get knocked into the water!
You may like this new pocket book that has just been published, Canal Boat Steering – How to Move Your Boat, by Janul. This book is packed with detailed information on how to get started, or to improve your existing technique. Janul is an experienced RYA Instructor for courses including the RYA Helmsman. Her qualifications also include the MCA Boatmaster, used during many seasons of work on Jason's Trip, in Little Venice, London. After four decades of diverse boating, including coalboats, tugs and other workboats, Jan's teaching has an edge of varied technique.
At Foxboats, one of our RYA qualified instructors will not let you begin your boating journey until he is fully confident in you being able to handle the boat and operate the locks. The show round and training can take around an hour at the start of your holiday. You won't need a licence to drive a Fox narrowboat. The rivers have a speed limit around 4 mph, (about walking pace) with some wider rivers having a slightly higher figure, usually 7mph.
More questions about boating? Check out our FAQs.
I hope this has given you a good introduction into what it's really like to steer a narrowboat. If you want to try it yourself try booking a daytrip or a holiday for spring 2021. Check availability here.
Hey! Are you new here? Click 'Blog' (top right) and look for 'Follow Blog' in the right sidebar to receive more helpful holiday tips about the Fenland Waterways. (We never share or sell email addresses, we'll only be sending you our local, insider knowledge, every two weeks.)
image: Fox Narrowboats Day Boat