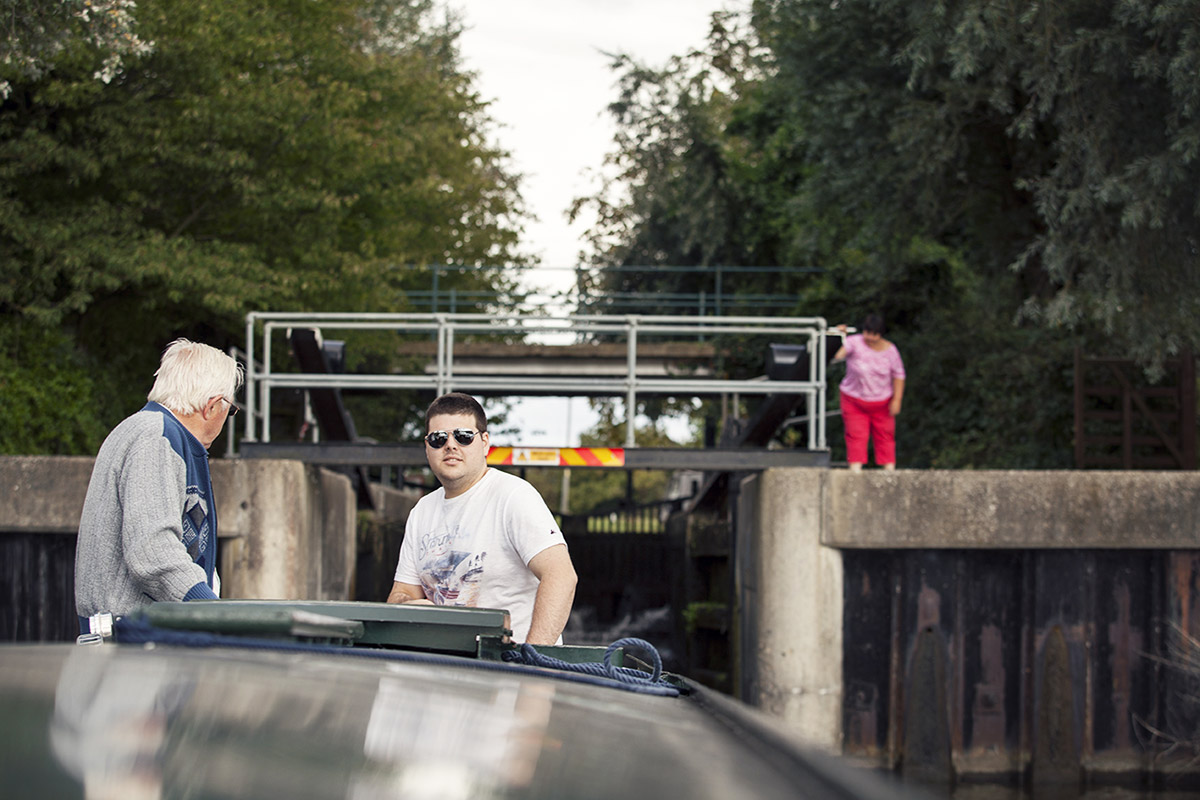 Is it difficult to go round corners?
What happens if you run aground?
How do you turn a 70 foot narrowboat around?
Let us share zen and the art of narrowboat handling with you.
Steering a holiday boat on the Fenland waterways may seem daunting if it's your first time, but at Fox Narrowboats we have qualified instructors that will give you full training during the boat handover.
Boat handling is such a fun skill and can be learned at any age, from childhood to retirement, which makes a narrowboat holiday a great experience for family groups.
"Great day, great staff, great boat. First time driving a narrowboat and going through a working lock. Great experience and it was all rather straight forward. Recommend it to anyone." – Gary Poulter, customer review.
If you are new to narrowboating and canal boat holidays here are three expert tips to boost your confidence as a skipper.
Turning a Corner
The first thing that is different about "driving" a canal boat is that you can only really steer when you are in forward gear. Manoeuvring in reverse is pretty difficult.
Secondly, when turning a corner you will notice that the boat pivots around the centre of its length, which is different to turning in a car. As you turn, the stern (the back end) will swing around. Let the front go past the point where you actually want to turn, before turning the corner. The water is deeper on the bends of many navigations, so keep to the outside when turning a corner so that you don't run aground.
Getting Unstuck
If you do run aground the best thing to do is gently reverse off of the place you have run aground, and away from the underwater obstruction. If you find you need to use the barge pole to help you as well, use it against the bed of the waterway, or against the bank, not against another boat. You may also need the barge pole when setting off, if moored in a very shallow part of the waterway.
Turning Around
If you've come to the end of your journey and want to turn to face back the way you just came, you will need to be on a wide part of the waterway. On narrower canals you may need to find a winding hole, which is a designated turning place. These will be indicated in your guidebook provided with the hire boat. First point your bow into the winding hole, or towards the non-towpath side of the navigation. Push your tiller hard to one side and have the engine in forward gear to slowly and gently turn the boat. If the turning space is tight you may also need to use the barge pole. When you're far enough around, put the boat in reverse to position the boat into a place where you can move off into your intended new direction. Be wary of the edges of the canal which can sometimes be shallow, (except on the bends where they are sometimes deep!)
Our best tip is to think first, and do any manoeuvre slowly.
It may be hard to imagine if you are sat at home reading about it, but rest assured that when you get going, steering a narrowboat is easily learned. The boat handling training with our RYA qualified instructor can take around an hour at the start of your holiday.
More questions about boating? Check out our FAQs.
You may also like What's it Like to Actually Steer a Narrowboat?
If you feel ready to give it a go, try booking a daytrip or a holiday now. Check availability here.
Hey! Are you new here? Click 'Blog' (top right) and look for 'Follow Blog' in the right sidebar to receive more helpful holiday tips about the Fenland Waterways. (We never share or sell email addresses, we'll only be sending you our local, insider knowledge, every two weeks.)