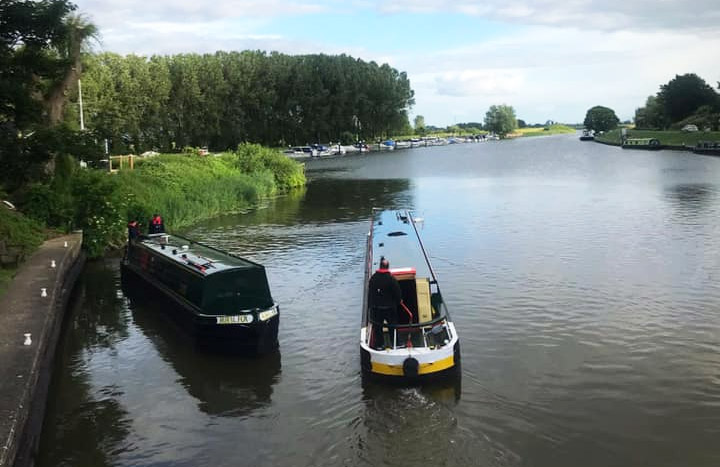 Are you looking for a family holiday with a difference?
Beautiful scenery and quality time together?
Want to explore new places and learn to work a lock?
A narrowboat holiday could be just what you and your family need. When you arrive at our narrowboat hire base you will be given full training in boat handling, before setting off on your own adventure. Here are our top tips for enjoying your family holiday.
Know Your Canal Etiquette
Our staff will teach you the basics, such as 'drive' on the right, and use your horn before going around blind corners. We will also advise you to keep to a leisurely three or four miles an hour, and slow down when passing moored boats. But before you arrive you could also read some basic boating tips on our blog. Do You Make These Three Boating Mistakes?
Fox Boats staff can help you to decide upon a route, but you may also like to look at the options online: Fox Boats Routes. Even if you have never navigated a lock before you will find it is manageable with two adults on board. Older children may enjoy helping with locks and mooring the boat, you just have to make sure they understand all of the relevant safety information. Sometimes there is the opportunity to share a lock with another boat, which means the work can be shared between the two boat crews.
You may want to plan in advance where you are going to stop. Some pubs and restaurants could require booking in advance. But every boat's galley is well equipped for self-catering, so you can always keep some ingredients for a meal on board in case you decide on a spontaneous stop in the middle of nowhere. A route map will be provided with your hire boat. This will help you to find moorings and plan your journey. It also shows service points where you can fill the water tank if necessary.
Take waterproofs and wellies for everyone. Occasional showers are a traditional part of the British summer and children love to splash in towpath puddles, or go off exploring on nature trail walks.
To find the nearest children's playground to wherever you are moored check the website of the local borough council. The home page should have a link to leisure facilities and playgrounds; parks and gardens can usually be found in this section.
5)     Bring Entertainment
If the children are too young to help or don't want to help with the locks then indoors they may enjoy jigsaws from The Inland Waterways Association or canal-themed books. For example, Muddy Waters are the canal based adventures of narrowboat characters, or look for the Rosie and Jim books by John Cunliffe.
Wi-Fi is available on all of our holiday hire boats. There is a 1.25GB allowance for short breaks and 2.5GB per week. However, this is mobile internet, so the connection cannot always be guaranteed. Any mobile device, laptop computer, tablet, mobile phone, or gaming device that has Wi-Fi as part of its hardware set up can access the Wi-Fi device on board the boat.  You won't be able to stream movies, but all boats have a colour TV and a DVD player, so you could bring some DVDs from home. All boats are fitted with a 12v and 230v socket for charging mobile phones, laptop computers and camcorders.
See the full list of what's on board.
And finally, have some simple safety rules for younger children, such as no running on the towpath, stay close to a grown-up and keep away from the edge.
Be prepared and you may find that discovering rural England at a lazy three miles per hour with your family by your side is a holiday memory to treasure.
You may also like: 5 Family Goals You Can Achieve on a Narrowboat Holiday
Ready for your family canal adventure? Try booking a daytrip or a narrowboat holiday now. Check availability here.
Hey! Are you new here? Click 'Blog' (top right) and look for 'Follow Blog' in the right sidebar to receive more insider knowledge about canals and narrowboating. (We never share or sell email addresses, we'll only be sending you our local, insider knowledge, every two weeks.)