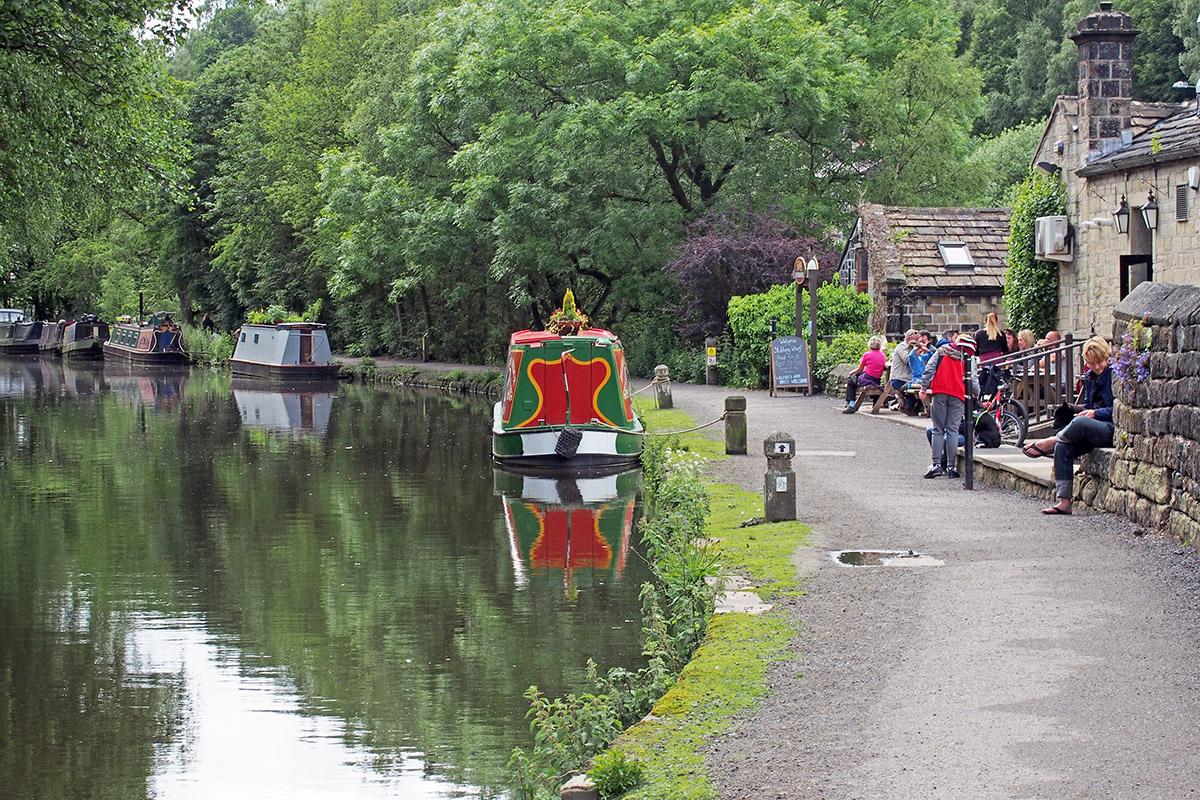 Are you a fan of TV's Great Canal Journeys?
Have you enjoyed watching Kevin Shelley's Travels by Narrowboat?
Are you an arm-chair narrowboater?
Then you'll love BBC Four's Canal Boat Diaries.
This series follows Robbie Cumming as he embarks on a 300-mile journey across the Midlands and northern England in his narrowboat. It's a soothing video diary of one man and his boat, soaking up the scenery and visiting canal side towns and villages along the way. If you don't have a boat yourself it's the perfect way to sit back, relax and enjoy the narrowboat lifestyle, from home.
Robbie has previously done bar work, graphic design and illustration while travelling on his boat 'Naughty Lass'. He says, "It's my home, work space and transport, rolled into one."
In the first episode Robbie says, "This program is all about showing you the real side of boating." For example he has been living aboard without a fridge, and so he meets up with a marine electrician who helps him to install a 12 volt fridge on board. Later he is shown pumping out his sewage tank. But these moments of showing the gritty "real side" of boating are far outnumbered by the stunning, sunshiney scenery viewed as sweeping, stunning aerial shots.
At the beginning of the episode he tackles a tunnel in Staffordshire which is so low that he has to remove everything from the canal boat roof, and crouch down while steering it through! As he travels, filming the local scenery, locks and waterways, he shares canal facts and history. For example, he explains that snake bridges are ingeniously designed so that a horse can cross the canal without the line snagging. (Before engines came along all canal boats were horse drawn.) In Staffordshire he travelled some narrow canals with single locks, and really narrow tunnels, but his goal is to eventually explore all of the canals and navigable rivers in the UK.
He visits a still-working Victorian Pottery that looks like the set of Peaky Blinders, and travels the Harecastle Tunnel, which takes 40 minutes and is dubbed the 'Scarecastle Tunnel'. The throbbing engine echoes loudly in the darkness, but originally there was a towpath for the horses passing through this tunnel. This programme shows what little random adventures one can have while exploring England by narrowboat. Robbie discovers ancient canal-side mile markers that look like gravestones, he pays his respects at Ian Curtis's grave, (lead singer of Joy Division), meets the locals in village pubs, explores Macclesfield, and rises to the challenge of cooking on board with whatever he can find, having not seen a shop for a while.
It's a pleasure to watch the spectacular scenery and sunshine, drifting past aqueducts, coloured narrowboats and green fields, all accompanied by relaxing music, and a likeable, easy-going presenter. Robbie thinks the Peak Forest Canal in Derbyshire has to be one of the most scenic waterways.
So could he ever go back to living on land?
"I don't think so… This is my lifestyle now. I've had to adapt to it. I think I'd miss it if I gave it up."
Is this the most relaxing programme on TV right now? Ease into your sofa, lose yourself in the landscape and see for yourself.
Watch Canal Boat Diaries on BBC iPlayer. Or catch up with Robbie on his YouTube channel.
You can also help to fund Robbie's travels around the canal system and increase the quality of his narrowboat 'voyagelogs' by supporting him on Patreon. He now makes around two videos a month, each one taking over 20 hours to make filming, researching, editing, voice overs and writing and recording his own music. The Canal Boat Diaries are not only his passion but thanks to the viewers, are now his source of income.
Ready for your own canal adventure? Try booking a daytrip or a narrowboat holiday now. Check availability here.
Hey! Are you new here? Click 'Blog' (top right) and look for 'Follow Blog' in the right sidebar to receive more insider knowledge about canals and narrowboating. (We never share or sell email addresses, we'll only be sending you our local, insider knowledge, every two weeks.)