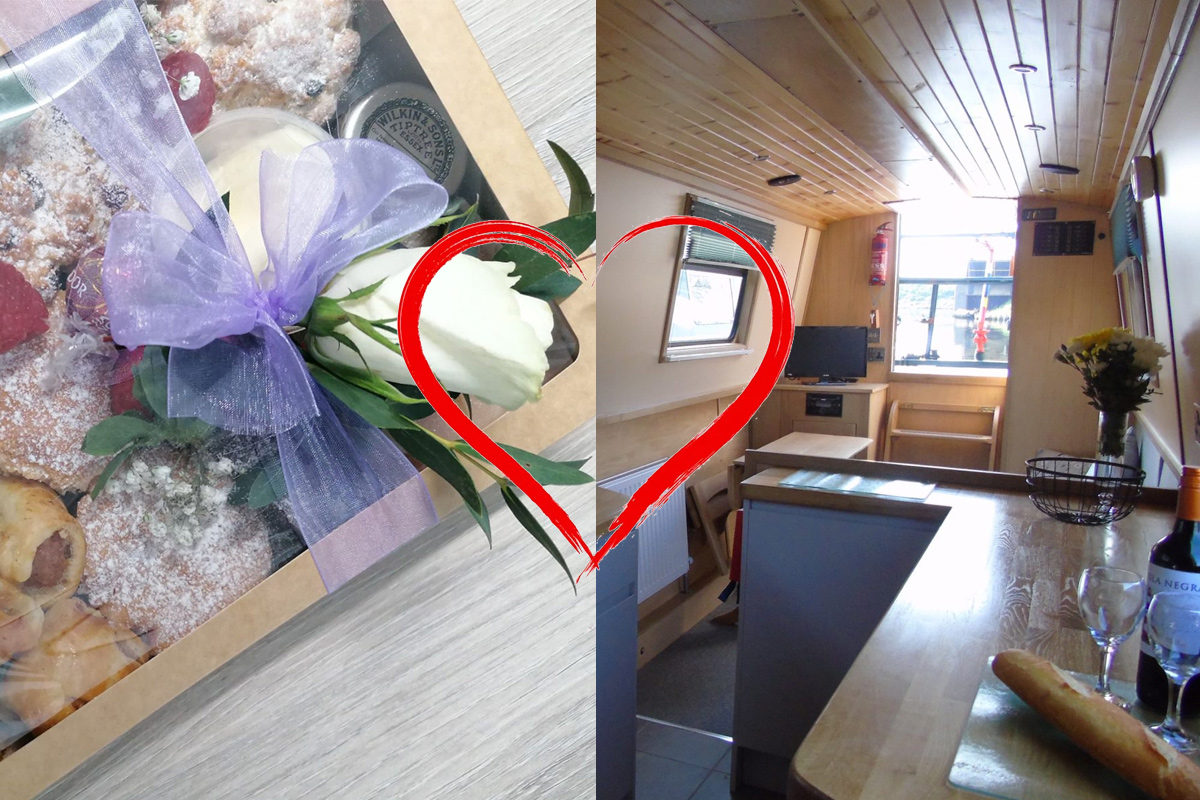 It's difficult to avoid the romantic mood this week, as the shops offer Valentines cards, gifts, flowers and chocolates for your loved one. But those who enjoy canal boating will know that there is no better way to spend quality time with your partner than a peaceful trip on the water.
Fox Boat's narrowboat hire includes all the home comforts you would expect on a romantic mini-break, and it's the best quirky alternative to a holiday cottage.
If it's your first time boating we will teach you how to steer the boat, and suggest itineraries for you. Popular romantic destinations are Ely or Cambridge, or visiting quaint villages on the picturesque River Nene. You don't need a steerer's licence and no previous boating experience is necessary. A boat is easily manageable with a crew of two.
1) The Romantic Getaway
Far from the hassle of everyday life, a canal boat trip is an original idea that makes for a perfect relaxing experience for couples. The privacy and seclusion of your own boat offers a unique sense of intimacy, away from modern distractions. Enjoy a candlelit dinner at night and breakfast in the sun on deck in the morning. It's a good way to recharge your batteries and rekindle the spark in your relationship. As you travel to a new place each day the sense of adventure that comes with exploring new places will give you both memories to treasure.
2) The Special Events
A narrowboat break is perfect for celebrating a special event or significant moment in your relationship, because it's something different. Consider booking a canal boat holiday for your honeymoon, anniversary or milestone birthday. Take plenty of pictures to reminisce together about your cruise later. A trip on the waterways offers romance, seclusion and a sense of getting away from it all.
3) The Dining Experiences
There's nothing like sharing a romantic meal with your partner to reconnect with them. Order supermarket shopping ahead of your break and we'll make sure it's waiting on board your boat for you. Then when you're moored in secluded place in the English countryside enjoy cooking a meal together in your fully equipped galley. You could also order from a selection of afternoon teas or graze boxes from Glam Grazing by Gem to enjoy on board. Just imagine eating out on deck together on a summer evening as some swans drift by for a visit.
As you cruise you will notice several river-side pubs, and you can plan ahead where you want to eat by finding these in the guidebook provided with the boat. Moor your boat near to a beer garden and enjoy a romantic meal for two in a traditional pub that serves food. Alternatively, as you explore the towns and villages of the Fenland waterways you can also discover charming cafes and fancy restaurants. The choice is yours as you enjoy romantic meals together!
4) The Love Boat
For couples we suggest our Rural Fox narrowboat which sleeps two to four people. The price includes VAT, diesel, gas, car parking, towels and bedlinen. Brand new in 2019, Rural Fox is a luxury narrow boat with fully fitted galley and a saloon with a folding table for eating.
If you're holidaying with a group of couples, you could choose one of our larger boats to offer you all comfortable accommodation. Our boats are designed for beginners and experienced boaters, alike.
5) The Fenland Skies
What's more romantic than watching the sunset or enjoying an evening under a clear starry sky? The answer is; experiencing these things on a narrowboat! Enjoy evening drinks sitting on the deck, or go exploring by walking in the countryside or discovering an ancient town. We feel you haven't really seen a sunset or a starry sky until you've experienced the big Fenland skies, known for being so picturesque due to the unusually flat landscape. The Fens in Eastern England are the UK's largest man-made landscape: 400,000 acres of dramatic, flat landscape that stretches across Lincolnshire, Cambridgeshire, Huntingdonshire, Norfolk and a small part of Suffolk. It's a romantic location to remember.
A Valentines Gift For You Both
February doesn't always offer the best weather for canal boating in England, but you can book a Fox Narrowboat from 31st March onwards this year. Consider surprising your Valentine with a boating holiday; a unique gift that you can both enjoy.
Love canal boating? For more surprising and unusual tips and ideas for days out on the Fenland Waterways, enter your email address in the box in the right side-bar ('Follow blog') and we'll send you articles direct to your in box.
Credit: Fox Narrowboats & Glam Grazing Gem