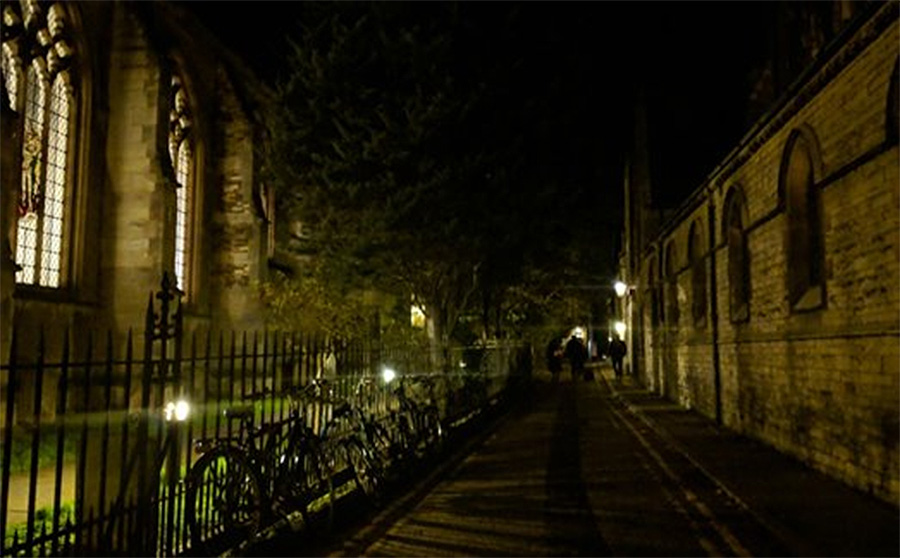 Are you haunted by dreams of a narrowboat holiday?
Are you brave enough to experience the darker side of Cambridge?
Have you ever been curious about paranormal investigations?
You may like to explore the mysterious Fenlands by narrowboat.
The strange and compelling landscape of the Fens, with their huge skyscapes, reclaimed marshlands and scattered and isolated villages can be very eerie at this time of year. East Anglia is not short of ghost stories, legends of drownings, and tales of disappearances and violence.
If you've ever enjoyed reading horror fiction, (M R James set several of his ghost stories in the Fens), or fantasy novels (Philip Pullman based part of Northern Lights in the Fens) why not include some paranormal investigation into next year's boating holiday? Here are three haunted locations to visit… if you dare.
Peterborough Museum
Travel by boat through the Middle Levels and along the pretty river Nene to explore Peterborough and visit the museum. Fright Nights Cambridgeshire offer guided ghost hunts at Peterborough Museum, which claims to have eight resident ghosts. They include a First World War soldier and a ghostly kitchen maid. Look out for banging doors, ghostly footsteps and voices, unaccountable smells, mysterious lights and orbs around the building. This 19th century mansion was used as a hospital from 1857 until 1928. The guided tours include a mediumship walk around, experiments, séances and discussions about the paranormal.
Check the Fright Nights website for upcoming ghost hunt experiences. You may like to book a ghost hunt to coincide with your 2020 Foxboats holiday.
Oliver Cromwell's House
Travelling east from our hire boat base you will come to the River Great Ouse and be able to visit Oliver Cromwell's House, near Ely, which is now a museum. Fright Nights also offer a ghost hunt of this venue, where you may hear ghostly sounds of childrens' laughter, footsteps which echo along corridors and down the staircases, and jangling keys. The house dates back to the 13th century and Oliver Cromwell and his family lived there for ten years from 1636 to 1647. The house is now a visitor attraction where you can experience what domestic life would have been like in the 17th Century. Book yourself onto a paranormal investigation, or simply turn up by boat to visit the museum during the daytime, for an interesting day out.
Cambridge Ghost Walk
After visiting Ely, you could take your narrowboat down the River Cam to Cambridge. Hear ghostly tales and sinister stories on a walking ghost tour of Cambridge's most haunted streets and buildings. An official Blue Badge Guide will reveal stories of macabre goings-on, strange hauntings and tragic events from the past. In these dark, cobbled streets you can visit the Cambridge hangman's house and learn about the final resting place for Oliver Cromwell's head. Discover haunted pubs, secret graveyards, grisly hangings and ghostly dogs. Private ghost tours are available all year, and public tours are scheduled on certain dates. For more information Visit Cambridge and Beyond.
Further Research
The Cambridgeshire Ghost Research team investigate all types of paranormal phenomena in Cambridgeshire and the surrounding counties. They use EMF meters, temperature sensors, humidity sensors, motion sensors, analogue and digital audio recording equipment, digital and film still cameras and night vision video cameras. They have investigated many sites that are accessible by narrowboat, including Peterborough Museum, Cambridge Museum of Technology, The George Pub in Ramsey and Ramsey Rural Museum.
Why not check our holiday boat availability for next year, and plan your own paranormal investigation of Cambridgeshire and the Fens? Cambridgeshire and the Fenland Waterways offer history, heritage and culture at all times of the year.
You may like to read more about our local ghosts: How to go Ghostbusting with a Narrowboat
For more haunting ideas to add to next year's holiday plans, sign up for digital updates from this blog. (We never share or sell email addresses – your details are safe with us.) Just look for 'Follow Blog' in the sidebar on the right and sign up today!
Image credit: Visit Cambridge Org