As from April 2015 Wi-Fi is now available on Urban Fox.  Access to the internet is from an installed device on our holiday hire fleet that is totally reliant on it being able to connect to the mobile telephone network.  Without access to that network there will be no connection and this connection cannot be guaranteed at any time.  Reports on the first few uses show good signal between March and Ely and Whittlesey and Peterborough. Customers have reported no problems with checking emails and using social media. Each holiday party will have 1GB of data download per stay. Wi-Fi information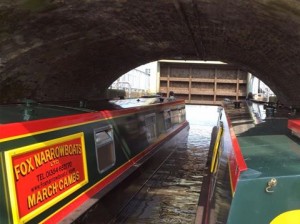 The party on Urban Fox this week took the opportunity to post the following picture to our Facebook page using the onboard Wi-Fi.
The picture is of Urban and Leisurely Fox in Denver lock on Friday 9th April.