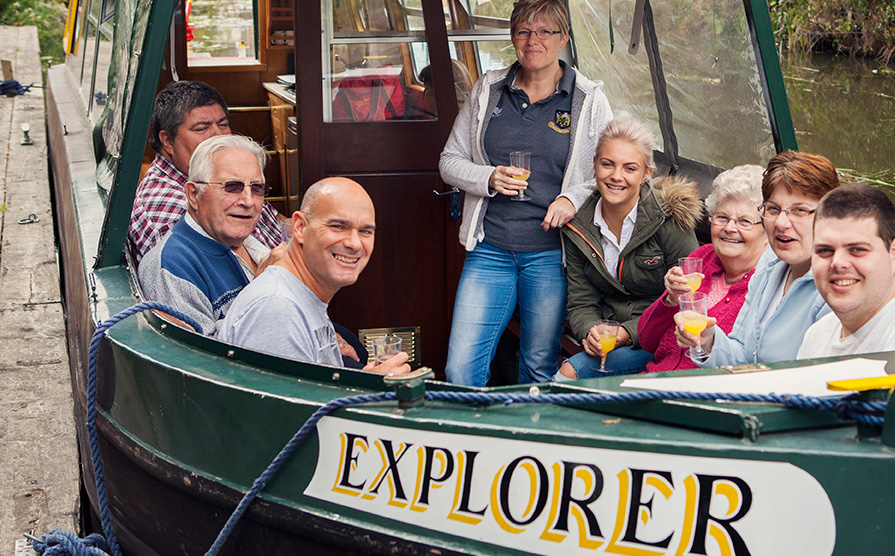 Trying to plan a day out in Cambridgeshire?
Want to surprise your group with a comfortable alternative to punting?
Whether it's a hen party, stag 'do' or a special family occasion, it's a challenge to organise a memorable boat trip, without settling for the obvious option.
But if you want to delight your friends and family with a self-drive adventure through the stunning scenery of Cambridgeshire, then narrowboat day hire could be just what you are looking for.
A narrowboat or canal boat is a more traditional style of vessel that can carry up to 10 passengers per boat.
Just 30 minutes from Cambridge by train, you will find our day boat hire base in the lovely Fenland Market town of March. Our marina is on the navigable River Nene, which is perfect for pleasure boating. We're a family-run business offering a personal and friendly service to both new and experienced boaters, so don't be afraid to ask any questions when you meet us.
The English Experience
Our charming day boats are the March Adventurer and the March Explorer. Both boats have a seating area and a toilet, and you will find the galley complete with hob, fridge, sink, crockery and cutlery. Bring on board your own cream tea with Prosecco, or have a cup of tea with fish and chips, and turn the day out into the ultimate English experience! (OK I know Prosecco isn't English but who wouldn't like bubbles on their countryside cruise?!)
Our marina is surrounded by the tranquil Fenland Waterways. If you travel east through the town of March towards the picturesque village of Upwell the journey will take you about six and a half hours. Alternatively if you decide to cruise west you will pass Floods Ferry Marina Park and arrive at Ashline Lock and the town of Whittlesey.
Both of these relaxing boat trips offer beautiful scenery and wildlife, and with plenty of room at the bow or stern, everyone can be outside. You can even bring your dog! All you need to find now is the perfect excuse for a group celebration or outing. So who will you surprise with this alternative summer boat trip?
Check out the stunning local scenery in this short video clip: Day boat hire near Cambridge and Ely.
For more surprising and unusual tips and ideas for days out in Cambridgeshire, enter your email address in the box in the right side bar ('Follow blog') and we'll send you articles direct to your in box.