Today as the river Great Ouse hosts the boat race we are fortunate to have a guest post from David Goode Fellow and Praelector of Wolfson College Cambridge regarding the boat race channel on the river Great Ouse.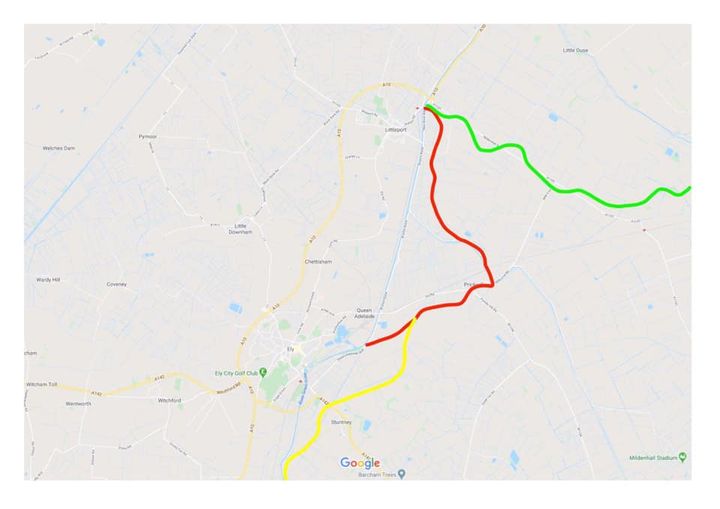 My friend, and fellow former Senior Proctor (though a year or two before I was Senior Proctor!), Gordon Johnson, asked me to write a few words about the bit of river — Sandall's Cut — that is hosting the boat race this afternoon, as it also did in 1944. Here are those few words, which I hope you'll find interesting.
I thought it'd be helpful to overlay a modern map with some reasonable approximations of old courses of some of the Fen rivers, which I've colour-coded for convenience. Red shows the course of the Ely Ouse from around 1110 to 1830.
Green shows an old course of the Little Ouse before it was diverted north. No one is entirely sure when that happened. In the Middle Ages, the old Ely Ouse and the old Little Ouse joined roughly where indicated, and then flowed off to the northwest towards Outwell as the Wellenhee (from where Welney gets its name) along what is now the mouth of Littleport Boathaven, and on to Wisbech.
The yellow course is the old course before the river was diverted in the early twelfth century to run through Ely and allow stone to be brought from Barnack Quarry in Northamptonshire, along the Nene to Wisbech, Wellenhee to Littleport, and on to Ely on the red course, to build the cathedral.
This red course via Prickwillow is the one we're interested in today. Sandall's Cut, the course used for the boat race, is the long, straight section you can see connecting the two open ends of the old red course.
Before drainage began in the seventeenth century, Wisbech was a sea port on The Wash. Cargo was unloaded there onto smaller boats, which took the Wellenhee across to Littleport, where it was reloaded onto yet smaller boats for the circuitous and difficult journey via Prickwillow to Ely, shown in red.
At some point in the Middle Ages — dating is very difficult, maybe in the fifteenth century, but could possibly have been a bit earlier — a cut was made to connect Lynn (later King's Lynn) with Littleport, Wisbech's importance faded, and the once-mighty Wellenhee became a backwater, before finally being bisected by Vermuyden's Bedford Rivers in the seventeenth century.
Most cargo now came up river from Lynn directly to Littleport in large vessels, but there it met with a problem.
This old, natural, course between Littleport and Ely was too shallow and unreliable for navigation — often too dry in the summer and too boggy in the winter — which is why Sandall's, or Sandy's, Cut was dug between 1828 and 1830, offering almost straight navigation on a canalised new river more than 100 feet wide and, at the time, 20 feet deep.
It's said that some 20,000 navvies dug the cut over two and a half years, all by hand, of course, in those days. The Cutter Inn in Ely took its name not from the boats called cutters, but from those men who cut their way through Middle Fen and Padnal Fen to shorten and straighten the river, and who presumably liked a pint or two at the end of a hard day's work!
Sandall's Cut opened in 1830, and there was now a quick, reliable, deep, straight channel, suitable for larger boats, between Littleport and Ely, and river trade flourished.
Well, it didn't flourish for long. Within twenty years, the railway connecting Ely to the south with Cambridge and London was extended north to King's Lynn, and from 1850 cargo could travel directly from the docks at Lynn to London on the same day.
Sandall's Cut's heyday was short, which is why we're left today with an impressive four and a half mile long, deep, wide canal that took nearly three years and cost a fortune to cut, connecting two quiet Fenland towns in the middle of nowhere!
If you wish to cruise this route by narrowboat you can check out our holidays and short breaks we recommend a 4 night break to comfortably visit Ely.