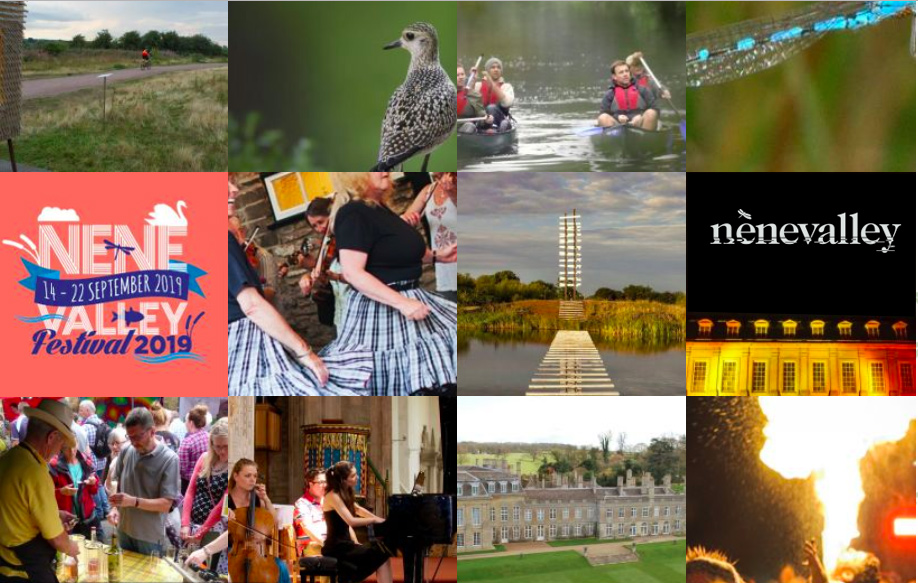 A narrowboat holiday on The River Nene offers stunning countryside and charming villages with stone cottages and thatched rooves. This navigable river in Cambridgeshire is a lovely, quiet waterway, but in September there are some extra things to see and do.
The Nene Valley Festival takes place from 14-22 September, celebrating the area through a nine day programme of outdoor events, theatre productions, concerts, guided walks, brewery tours, food and drink festivals, wine tasting, art and craft workshops.
To get there by boat from our hire boat base in March you would travel through the Middle Levels. The full route to Peterborough is described here: March to Ferry Meadows Country Park; and it is a 12 hour return trip. However, if you want to see some of the festival you could plan a longer cruise. Along the Old River Nene you will cross the Greenwich Meridian, then Ashline Lock and the ancient market town of Whittlesey is an attractive place to moor. Beyond Whittlesey you pass through open country, and as you travel towards Peterborough you will see the cathedral across the flat fields that lead to Stanground Lock. During the Nene Valley Festival there will a Nene Wetlands Bat Walk at The Nene Wetlands Visitor Centre, on the evening of Saturday 21 September 2019.
A short branch of the River Nene leads from Stanground lock. Travelling by boat, turn left here and you will find visitor moorings along the length of the park which are convenient for visiting Peterborough and the cathedral. Peterborough celebrated the 900th anniversary of its iconic cathedral last year, and hosts a variety of events all year round.
The Nene Valley Railway is a preserved railway running between Peterborough Nene Valley and Yarwell Junction.  Relax in a restored wooden panelled coach and go back in time, on a heritage steam or diesel train.
You may also like: The Canal Boat Holiday That Train Enthusiasts Will Love
Family friendly events in September include Cyclefest, Heritage Family Fun Day at Rushden Lakes and Bushcraft Skills at Ferry Meadows Country Park.
As you cruise up river from the centre of Peterborough you will see parts of the acres of meadows, lakes and woods that make up The Nene Park. It runs for around six miles alongside the River Nene. On a longer holiday you can take your boat towards Fotheringhay and Oundle. From Ferry Meadows to Fotheringhay is a 12 hours return trip. The buildings in Oundle date back from the 17th, 18th and 19th century. Market Day is Thursday with a selection of at least 20 market stalls.
A Hidden Heritage Tour starting at Peterborough Museum is on every Saturday afternoon at 2pm; just turn up or pre-book. This is a fun guide to the interesting and undiscovered past of Peterborough – from earliest times, to the secrets of the Saxon abbey and Cathedral precincts, to the modern city.
Offering some beautiful views and striking landscapes, the Nene Valley is an oasis of tranquillity with a variety of family activities and heritage to explore. If you carry on upstream from Peterborough the river has a number of interesting towns and villages to visit on the way to Northampton. The Nene eventually links up with the Grand Union canal. Read more about The River Nene, (routes, maps and top attractions).
Ready to book? Search our special offers.
Don't miss more tips about upcoming events in the Fens: Sign up to follow this blog in the sidebar on the right. (We never share or sell email addresses, we just send links to our latest blog articles.)
Note: This article refers to the Nene Valley Festival 2019. For up to date info on the festival check the official website. Nene Valley Festival.
Image Credit: nenevalley.net