Community Involvement With Meadowgate School.
Tracey Baxter our Finance Director jumped at the chance of organising a boat trip for some Sixth Form students from Meadowgate school in Wisbech, following an approach by the lock keepers daughter at Marmont Priory lock Chrissie Norton, who works at the school.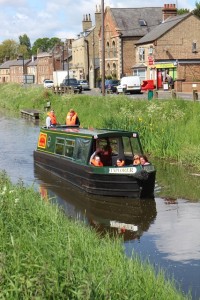 The students and their assistants joined the March Explorer at Marmont Priory Lock. They helped with the operation of the gates and paddles before cruising along Well Creek through the villages of Upwell and Outwell taking a turn at the helm.
There was a fish and chip lunch in Outwell and lots of wildlife to spot including coots, grebe, heron, swans and ducklings.
Tracey said, "It was great to get out of the office for the day and to take the trip to Outwell which is one of my favourites on the whole of the UK Inland Network. I've done this journey more times than I would care to remember since the waterway reopened to navigation in the 1970's thanks to the work of the Well Creek Trust.  Each time there is something different to see and experience."