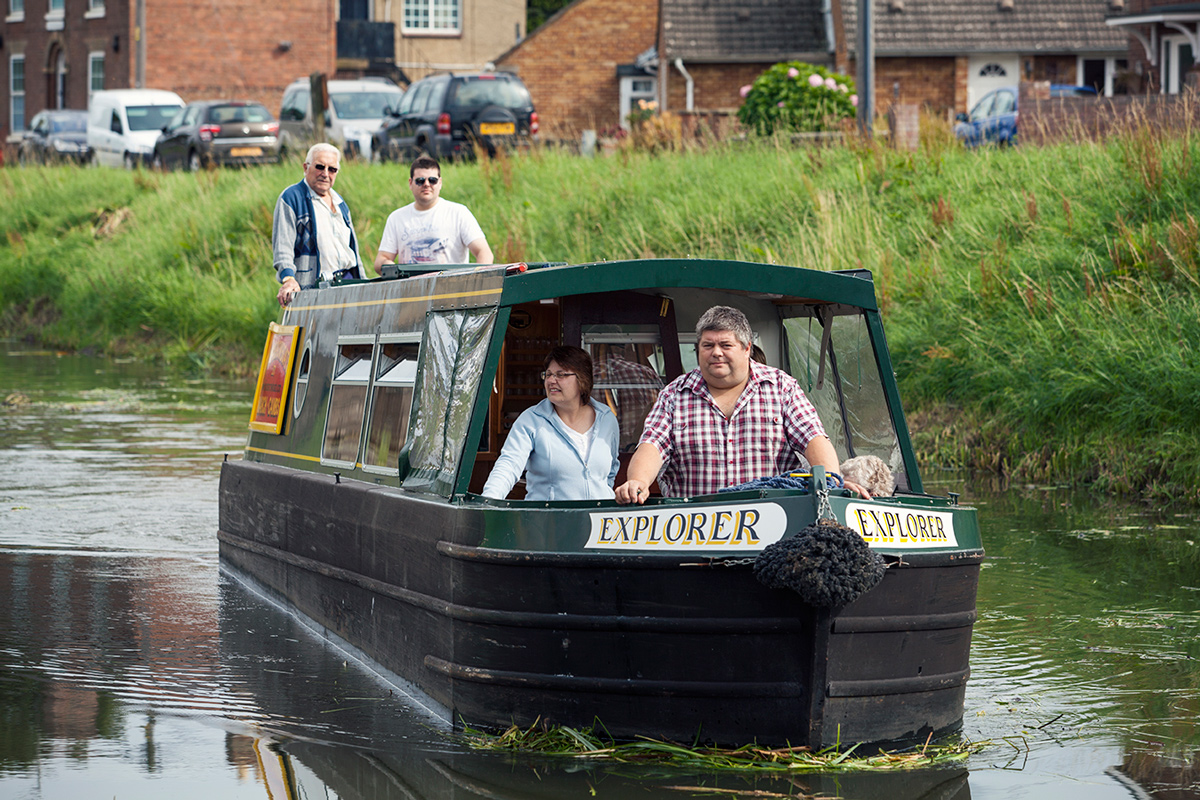 Do you live in Peterborough, Wisbech, Ely or Huntingdon?
Want to get together with some friends and family?
Have you thought about hiring a narrowboat, just for a day?
A relaxing boat trip on the Cambridge river network could be just the thing you're looking for.
Imagine exploring the wonders of the beautiful East Anglian waterways, on board a luxury day boat, with a group of your best friends. Some people choose the Fenland waterways for a special family gathering. Whoever you travel with, here are three great reasons for booking day boat hire in March this summer.
1) The Boat is Gorgeous
We have two luxury day boats available to hire: The March Adventurer and the March Explorer. They are colourfully painted, have a nostalgic charm, and you can chug along peacefully with up to ten people on board. (You can also bring your dog!) Each boat has a cute little galley area complete with a hob, fridge and sink, for making refreshments en route. There is also a dinette equipped with crockery and cutlery, a toilet and a seating area. On board you'll find a 12v mobile phone charging point, so that you can keep taking pictures with your phone.
2) The Scenery is Stunning
You'll find our hire boat base between the River Ouse and the River Nene, not far from Cambridge, and your cruising journey will take in local wildlife, kingfishers, flowers and quaint cottages.
If you meander through the Middle Level Navigations eastwards, towards the village of Upwell you'll pass through the Marmont Priory lock before the village unfolds before you. Upwell really is one of the prettiest villages in the Fenlands. It will take you around six and a half hours to cruise there and back.
If you cruise west, towards Whittlesey and Peterborough, you'll go through plenty of peaceful countryside, and pass Floods Ferry Marina Park. The route crosses the Greenwich Meridian before arriving at Ashline Lock and the ancient market town of Whittlesey.
3) The Choice of Food
At Whittlesey you can turn your boat above the lock, and picnic in Manor Fields before beginning the journey back to March. Read our best tips for a narrowboat picnic.
If you are planning a picnic you can do a food shop at Sainsbury's or Iceland, near our hire boat base in March. If you are heading to Upwell you will find the village store on the riverside. Outwell's village shop is a two minute walk from the river.
In Upwell you can stop to eat at The Five Bells, which has a beer garden. Their full menu is on their website: Five Bells Inn. Alternatively, carry on to Outwell basin for a picnic at the former junction of the Wisbech Canal. For a more lavish treat The Moorings Restaurant at The Crown Loge Hotel offers large group meals and afternoon tea. For both of these options we recommend advanced booking!
Back in March, The Acre is a popular riverside pub not far from our hire boat base. It's known for its friendly staff, prompt service and warm friendly atmosphere. Shooters American dinner is also riverside and is a great treat for children and the young at heart.
Good Value
"We had a lovely day out starting off at March and arrived at Outwell just in time for a fish and chip supper from Stotts. The boat is well equipped with inside and outside seating. We were fortunate to have a lovely day out and our Captain Claire and mate Debs were great. We are hoping to do it again this year. Very good value for money. Would highly recommend." – Karen K – Trip Advisor
Whether you're a group of friends celebrating a special occasion, or a family getting together to mark an anniversary or milestone birthday, exploring these secret rivers and waterways will give you a wonderful day out.
Read more: Day Boat Hire near Cambridge and Ely
Hey! Are you new here? Subscribe on the right to receive more secrets of the undiscovered Fenland waterways, by email. (We never share or sell email addresses, we'll only be sending you our local, insider knowledge, every two weeks.)