Wow, what a busy week we have had here at Fox Narrowboats.  Firstly, we started with the Drifters hire boat open day on Sunday 15th April.  This was attended by approximately 300 people with around 200 of them taking to the water for the first time under the instruction of our qualified team.
Guests could also take part in games and competitions and had the opportunity to try their hand at canal art as well as visiting the popular refreshment stall. Bookings for both Day hire and holidays were received at the events.
The open day was also the first time our selfie board and photo frame were used.  Next time you visit us here have a look and take a picture.  The board and frame were designed by local artist Nicola Baxter who is the daughter of Tracey and Gary.
Mrs Tawn posted on facebook  "My daughter, grandson and myself came to the Open Day and how lovely it was too, thoroughly enjoyed the boat trip, stalls and friendly welcome by all. Well done."
Sunday 22nd April was the annual St George's Fayre in the town and Gary once again took the helm of March Explorer running boat trips through the town centre every half hour during the day. Over 100 people took to the water for a boat trip during the day
Managing Director Paula Syred said of these events. "It has been fantastic to introduce so many people to narrowboating.  My staff all know that boating is a wonderful way to slow down, relax and unwind.  Now so many other people have had the opportunity to experience this. My thanks go to all the staff who go the extra mile for these events to ensure that our visitors receive the best possible experience."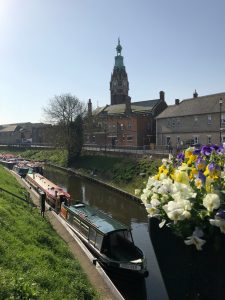 During the week we are delighted to report that we have also raised £973.45 for our charity of the year Heart of the Fens, defibrillators for March.