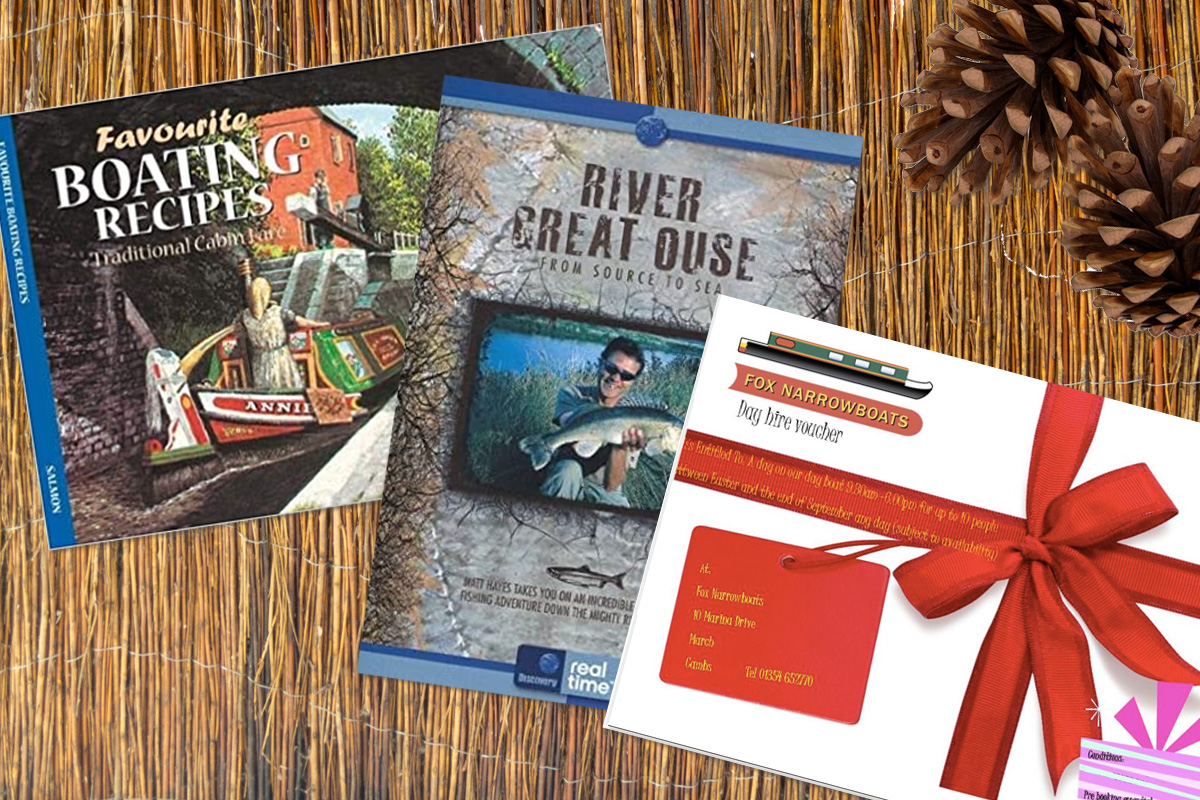 If you're still trying to think of last minute gifts for your loved ones, who enjoy canals and boating then we have some festive suggestions for you. Let us take the stress out of this year's Christmas shopping with our mini gift guide for the canal boater in your life, and reduce your stress levels today.
Books
Books are always a thoughtful present because you can select something personal to the recipient's interests. If they're into cooking try Favourite Boating Recipes by Cas Best. This miniature book is full of nostalgia, and illustrated with charming sketches. The recipes reflect the unsophisticated and traditional way of cooking on board in the limited space available, and are inspired by the cargo carrying boaters of the canal age, and the fruits that you might find in the English countryside. It's a great stocking filler.
If your family are interested in Fenland boating (where we are based) then The Imray Waterways guides are popular paperbacks for river users planning trips along the Rivers Nene, Ouse, Cam and the Middle Levels. These spiral bound books include moorings and notes with maps of the navigations. They are available on Amazon or in our chandlery at our marina in March, Cambridgeshire. Browse a guidebook now to start planning next year's holiday route.
For the women in your life who love boating I suggest 'Maidens Trip', the semi-fictionalised story by Emma Smith who worked on the Grand Union Canal during wartime. 'Ramlin Rose: The Boatwoman's Story' by Sheila Stewart is a fictional biography based on interviews with real boat women in history, and details the practicalities of day to day life as a boater, wife and mother.
For all boaters, Narrow Boat by LTC Rolt is a classic tale of what may have been the first ever canal boat holiday.
And finally, for children, you can't go wrong with the 'Rosie and Jim' books, by John Cunliffe, presenter of the TV show of the same name. Travelling on their boat 'Ragdoll' Rosie and Jim teach children about locks, canal travel and canal life.
Boat Watching
For the armchair boater you can take a waterways journey by DVD, or by watching a streaming service. From Source to Sea is an exploration of the River Great Ouse available on DVD. Travels by Narrowboat with Kevin Shelley is available to buy on Amazon Prime and follows a single-handed boater travelling the UK. Robbie Cumming boat journeys are just as enjoyable to watch. If you enjoy watching Robbie Cumming Canal Boat Diaries on BBC Four you may like to support him by buying something from his 'Crank It' range of merchandise, which includes hoodies, t-shirts, mugs and bags. Great Canal Journeys with Tim and Pru is available as DVD box sets too.
Canal Ware
If you don't own a boat yourself, keep the spirit of the waterways alive in your own home with some traditional canal ware. Historically, in a boatman's cabin you may have found antique ribbon and lace plates, Measham pottery, horse brasses, oil lamps, cabin lace, rag rugs and Buckby cans painted with roses and castles. Check out The Fox Boats Guide to Traditional Canal Ware.
Buy it off a Boat
The Roving Canal Traders Association sometimes host floating Christmas markets, but if you don't live near to one of these colourful events you can still buy something from a boater, and support a small business. Floating traders sell anything from artwork, books and clothes, to cheese and gin! Nancy Moo imports jewellery, clothes, hats, shawls, bags and more from India, and sells it from a canal boat. Find her on eBay Nancy Moo. Read more: Buy it off a boat: Gift Guide.
Day Hire Vouchers
If you'd like to treat the whole family to an unexpected outing, our day hire vouchers for a trip on a narrowboat are for up to 10 people. Tuition, lifejackets and fuel are all included. Our marina in Cambridgeshire is surrounded by some beautiful waterways. With lots of room at the front and back of the boat everyone can be outside while cruising the rivers and taking in the stunning scenery and wildlife. Our day hire narrowboat has a galley complete with hob, fridge and sink, a dinette equipped with crockery and cutlery, a toilet and a seating area. Read more.
Call Fox Narrowboat reception for purchasing vouchers.
And Relax!
So if you still have a few more gifts to buy, relax with the laptop and grab some boat-themed gifts for your boat-loving friends and family. We hope these ideas have given you plenty of inspiration, and we wish you a very happy Christmas and New Year from everyone at Fox Narrowboats.
Never miss an article – subscribe to our blog in the right sidebar; look for 'Follow Blog'. (We don't send spam or salesy type stuff – just interesting articles about boats and waterways!)