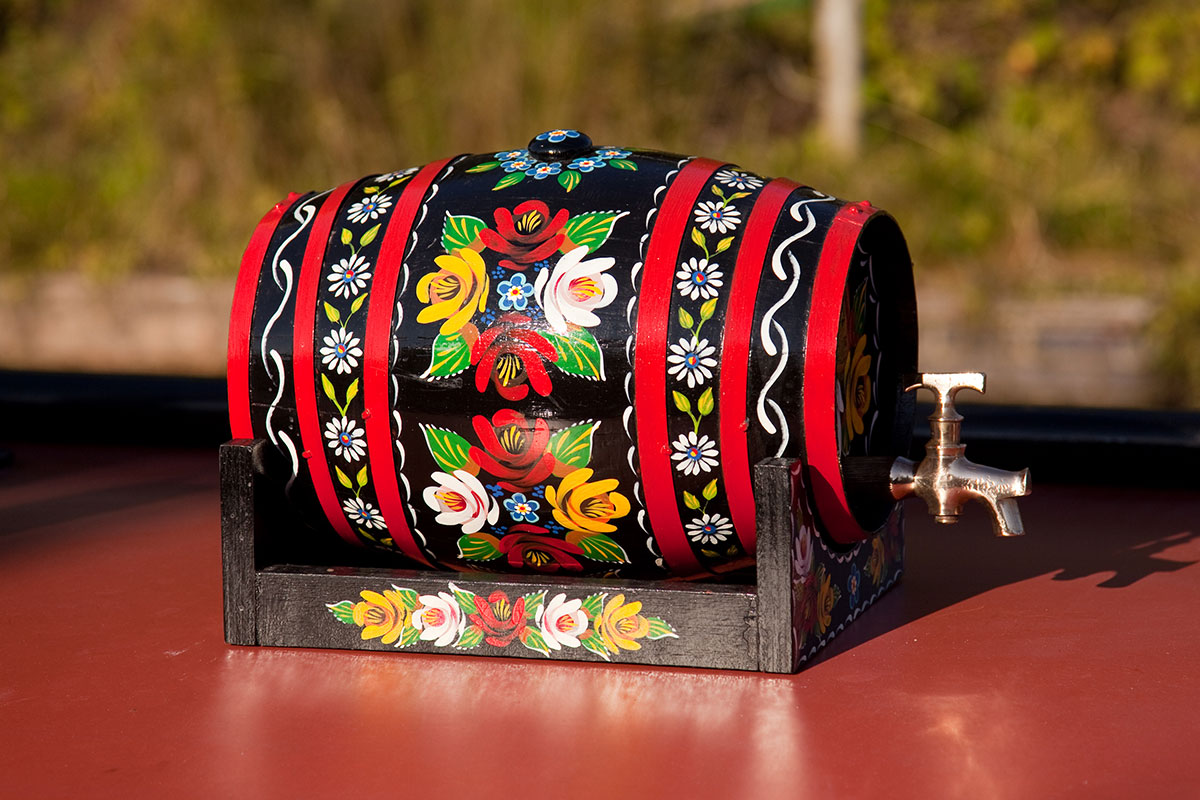 Do you like to watch brightly painted narrowboats go by?
Are you curious about the origins of canal folk art?
Do you have any traditional canal ware at home?
Many boaters are interested in the art and collectable items that were once used to decorate the traditional back cabins of cargo-carrying narrowboats. If you don't own a boat yourself, you may like to have some of these pieces in your own home. In a traditional boatman's cabin you may find antique ribbon and lace plates and original Measham pottery. You may also see horse brasses, oil lamps, cabin lace and rag rugs. Although working on canal boats was hard and messy work, boaters were proud of their small living spaces, and kept them painted, decorated and polished.
Roses and Castles
Traditionally narrowboats and their fittings were decorated with painted roses and castles. The designs sometimes included other flowers and landscapes, and might be seen on cupboard doors and drawers inside the boat, and the water cans on the roof (known as Buckby cans). Castles were often painted on the inside of the stern doors.
The origins of this style of folk art are unclear. Dating back to the 1850's when rail was already becoming more popular than canal transport, roses and castles have been compared to the painted style on Romani vardos (gypsy caravans). It is thought that perhaps some Romani's took work as boatmen and brought their designs to the waterways. The garland of roses design is similar to decorations on Sheraton furniture at the start of the 19th century. But it is likely that roses and castles originally came from Birmingham and the Black Country. Although the boats were owned by the cargo carrying companies and painted in the company livery, the roses and castles were added by the boatmen themselves.
Measham Ware
Measham is a village in Leicestershire, on the Ashby Canal, where teapots decorated with a dark brown glaze, colourful flowers and a painted motto, were sold around the end of the 19th century. This Measham Ware, popular with canal people, was made in villages near Measham, particularly Church Gresley. It was sometimes known as barge ware. Boaters might place an order for a personalised teapot as they passed through Measham and collect it on their return journey. Measham Ware can still be seen at the Measham Museum, and at London's Victoria and Albert Museum. Modern reproductions can be bought these days, but authentic pieces are rarer.
Museums
If you'd like to visit a museum on a narrowboat holiday with Fox Narrowboats you can choose from the museums in Peterborough, March, Ely and Cambridge, or the more unusual Prickwillow Museum, which tells the story of the drainage of the Fens, the history of the local area, and showcases some of the region's finest examples of restored diesel engines.
Read: Are Museums Ever Fun? (The Answer Might Surprise You.)
Canal Ware
Online, there is a beautiful collection of narrowboat themed items for sale at Lockside Antiques. Also check out eBay and Etsy. This canal ware artist, based in Braunston, will paint an item of your own furniture if you provide it: Traditional Canalware. Canal ware and other boat themed items can also be bought at chandleries in boatyards.
Nostalgia
Fox Narrowboats is in a great position, nestled in the centre of the Middle Level Waterways, not far from the idyllic riverside villages of Upwell and Outwell. On a boating holiday beginning at our marina in March, you can lose yourself in narrowboat nostalgia, gently chugging along at three miles an hour.
You may also like 10 surprising ideas for canal holidays, taken from the highlights of our previous blog posts. The Top 10 Narrowboat Holiday Ideas.
For more ideas to add to this year's holiday plans, sign up for digital updates from this blog. (We never share or sell email addresses – your details are safe with us.) Just look for 'Follow Blog' in the sidebar on the right and get insider knowledge about the Fenland Waterways.
Image credit: deposit photos