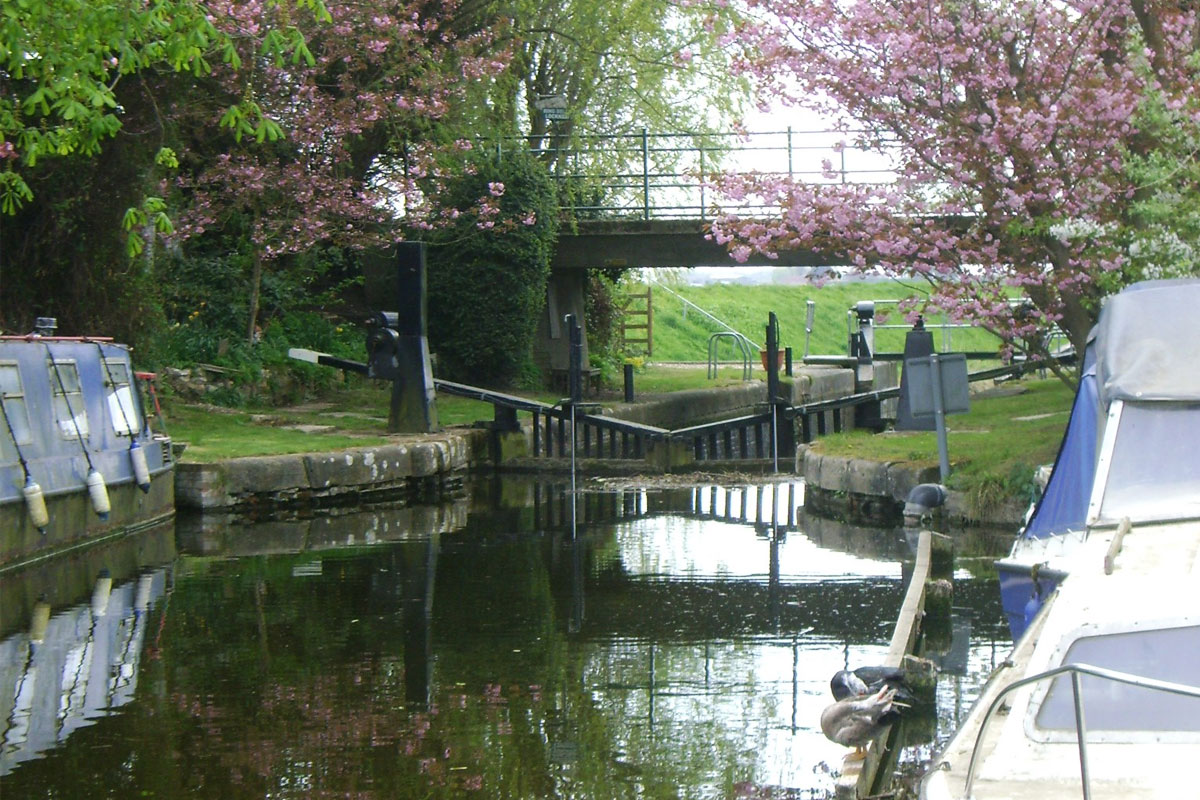 Do I need to bring anything for using a lock?
What's the latest time I can go through a lock?
How can I best prepare for a lock?
If you are new to narrowboats, or planning your first canal boat holiday you may have some questions about using the locks on the Fenland waterways. Passing through a lock requires a windlass, decent ropes and fenders, and sometimes a life jacket, all of which are provided with your hire boat. Smaller locks are operated by you and your crew, and some larger tidal locks are operated by lock keepers.
The ones that are operated by boaters can be operated at any time of the day or night, but we recommend doing this in clear daylight, for safety's sake! If you have read our previous article, How to Work a Lock (Even if You've Never Done it) you will already know how to moor up, set the lock, open the gates and use a windlass. Locks can be dangerous, so full training is given by our friendly RYA qualified instructors before you even leave the hire boat base, at the start of your holiday.
On the Middle Level heading from March towards Ely you will pass through Marmont Priory lock, before arriving at the picturesque villages of Upwell and Outwell. If you're new to boating in this area, there are three things you should know.
You'll Have to Plan Your Journey Times
Salters Lode lock is a tidal lock, and is therefore operated by a lock keeper at certain times. When tides are very low there may be days it cannot be used, so boaters may need to call the lock keeper in advance. On the Middle Level side of the lock there are good holding moorings, in total around 150 feet. It's a bit trickier to enter from the river than it is from the canal, but the lock keepers will give you plenty of advice.
Passage through Denver lock is also tidal so boaters should ring the complex to check passage times. (Any numbers needed will be provided with your hire boat.) Mooring at Denver is good because mooring rings or bollards are available. Boater's facilities there include chemical toilet disposal, a boater-operated pump-out, a boatyard pump-out and a water point. But most holiday boaters should not need to use anything other than a water point.
We Have Amazing Lock Keepers
You may be surprised to know there is a British Marine Inland Boating Lock Keeper of the year award! The Esme Dowling Award is presented each year by hotel boat and hire boat operators in British Marine membership to navigation authority staff or volunteers who have gone the extra mile in delivering excellent customer service. In 2020 three Fenland Lock Keepers were finalists in the award. (1)  The runner up certificates were presented to Ben Di-Giulio and Dan Pollard of the Denver Lock and Complex and Paul Grodkiewicz of Salter's Lode.
These certificates were presented to them by our very own Paula Syred, with a letter of thanks from the British Marine Inland Boating Chair. Paula is Vice Chair of British Marine Inland Boating and Managing Director of Fox Narrowboats. The presentation took place at Denver Lock on Thursday 10th June 2021.
We Have Different Words
The definition of the word 'lock' is a section of a waterway, closed off with gates, in which boats are raised or lowered by raising or lowering the water level of that section. But as well as a noun, it's also a verb, which means to pass (a boat) through a lock.
Liveaboard boater Amy, from M.BWillow says,
"Some things vary by area. In the Fens, paddles are known as slackers or penstocks and on the Severn a narrowboat is a longboat, and what we call a cabin shaft on the canals is a hookshaft on the Severn.  In the Fens we also call a dock or mooring a staithe, and a man-made drainage channel is a lode.
Read more: The Canal Lingo Those Toe Rags Won't Tell You About
We hope that's given you an idea of just some of the ways the Fenland waterways can be a bit different. They are also quieter than the other waterways, with an unusually flat landscape, offering stunning views of very big skies. Start planning your boating holiday today by checking boat availability.
You may also like, Amy's Top Safety Tips for the Salters and Denver Tidal Crossing.
Ref: (1) Middle Level Commissioners website.
Hey! Are you new here? Click 'Blog' (top right) and look for 'Follow Blog' in the right sidebar to receive more helpful holiday tips about the Fenland waterways. (We never share or sell email addresses, we'll only be sending you our local, insider knowledge, every two weeks.)