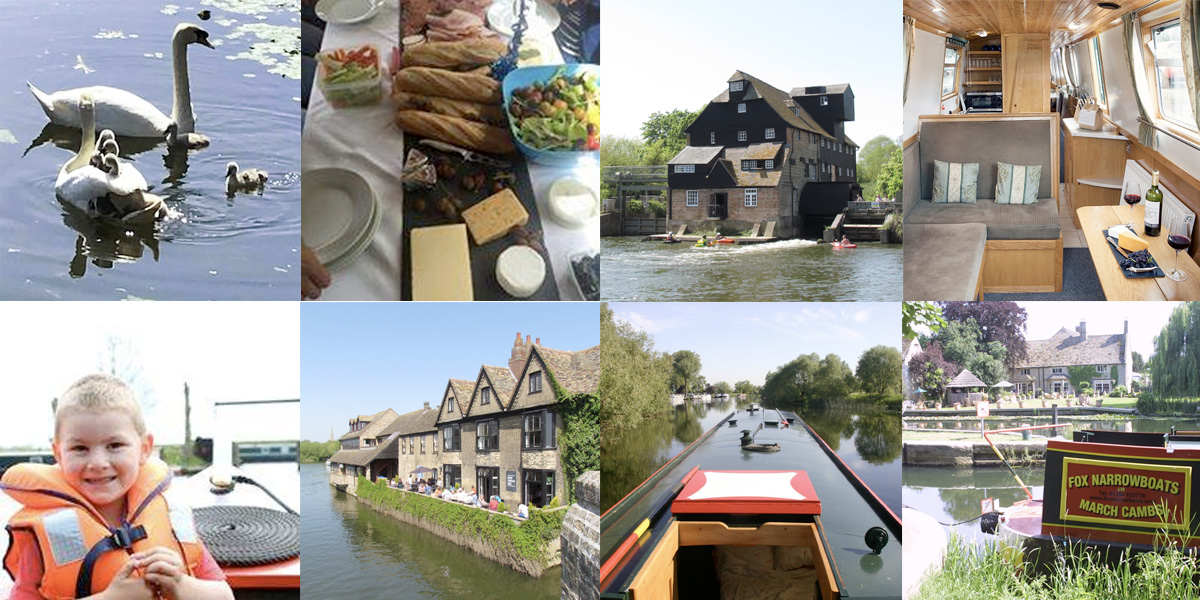 It's been a great summer on the East Anglian waterways this year; narrowboaters have enjoyed sunny cruises, music festivals, cream teas, tiny villages, cathedrals and colleges, locks and moorings, pubs and restaurants, holidays and day trips.
Here's a roundup of what sort of things boaters have to up to during this year's cruising season in Cambridgeshire.
1) Open Day and St George's Fayre
We had a busy week in April when 300 people interested in boating visited our marina for the Drifters hire boat open day. Later that week thousands of people enjoyed March's St Georges Fayre, which is a big festival of live music, market stalls, a parade, and fun fair, with dance performances and dragons! Some boaters were able to book a holiday that coincided with these events. Warning: Time Running Out for Boaters Who Love Live Music  Maybe next year you'll be one of them?
2) The Unknown Village That Reduced Stress
Boat-lovers looking to manage their stress this summer discovered that a little exercise, spending time in nature, and practising mindfulness are all effective ways of winding down. We found five ways that a canal boat trip to an English village can wash your troubles away. 5 Ways This Unknown Village Can Soothe Your Soul
3) Festivals by Narrowboat
After kicking off the festival season this year with St George's Fayre we had a summer full of fun in Cambridgeshire. Boaters who love live music were able to combine their narrowboat holiday with one of these free outdoor events. Our Top 3 Free Summer Festivals by Narrowboat.
4) Local Knowledge: Places to Visit
One of our mooring customers, Chris Howes, is Chairman of the Inland Waterways Association Eastern Region and last year won the A P Herbert cup for the greatest distance travelled to the IWA festival of water 2017. This summer he wrote a guide to the local waterways to help any boaters attending the St Neots Festival of water.  Places to Visit: Nene, Great Ouse and Middle Levels
5) Handy for Londoners
Some of our customers are Londoners, wanting to avoid spending hours in traffic before their holiday even begins. Our narrowboat hire base is just over an hour from London, but a world away from the city noise. Imagine travelling from Kings Cross through the English countryside to where your own cosy narrowboat awaits you. Here are five great reasons to take a narrowboat holiday near London.
6) Old Bedford campaign to be Restored
Back when Charlie and Pat Fox first set up Fox Narrowboats in the 1960's, navigation on the Middle Level was very different from today. Mooring customer John Revell described some of the changes in the area that have been achieved through waterways restoration campaigns, and wrote about the Old Bedford Campaign Cruise that took place in August.
7) Holiday Planning Tips
With so much countryside, wildlife, heritage and things to see and do on the East Anglian waterways some boaters found it was fun to roughly plan a route before coming. Our first planning tip was that you should never over-estimate how far you can go on your holiday! How to Plan a Fenland Narrowboat Hire Holiday
8) Boating: Just for the Day
Our more local customers live in Peterborough, Wisbech, Ely or Huntingdon. When they want to get together with some friends and family they like to hire a narrowboat, just for a day. A relaxing boat trip on the Cambridge river network is the perfect end to a wonderful summer. Find out Why You Should Hire a Narrowboat for the Day, near Ely
Now that the summer is over, the poles and planks have been removed from our hire boats and we've started our winter maintenance jobs. If you're curious to know how we 'winterise' a narrowboat check out our 3 basic steps to help you protect your narrowboat or canal boat from the cold.
We're pleased to say bookings are now coming in for the 2019 and 2020 seasons. Have a look at our boats and see if you'd like to join us for an adventure next summer.
Hey! Are you new here? Subscribe on the right to receive more secrets of the undiscovered Fenland waterways, by email. Our stories of summer cruises could be just what you need to get you through the darker winter months! (We never share or sell email addresses, we'll only be sending you our local, insider knowledge, every two weeks.)