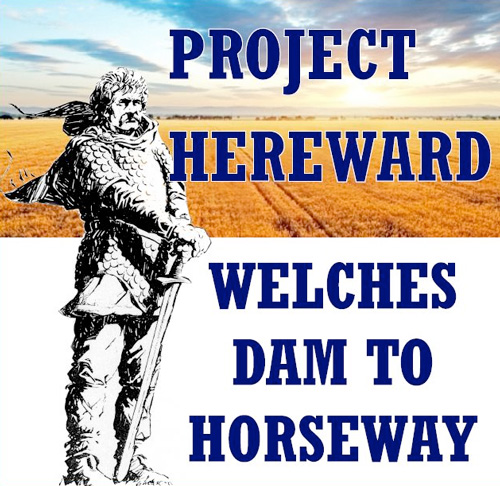 If you're new to narrowboating in Cambridgeshire you may not know about the planned restoration of the Forty Foot River between Welches Dam and Horseway Lock. Project Hereward intends to restore this historic navigation link between the Middle Level and the Great Ouse and bring this waterway back to life for all users.
Here are six secrets about Project Hereward that every Fenland boater should know.
1) This 2 ½ mile channel of 40 foot drain was navigable as recently as 1995, but is now neglected and overgrown with vegetation: Not a fish or a boat in sight.
2) Historical importance: As it was constructed around 1649 it actually pre-dates the Duke of Bridgewater's first canal by over 100 years!
3) The Forty Foot River is midway between March and Ely and is the broken link in a chain of waterways from the Great Fen in the West to Wicken Fen in the East. When restored it would link the rest of the UK canal network through the Middle Level to the Great Ouse system.
4) It could be a key part of the future Fenland Waterways Link because it will make it possible for boats to travel from the Middle Level to the Great Ouse System without crossing the tidal river at Salter's Lode.
5) Although there are already over 600 boats on the Middle Level Navigations this new waterway would draw more leisure craft to the waterways and holiday and day-boat hire would increase. Because this will be an easier and more convenient route from the River Nene to the Great Ouse, more boats will be expected to travel through the Middle Levels benefitting many local businesses and attractions.
6) Phases 1 and 2 are already underway! Phase 1 is to evaluate existing problems on the forty foot drain between the locks. Phase 2 is to create a detailed plan of action for a revitalised Waterway For All, and negotiate with the Environment Agency and riparian landowners.
What Next?
The Project Hereward team meets formally every month: Phase 3 is to cost the plan!
The waterways that make up the Middle Level system are a mixture of natural rivers and man-made channels that were started early in the 17th century. Our hire boat base in March is at the heart of the Middle Levels. Browse possible holiday routes here and explore the Middle Levels for yourself this summer!
You may also like: Fox Boats Mooring Customer is First Narrowboat in Old Bedford in 2015.