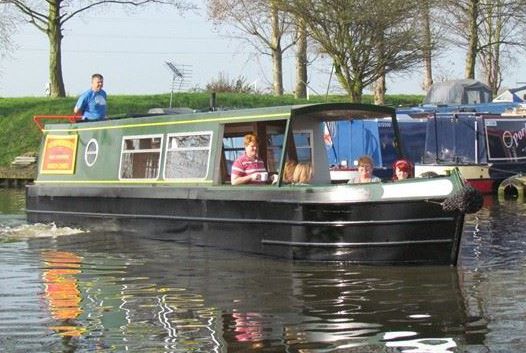 If you're new to narrowboating and haven't tried a canal boat holiday before there may be some mistakes that you don't even know you're making. Before planning your first narrowboat holiday you may have several misconceptions about boating and inland waterways. So, here are five myths busted by an experienced narrowboater.
1) Barge Holiday or Long Boat Holiday?
A long boat is a Viking boat – so the chances are you are thinking about a narrowboat! However, many people refer to all canal boats as barges, because of their origins as cargo-carrying boats. These days a barge is usually a wide-beam cargo-carrying boat, and a colourful holiday boat is more likely to be a narrowboat.
2) I Can't Drive a Narrowboat!
Yes you can! You may also be surprised to learn that you need absolutely no prior experience and the team at Fox Boats will make you more than welcome, showing you the ropes and advising you on routes, mooring places and pubs! We'll make sure you're comfortable with handling the boat before you set off, and will show you how to operate a lock (it's easier than it looks.) We want you to feel confident enough to really enjoy your holiday on the Fenland waterways.
3) Is it dark in there?
I used to live on a narrowboat and this was a question that I got asked sometimes. A typical narrowboat may have 10 windows, two portholes and glass doors at the front. A boat that is all portholes can sometimes be a little dark inside, but many boats are light and airy within. Some designs have a little 'pigeon box' on the roof which lets light in through the ceiling. Others may have a sort of glass fish-eye lens in the ceiling. Fox hire boats are light and airy with plenty of windows either side.
4) It's a Bit Like Camping Isn't It?
No, it really isn't. A narrowboat will generally have running water, heating, a full size cooker, gas and a fridge. It is much more comfortable to go on a canal boat holiday than to spend the night in a tent. A typical narrowboat from our hire fleet offers a radio and CD player, hoover, microwave, hairdryer, 240v electrics, 12v mobile phone charging point, a USB Charging point in the saloon, a flat Screen TV with DVD, and gas central heating. So a narrowboat holiday is definitely not "roughing it"!
5) Are the Fenland Waterways Connected to the Norfolk Broads?
No, they are separate waterways, but many of the British canals and inland waterways are connected to one another. The canals in Birmingham, Bristol, Manchester and Leeds are all connected, in fact there are about 2000 miles of navigable canals in the UK. This main part of the canal network is connected to the Middle Level Navigations (where we are) by travelling the River Nene through Peterborough and Northampton to the Grand Union Canal.
A boating holiday on the Fenland waterways is a bit like boating on the Norfolk Broads, but with more than twice the distance available to navigate. This means the waterways are less crowded, allowing you to peacefully cruise through nature reserves, villages, towns and expansive flat landscapes undisturbed.
To find out more about boating on the Fenland Waterways you may like to follow us on Facebook or sign up to receive fun and informative blog articles by email. (See 'Follow Blog' in the sidebar on the right.) We never share or sell email addresses, you details are safe with us.