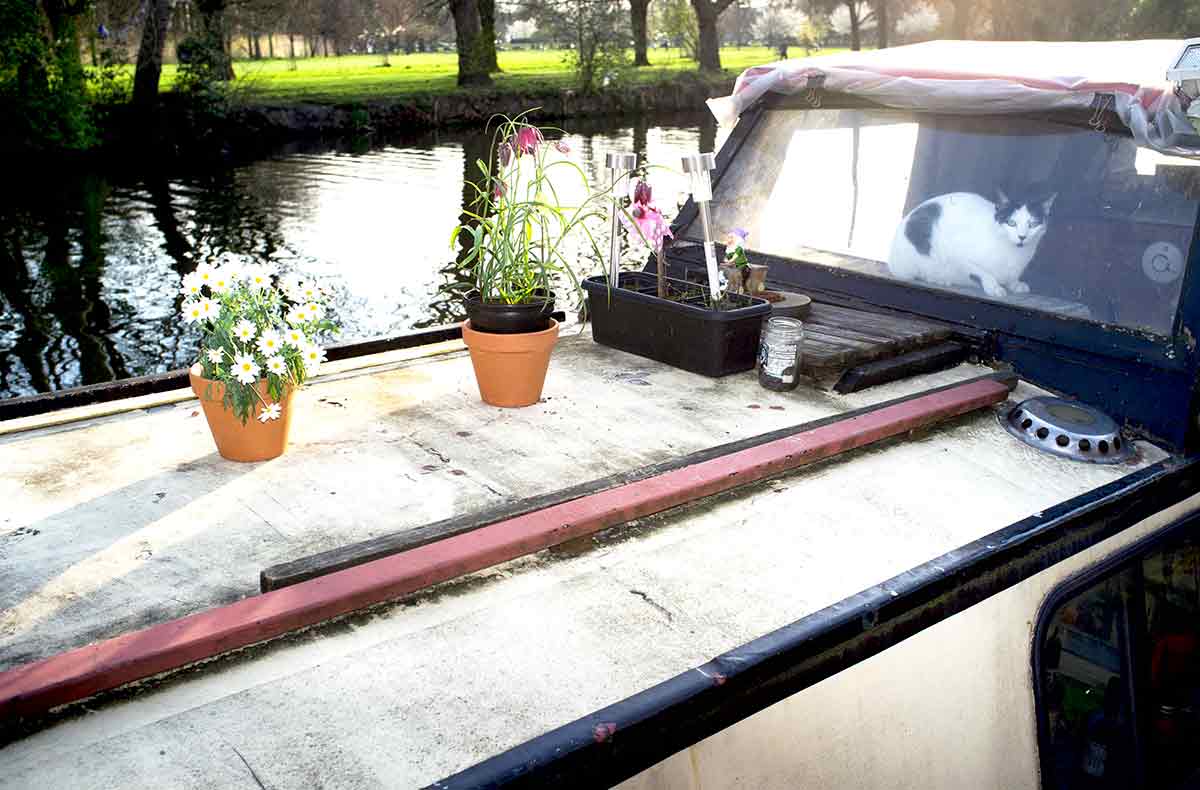 At the time of writing the UK is in coronavirus lockdown, and everyone except keyworkers have been asked to stay at home. If you are safe at home and looking for new books to read, you may like these three suggestions, which are real-life accounts of families living on boats. 
Whether you are an experienced boater, or new to narrowboat holidays, true stories of families on board are a wonderful glimpse into the practicalities of boating life. I lived on a narrowboat for six years with my husband and two young children and wrote a blog about it called The Real Life of a Narrowboat Wife. At that time I was interested in reading stories of other parents who had chosen a life afloat, to see how their experiences compared with mine.
Ramlin Rose
My favourite book at that time was Ramlin Rose, by Sheila Stewart. The author interviewed several boatwomen who were born and bred on horse-drawn boats, and recounted their experiences as seen through the eyes of a fictional boatwoman, travelling on the Oxford Canal through the Great War, the Depression, the Second World War and the decline of the canals. The harsh reality of raising a family while working incredibly hard and long hours is captured in this poignant account. There are several books about the history of the cargo carrying boats that were once and essential part of Britain's transport system; but this is a rare account of the lifestyle from the point of view of the women. The details of their daily lives, shopping, cooking and parenting while steering a boat, are fascinating to read.
Narrow Margins
As cargo-carrying boats faded into the history books, the canals started to become a place for leisure cruising and holidays, and living aboard became a lifestyle choice.
When financial circumstances forced her family to downsize their home, author Marie Browne and her husband Geoff bought a 70ft ex-hotel boat called 'Happy Go Lucky' to live on. This funny, heart-warming story follows the family's journey from Braunston, to Cambridge. After leaving the Grand Union Canal their adventure took them down the River Nene, through the Middle Level navigations and on to the River Ouse, before arriving on The River Cam. So the book contains great descriptions of some of the routes covered by Fox Narrowboats. Their lifestyle change forced them to downsize to a more minimalist lifestyle, and they learned how to live at a slower pace of life. Read more: 3 Things this Book Can Tell Us About Narrowboat Holidays
Mud
Mud is the story of the challenges of adolescence and grief, as a family move from a house in London to a Thames barge in Essex, and tackle a number of difficult life-changes. It's a fictional account based on the experiences and recollections of the author, Emily Thomas. In this dark comedy, the family of seven assorted siblings and stepsiblings navigate their way through parental alcoholism, bereavement and loneliness, as told through the eyes of teenage Lydia. Uplifting and beautifully written in diary form, this charming, absorbing novel describes living through teenage emotions in the early eighties, on a leaky houseboat.
Books From Amazon
These three books are available to order from Amazon. Before ordering check Amazon's latest delivery information and answers to frequently asked questions during the Coronavirus (COVID-19) outbreak.
If you'd like to try living on a boat with your family check availability now for your next narrowboat holiday. As the coronavirus situation continually changes you may like to contact us first, with any questions, before booking online.
If you enjoy reading about life on the canals sign up for updates from this blog. (We never share or sell email addresses – your details are safe with us.) Just look for 'Follow Blog' in the sidebar on the right and we'll send you stories, tips and advice about narrowboating around the Fens.