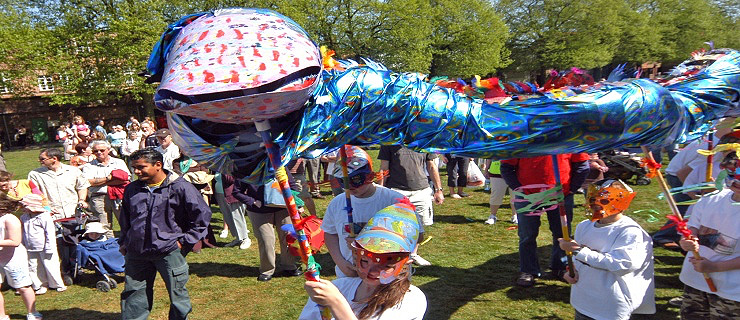 Image*: Ely Eel Festival
Are you new to eel throwing?
Or have you been following this annual event?
Most importantly, who will be named World Eel Throwing Champion 2021?
All this and more will be revealed at the next Ely Eel Festival.
Sadly, the much loved Eel Festival has been cancelled for 2020, in line with current Government health advice. However, the team are already working together on bringing you an even bigger, better Eel Festival and Food & Drink for 2021.
Ely (pronounced EE-lee) is a cathedral city in Cambridgeshire, about 14 miles north-northeast of Cambridge and about 80 miles from London. It's a popular destination on our narrowboat holidays, because of the old English charm and character, waterside antique shops and stunning cathedral.
The origin of Ely's name is obscure, but possible meanings are thought to be "district of eels" or "eel island". Before the draining of the Fens, Ely was an island. Eels are ray-finned elongated fish. The annual festival in their honour involves local traders, acts, demonstrations, celebrity chefs and community organisations. The Eel Food Safari offers jellied eels, roasted eel, eel pate and other eel related cuisine. The weekend also includes a food and drink festival, and an Eel Day parade. This year's event had been planned with a VE Day theme, meaning that the food events would have included some 'old fashioned' inspired recipes, and the carnival style parade would have been led by a WW2 vehicle, followed by Army and Air Cadets and band.  Ely's 'Ellie the Eel' would have wiggled its way to Waterside and into Jubilee Gardens for plenty of eel related activities. There was also going to be 1940's singers, dancers, and a wartime tribute.
The highlight, of course, is the World Eel Throwing Competition. No eels are harmed in the competition, just stuffed toys! The World record of 17.7 meters was set in 2013. The competition is open to everyone. There are some rules; you have a few practice throws and then when you are ready you have your measured throw with the "golden eel".  Each hourly winner receives a certificate and the overall winner of each category receives a trophy.
A narrowboat cruise to Ely takes about 18 hours return trip from our hire boat base in March. After the Middle Level waterways your boat will navigate a short length of tidal river between Salter's Lode and Denver Sluice. You will also pass through the pretty, twin villages of Upwell and Outwell, where the village streets line both sides of the river, and you'll see shops, pubs and churches along the way.
If you want to extend your holiday, Cambridge, on the River Cam is just 5 hours cruise from Ely, passing through some electric locks and the village of Fen Ditton.
If you want to make Ely part of your 2021 holiday plans Check availability here.
In the meantime, please stay safe, listen to Government Advice and we look forward to welcoming you to a Fox Narrowboats holiday as soon as it is safe to do so.
Don't miss more articles about what to see and do when narrowboating in the Fens: Sign up to follow this blog in the sidebar on the right.
*image copyright Ely Eel Festival | Eel Day