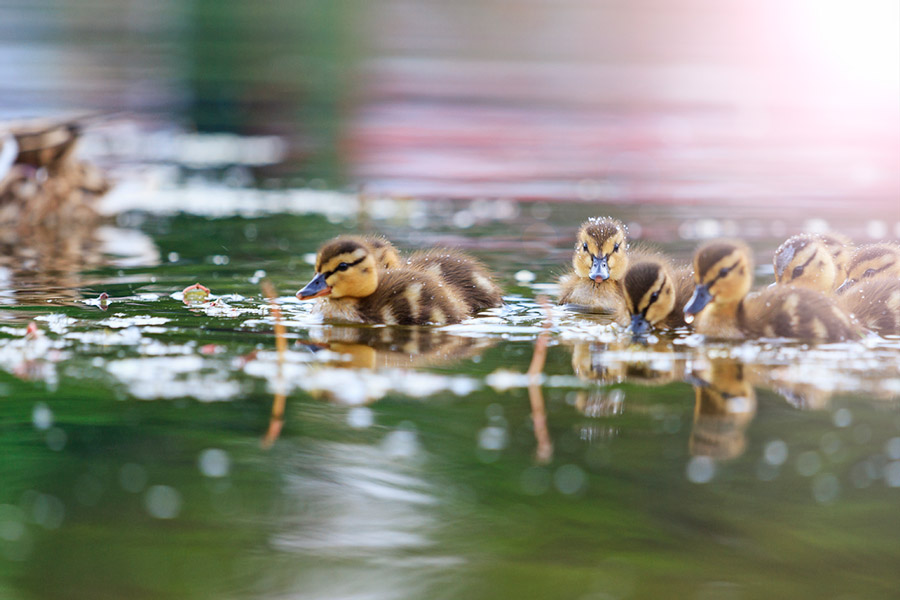 The canal boating season is about to begin, and Easter weekend is often a popular holiday for those wanting to get out on the water. A holiday around Cambridge and the Fens offers peaceful countryside cruises, shopping and restaurants, pretty walks, villages, churches, cosy pubs, and the steam trains of the Nene Valley Railway. Our local waterways are split into the Middle Level, River Nene and River Ouse and are far less crowded than the Norfolk broads. Here are three good reasons to book a narrowboat break this Easter.
1) Springtime
A spring narrowboat holiday means that the waterways are less crowded than in summer time, but the weather is often just perfect for boating. Enjoy daffodils, primroses and blossoming trees as you pass through pretty villages. Animals awaken from hibernation, and swans, ducks and geese proudly swim along with their newborn young following behind. It's lovely to have cygnets and ducklings as visitors to your boat! The Fen waterways are home to otters, kingfishers, hares and foxes. WWT Welney Wetland Centre, not far from the River Great Ouse, is a good place to start exploring the wetlands and get up close to the wildlife.
2) Easter Shopping
How about a relaxed stroll around a picturesque English market town? Try shopping for Easter chocolate treats in Peterborough, Ely, Cambridge or smaller towns along the way. When I lived on a narrowboat we would moor up somewhere rural at Easter time, and hide Easter eggs in the nearby fields and trees for our little ones to find on Easter morning. (My eldest still swears that she once saw the shadow of the Easter bunny on the towpath!)
Take a tea break during your shopping trip and discover quaint little tea shops for Easter cakes and hot cross buns. The Samovar Tea House is a unique and cosy café in Ely, serving a variety of loose teas and coffees, brunch, lunch and home-made cakes. They also sell a variety of tea ware and accessories, cards and gifts and the walls double up as a small art gallery showing a select range of artwork and photography for sale.
3) Save Money
Narrowboat hire prices are often cheaper in the spring time than they are in the summer. If you book online today you could save 10% on your Easter holiday! (You may also like How to Save Money on Your Narrowboat Holiday.)
Choose Your Adventure
If you head west from our hire base in March you will cross the Greenwich meridian line at Floods Ferry and cruise on to Whittlesey, Stanground, Peterborough and the Nene valley. Alternatively, if you travel east to Upwell and Outwell, then cross the tide at Salters Lode you can head on towards Littleport, Ely and Cambridge. See the full map of our suggested holiday routes.
To get more tips and advice about exploring Cambridgeshire and the Fens sign up now to receive regular articles by email. (See 'Follow Blog' to the right of this article.)