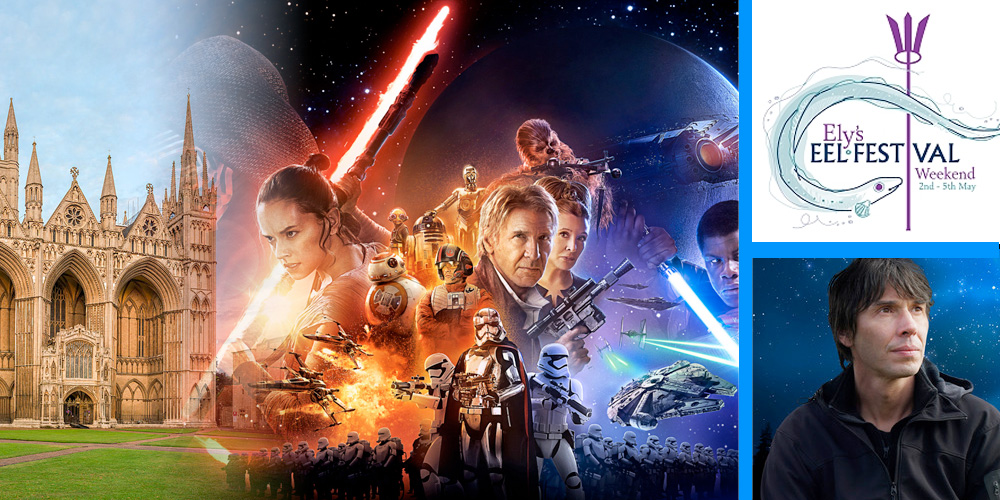 For a really memorable holiday, why not try your hand at some new skills, such as steering a canal boat and operating locks? If you haven't hired a narrowboat before, you may be surprised to find out that it's very straightforward. Many of our customers are first-timers. As part of our handover process we'll guide you through the basics, so that you're confident to cruise off in search of new experiences. Here are three surprising things you can try on your boating holiday; only in the Fens this May.
1) Space Out in Peterborough
Any Star Wars fan will know that May 4th is unofficially Star Wars Day, (the joke being, "May the 4th be with you!") Can you imagine watching The Force Awakens in the spectacular surroundings of a cathedral nave? Catch up with the adventures of Rey, Finn and BB-8 at Peterborough Cathedral's movie night on May 4th. Peterborough is just a short cruise away from our narrowboat hire base.
Star Wars VII: The Force Awakens at Peterborough Cathedral
If you want to take a different sort of journey through space and time, delving into 'high science' and freewheeling on the edges of the known cosmos, you are invited to an evening with Professor Brian Cox at Peterborough Arena. Brian Cox is a physicist, TV presenter and author; captivating, continually surprising and always pushing the boundaries; he makes complex ideas accessible to all.
Professor Brian Cox: Live at Peterborough Arena
Whichever space-date you choose I bet you'll be the only group arriving by narrowboat! The trip from our hire base to Peterborough is a 12 hours return trip – ideal for a short break, or take the boat further towards Wisbech or Northampton, for a longer holiday. Take it slowly as you travel down the River Nene, and enjoy beautiful lock surroundings with ancient mills, stone cottages and thatched rooves. (Read: The 3 Best Moorings When Narrowboating on the Nene.)
2) Ely's Eel Festival
The cruise to Ely is approximately 18 hours return trip from March, and involves the passage of a short length of tidal river between Salter's Lode and Denver Sluice. You will also pass through the twin villages of Upwell and Outwell, where the village streets line both sides of the river, and you'll pass houses, gardens, shops, pubs and churches. In the springtime the river banks here are crowded with daffodils.
Ely takes its name from the humble eel, and celebrates its origins with a quirky, annual festival, involving many local traders, acts, demonstrations, celebrity chefs and community organisations. Visitors can discover more than jellied eels, roasted eel and eel pate on the Eel Food Safari, and take part in the World Eel Throwing Competition as part of Eel Day!
Ely Eel Festival Weekend is 28th April – 1st May 2017.
3) Fancy Studying Wine at Cambridge?
When you're in Cambridge make sure you take an official guided tour of King's College and The Backs, and hear an expert bring the history of Cambridge to life with fun facts and great stories.
Learn about the famous people connected with Cambridge whilst taking in some of the most impressive sights the city has to offer.
As well as this traditional tour, you could also book yourself a wine tasting day with champagne and lunch in the beautiful college of Gonville and Caius. I visited my friend when he was studying at Caius College, and the architecture is truly stunning. On this fun, interactive, wine tasting day you'll learn the basics about wine, and discover which wines match best with which foods. Gonville and Caius is one of the oldest colleges (founded 1348) and the wine tasting is held in the Senior parlour, a spacious panelled room with lovely views overlooking Gonville Court.
Wine Tasting Day in a Cambridge College
Cambridge, on the River Cam is just 5 hours cruise from Ely, passing through some electric locks and the village of Fen Ditton.
These are just three surprising things you can try on a narrowboat holiday in the Fens this May, which you're unlikely to find on your average narrowboat holiday. That's in addition to the fact that the uncrowded East Anglian Waterways offer a most unique cruising area, with stunning, impressive skyscapes as you travel in solitude, discovering occasional villages and market towns along the way.
Ready to plan your adventure? Check availability here.
PS. Get more tips and inspiration about East Anglian boating direct to your inbox: Look for 'Follow Blog' in the sidebar on the right.
Photo Attribution – Peterborough Cathedral
By Diliff – Own work, CC BY-SA 3.0
https://commons.wikimedia.org/w/index.php?curid=35039783