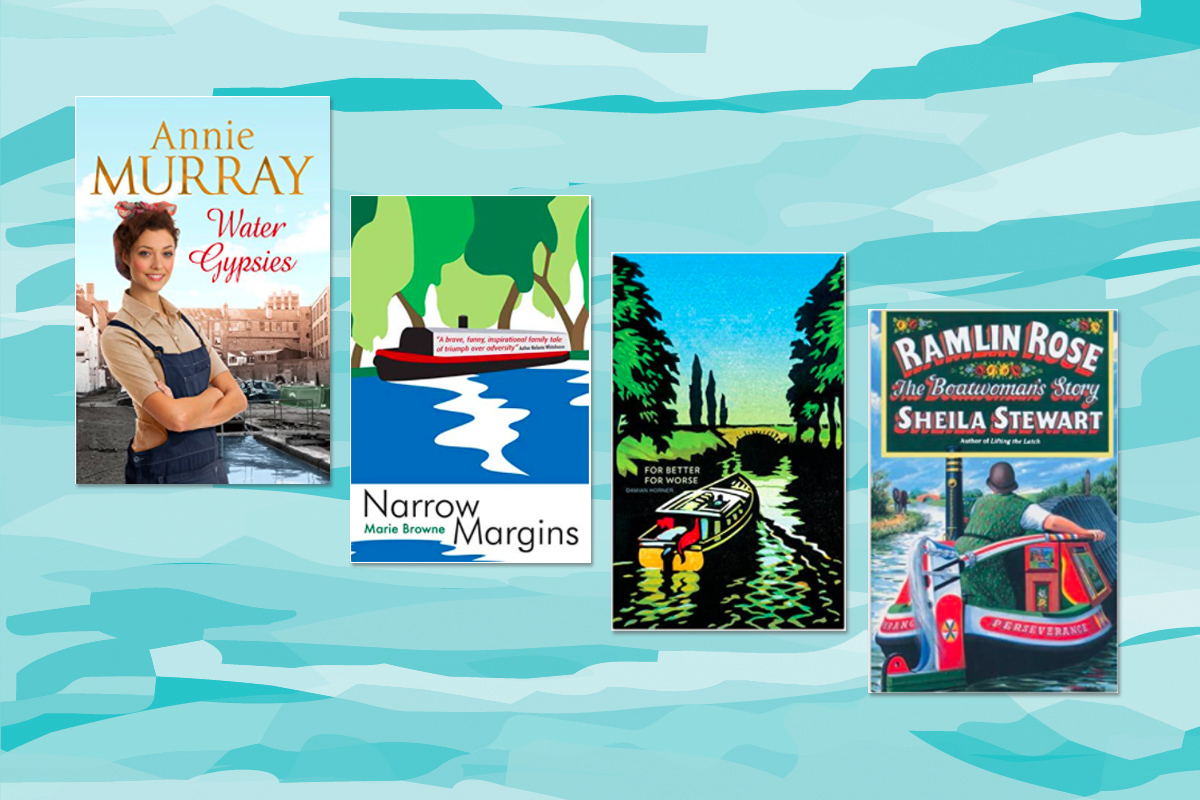 Are you looking for an unusual gift idea this Mothering Sunday?
Something more original than flowers or chocolates?
A present for a mother who loves the canals?
If your mum, wife, or gran is a lady who enjoys narrowboating, or dreams of getting afloat, then consider getting her a book revealing the quirks and charms of parenting on board.
#NarrowboatBooks #WaterGypsies #Annie Murray #NarrowMargins #MarieBrowne #RamlinRose #SheilaStewart
When my children were young we lived on board a narrowboat, so I loved seeking out stories about mothers on canal boats; and it was even better if they were true to life.
Water Gypsies by Annie Murray
The historical novel, 'Water Gypsies' by Annie Murray is a sequel to 'The Narrowboat Girl', but I was told that the canals do not actually feature that much in the first book, so I went straight for the sequel. Water Gypsies begins in 1942 and describes a series of tragedies that befall the heroine, who is tormented by a miserable past! The story follows Maryann, her husband and children as they live and work on their canal boat, the 'Esther Jane'.\
Narrow Margins by Marie Browne
In contrast, Marie Browne's 'Narrow Margins' is a modern tale of a family aboard, trying to make a new start after losing their IT company and large house when Rover went bust. They moved their children and dog onto a ramshackle narrowboat called 'Happy Go Lucky' and taught themselves about narrowboat life and boat refurbishment as they went along. She has since written several sequels about their family's adventures afloat. This is a fun read that details the challenges of living aboard a 'fixer upper'!
For Better For Worse, For Richer For Poorer
I also enjoyed reading 'For Better For Worse, For Richer For Poorer' by Damian and Siobhan Horner. This husband and wife team wrote a memoir about leaving their careers and lives ashore, to travel the French canals with their two young children. Told in two voices, this mid-life crisis story follows their journey on an old fishing boat.
Ramlin Rose by Sheila Stewart
However, my favourite book about mums on board is 'Ramlin Rose', by Sheila Stewart. Recommended to me by another live-aboard mum, this book reveals the details of day to day life for a hardworking family in the cargo-carrying canal age. Sheila Stewart had wanted to interview a Banbury boatwoman and write her biography, but ended up compiling a number of true stories into a fictional life story. As so many boaters were illiterate back then, there is no autobiography written by a boatwoman. So this is the closest thing you will get to a mother's perspective of parenting on board, while working the boats. Although the days were long, and the work was hard, and sometimes dangerous, there was a good sense of community. When the men went to canal-side pubs, they'd be moored alongside other families, and while the women minded the children on board they could catch up with their temporary neighbours moored next door.
"'Spite of all you hears about 'drunken boatwomen' most of 'em was content of 'n evenin to loose their chaps orf to the pub while they stayed tied to their kiddies and the cabin. It was a chance for Mum to catch oop on her chores ready for mornin and catch oop with news of the Cut with the women moored alongside."
'Ramlin Rose', Sheila Stewart
If reading narrowboat books gets your mother in the mood for boating, then a family boat trip on the Cambridgeshire Waterways could be just what you are looking for. Why not plan an unforgettable day-trip to our hire boat base in March? The whole family can have a go at steering the day boat, and spend some quality time together. Boating is an activity that suits all generations, and you can include a picnic, a pub lunch or some fish and chips in your day out.
In 2022 the Mother's Day falls on Sunday March 27th, and the Fox boating season begins in April. If you book a day-trip now you could surprise your mum with this idea on Mothers Day. Read more: The Ultimate Mother's Day Surprise
Get more canal-themed tips and stories by signing up for our blog updates. Subscribe on the right, by email. (We never share or sell email addresses, we'll only be sending you our local, insider knowledge, every two weeks.)
Photo credit: Deposit photos