Local Historian and Author Bill Smith tells us about the Upwell and Outwell Tram Projects. Bill has been a member of the Well Creek Trust since the 1970's when our own founder Charlie Fox was also a member. This is a unique article Bill has written for us and edited by Susan Lowe.  It is the first time he has publically mentioned the dontation that enable the project to get started Ted Harper.
The Wisbech to Upwell Tram Projects –  Background and  history information.
The  memento  Projects is to celebrate the memory of the Wisbech Upwell Tramway. The Wisbech to Outwell Tramway opened as an experiment in 1883 and was extended to Upwell in 1884. At its peak, six trams a day in each direction provided passenger and, most importantly, freight services for local produce to Wisbech and then via the main railway link to larger towns and cities. Competition from motorised buses ended passenger services in 1927. Freight continued until 1966 when it was cut as part of the "Beeching Axe". The final tram journey took place May 20, 1966.
Remembering the Tramway is of importance for all living in the area but also for those much further afield – for rail aficionados and enthusiasts, for local history lovers and tourists and also for millions of fans of Thomas the Tank Engine the creation of the Reverend Wilbert Awdry who was vicar of the nearby village of Emneth (1953 -1965). Toby the Tram Engine and his coach, Henrietta and later, Mavis, the Drewry diesel  tram (1952) were based on rolling stock used on the Tramway. Very little evidence of the former Tramway remain today which highlighted the necessity for the Wisbech to Upwell tram projects.
The idea for the Wisbech to Upwell Tram Project came from a conversation, back in the early 1980s  between William (Bill) Smith and Andrew Ingram (who had at that time written The Wisbech & Upwell Tramway Centenary Album -1983).   Andrew remarked to Bill that, "The people of Outwell and Upwell should have kept some reminders of the tramway.  It would have elevated those two villages as there is a vast interest in the old railways".  Following that exchange, Bill decided to produce a tram memento for Outwell, the village in which he lives.
Bill first embarked upon producing a tram memento for the former tram yard site at Outwell and was given an old Norfolk County Council, spherical road sign marked "Outwell" that had been buried at Bexwell Airfield in1940 during the Second World War.  It would eventually form the centre-piece of the Outwell Memento.  Then, aided by his friends John Button and Tony Judd, he started to source discarded tram-related relics and other authentic railway materials contacting many organisations in the process. They spoke to staff at Bressingham Steam Museum who directed them to a railway "graveyard" at Hardingham in Norfolk.  Bill was offered two full-size Victorian tram wheels fixed to an axle (these gave birth to the Upwell memento idea) and other parts needed to make an installation for Upwell.  These very early tram wheels and axle were designed to run on "bull-head rail" the same type used for the Wisbech to Upwell tramway.
In April 2016 (03/04/2016) on behalf of the people of Outwell and Upwell, Bill submitted a planning application to the Borough Council King's Lynn & West Norfolk (BCKLWN) for the two mementos to be located in the old tram yards of the two villages.  The submission was supported by  Outwell & Upwell Parish Councillors, local residents adjacent to each site and also the Middle Level Internal Drainage Board (at Outwell) and the Health Centre Managers (at Upwell).  In addition, Michael Walsh (BCKLWN, Property Services) also gave his support.
The Outwell Memento, phase one was unveiled July 2016 (pic A) by two of Outwell's oldest residents, Norman Wenn and Iris Risebrow – pictured  with Bill Smith.  A vast selection of historical photographs, from Bill's collection, was also put on display in St Clement's Church.  The photographs were collected by Bill over the past 40 odd years that has resulted in him producing six local history books.
Welle Film Productions – a local film-making group – captured footage of the event with the intention of adding to it by following the future progress of the Wisbech to Upwell Tram Project.
About the same time, Bill being a Well Creek Trust (WCT) member since 1970 approached them to act as fund-holders for the cash donations that were being pledged for the Project.  WCT, which serves to maintain the 'survival for all time' of another local amenity once earmarked for closure – the Well Creek – was a natural choice as their constitution allows them to support other amenities.
Later that year the Project suffered a major setback involving 'people and politics' and a lengthy series of very unfortunate occurrences that saw the Upwell installation being put on-hold indefinitely and many of the railway materials that had taken so much effort to source were lost.  These events caused much anxiety and stress to many local people, particularly Bill and his family, and cast a dark cloud over what to that point had been an enjoyable and rewarding process for all involved.
Fortunately the realisation of the importance for the local area came to the rescue.  The Project was put back on track by a committee, primarily of WCT members rallied by Bill, who approached Wisbech Town and Elm and Emneth Parish Councils with the aim of applying for grant funding to produce further mementos for installation not only at Upwell but also along the entire Tramway route.
To beat the expiry date of the original planning permission Ted Harper a newcomer to the area  donated five hundred pounds to prompt the start of the Phase Two project. Sadly Ted died soon after the Upwell project had been unveiled but he did get to see our project reach fruition. Ted's contribution allowed us to begin the building and installation of the Upwell Tram Memorial (Phase Two)  to go ahead before the middle of August 2019.  Local company, SDM Fabrication of March, offered its services free-of-charge to build and transport the memorial ready for public display.  The event took place on Saturday 27th July and Bill Smith awarded the unveiling honour to ninety-year old Mary Williamson whose husband Bill was manager (until 1974) of Coote & Warren Ltd coal merchants who had a branch at the Upwell tram depot.  Despite a downpour a good crowd turned out to witness the event and then attended the display of tram photographs and other memorabilia coordinated by Bill, assisted by Upwell WI and St Peter's Church members.  The whole day was again filmed by Welle Film Productions – look out for more details once editing has been completed.
All pictures and text were supplied by William (Bill) Smith .
If you are interested in the Tramway Project Bill is giving a presentation with a unique collection of images at Upwell Village Hall on Friday 29th November Starting at 7.30pm. Address  6 New Road, Upwell, PE14 9AB all proceeds are for the Well Creek Trust and Tram Phase Three Project.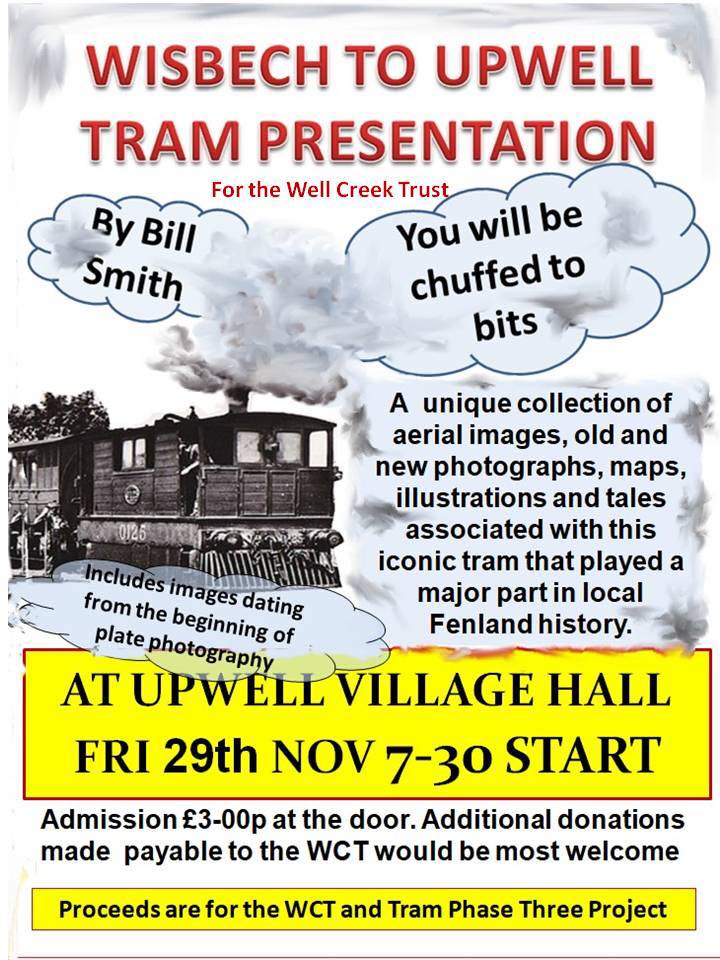 It is possible to visit the Tram Project on a day out by boat from our marina at March.
Hey! Are you new here? Subscribe on the right to receive more secrets of the undiscovered Fenland waterways, by email. (We never share or sell email addresses, we'll only be sending you our local, insider knowledge, two to three times a month.)