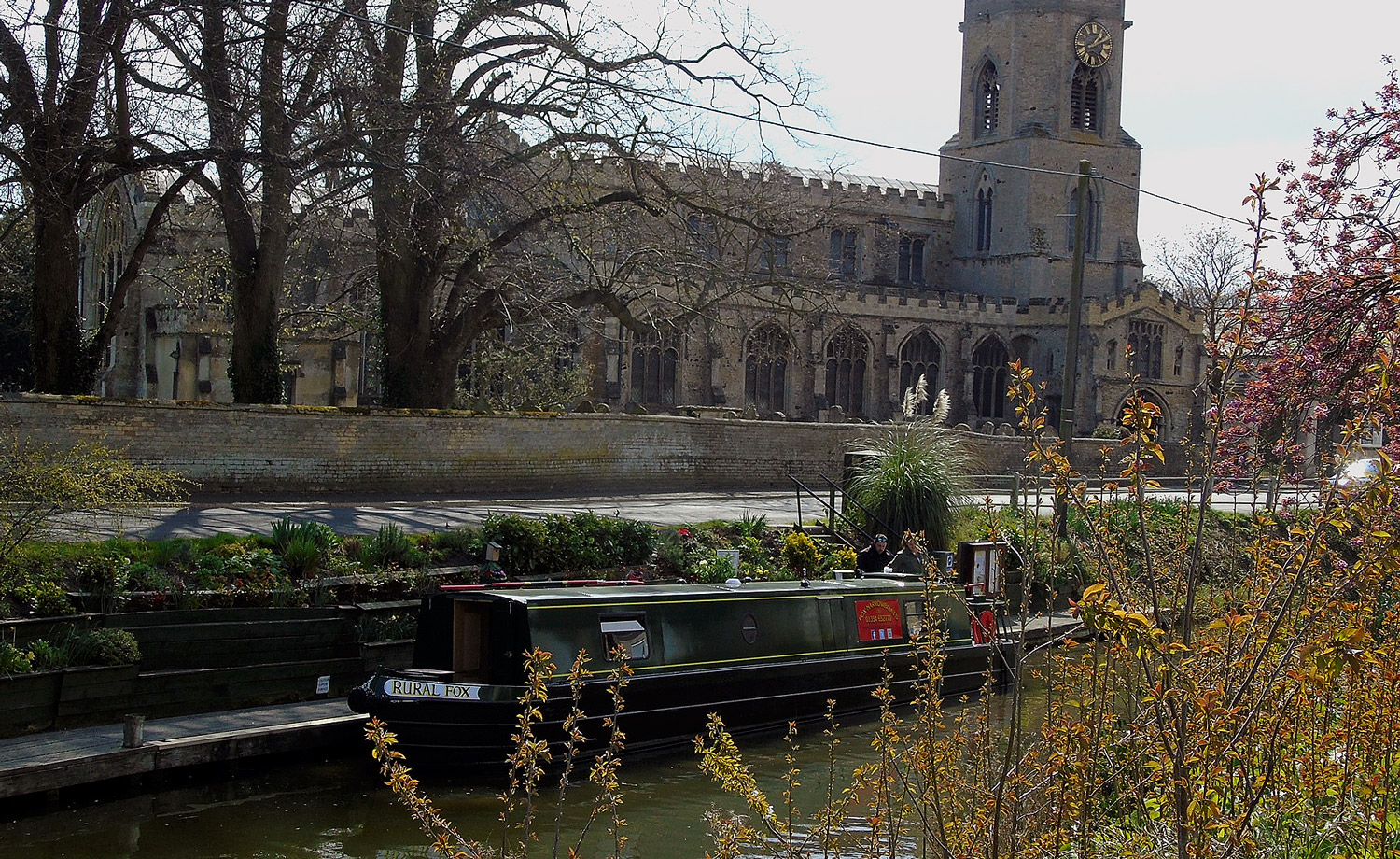 Our hire boat base in March is ideally situated for exploring the Middle Level by narrowboat. This is a fascinating interconnected waterway which will take you through the idyllic riverside villages of Upwell and Outwell on your way to The River Ouse and Cambridge. Alternatively if you are travelling west you can head towards the River Nene and Peterborough. Or you could just explore the Middle Level at a leisurely pace, and enjoy big skies, wind farms and kingfishers.
We asked a few boaters, where do you like to moor on the Middle Level? These are just some of their suggestions.
Upwell and Outwell
Upwell and Outwell are two villages that run either side of the Well Stream, and so give you the feeling that you are cruising down the middle of the road! There are various visitor moorings here, operated by the Well Creek Trust. Amy of historic narrowboat Willow likes the moorings by the church in Upwell because of the lovely edible plants. It is also an opportunity to find out about the Wisbech to Upwell tram which used to operate in these parts.  See if you can find out which children's story book is based on this tram?
Glady Dacks
Glady Dacks Staithe on Well Creek is a lovely mooring just west of Nordelph. It's on the left between Upwell and Nordelph.
Angle Bridge
Just south of Angle Bridge on Bevill's Leam is a "wild" mooring, meaning not an official visitor mooring. There is therefore a bit of clambering needed here. Angle Corner Bridge is on the Twenty Foot River between Old River Nene and Angle Corner on Bevill's Leam: a broad canal.
Some of the wild moorings on the Middle Level have a 45 degree bank and a lot of reeds to negotiate. But if the visitor moorings are busy on a sunny summer weekend you may find yourself looking for a wild mooring, for which you may need to use a gang plank to get to the bank. However, the solitude of a wild mooring can be so idyllic; and a much needed chance to really get away from it all.
Benwick
Carol Sargent says, "We have hired quite a few times from Fox's. This year we did the Middle Level ring. Benwick is amazing. Love going through Upwell and Outwell to the church moorings. It's a lovely quiet waterways."
Leaving the link route at Flood's Ferry and heading towards Ramsey, there are visitor moorings at Benwick and Ramsey, at the end of High Lode. The public mooring in Benwick, has only room for one boat, but it has convenient piled sides, concrete top and bollards, which is easier to negotiate than a wild mooring. Stop here for the pub and shop.
Woodwalton Fen
Woodwalton Fen is a beautiful nature reserve and wetland site west of Ramsey, recognised for its wildlife. It provides a refuge for thousands of species of Fen animals and plants, many of which are found nowhere else in the country.
Ramsey is a town at the end of the Middle Level Navigation, on Ramsey High Lode, a broad canal running from Ramsey (which is a dead end) to the Old River Nene.
If you're cruising towards Ramsey there is a mooring just under the second bridge, and a village shop with a pub there. Ramsey is four hours cruise from Fox Narrowboats marina, and is also home to the Ramsey Rural Museum. Check their website for the current opening times. https://ramseyruralmuseum.co.uk
You may like to read more about the history of the Middle Level here: Middle Level. Our narrowboat holidays can be taken as a week, weekend break or midweek breaks. Check availability today: Middle Level Narrowboat Holidays.
You may also like to read: Secrets of the Middle Level Waterways
We are indebted to boaters Simon Judge, Amy-Alys Tillson and Carol Sargent for help with this article, who were kind enough to let me know their favourite moorings on The Middle Level.
If you enjoy reading about the Fenland waterways sign up for updates from this blog. (We never share or sell email addresses – your details are safe with us.) Just look for 'Follow Blog' in the sidebar on the right and we'll send you stories, tips and advice about narrowboating around the Fens.