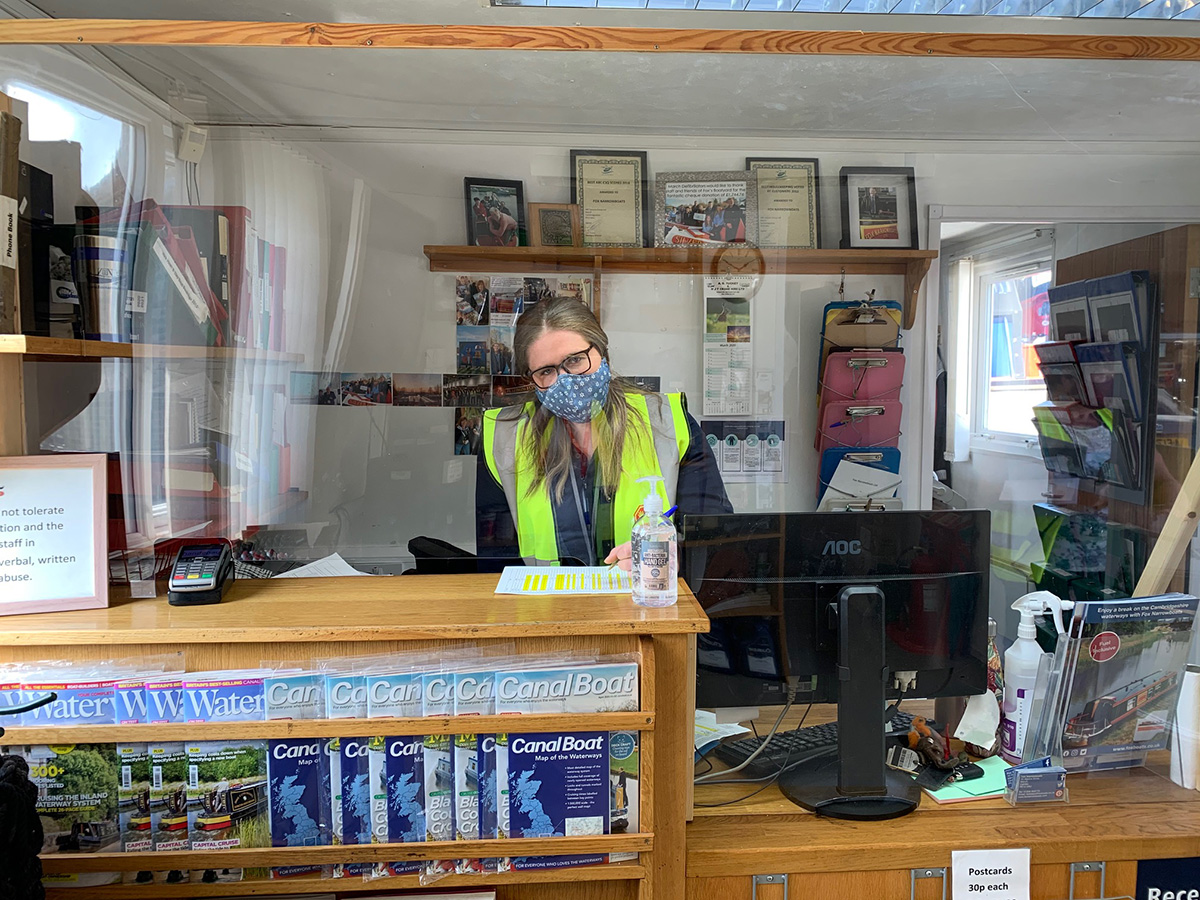 Is it safe?
Where can we go?
And will the pubs be open?!
So many questions!
We're happy to be open again, currently offering day boat hire for groups following government guidelines. We are also now taking bookings for holidays from the 4th July, so you may have some questions about what a narrowboat holiday is going to look like in the new (not) normal.
Is it Safe?
Please be reassured we are doing all that we can to make your holiday a safe experience. See our short video – Hiring a boat during COVID.
The government advice is to continue to wash your hands regularly, especially before and after using any public service or structure, so this will include locks and public facilities around the waterways.
To reduce the risk of transmission through touching facilities or locks that have been used by others it is advisable to wash your hands or use hand gels frequently to reduce the risk of catching coronavirus. You may also want to wear face masks in enclosed public spaces, such as shops.
During your holiday you should also remember to maintain social distancing, and only allow members of your household aboard your hire boat. Be considerate of other boaters by keeping your distance when using shared waterside services.
Where Can We Go?
We have a number of suggested waterways routes that are now open to navigation. Our local rivers are beautiful places for people to enjoy exercise and being in the outdoors, close to nature. As well as keeping your distance from other towpath users, keep your distance from moored boats where people may be living aboard.
Many local organisations and businesses will be offering imaginative new ways of enjoying life after lockdown. The Visit Ely team have planned a programme of tours 'with a difference' including an Eel Trail walk with a picnic, or cream tea; and twilight trails, which are walks that end with a cocktail.
Oliver Cromwell's House, in Ely, is due to reopen on July 3rd. To start with they will open only their souvenir and gift shop and their Tourist Information Service. Plans to open the historic house to visitors should follow at the end of July. In the meantime, join their Architectural Historian in learning all about Oliver Cromwell's House from the outside; all the history and the hidden secrets! This will be followed by coffee and cake at Poets House.
As more tourist attractions reopen you may find you have to book ahead, as attractions limit the number of visitors they can have at any one time. There may also be other new steps in place to ensure everyone's safety, so your visit may be a little different.
Will the pubs be open?
Many waterside pubs are marked on the maps and cruising guides that are provided with your hire boat, but please do bear in mind that some of these may be temporarily closed due to the coronavirus situation. However, other pubs, such as The Five Bells, at Upwell, have been offering a takeaway service throughout this period of uncertainty. Their menu is on their website. If you are planning to visit a particular pub or takeaway, you may like to use the WiFi on your hire boat to get up to date information on line about current business opening hours.
We are a warm, friendly, family business, looking forward to welcoming you here at our marina, for a much deserved break away from home. We expect to be busy so check availability now for this summer, or the 2021 season. Our holiday bookings are open from 4th July 2020. If your holiday cannot go ahead due to COVID-19 and government restrictions, full refunds will be given. Check out our Coronavirus Guarantee.
To be notified with new holiday information as it changes, sign up for updates from this blog. (We never share or sell email addresses – your details are safe with us.) Just look for 'Follow Blog' in the sidebar on the right and we'll send you stories, tips and advice about narrowboating around the Fens in 2020.