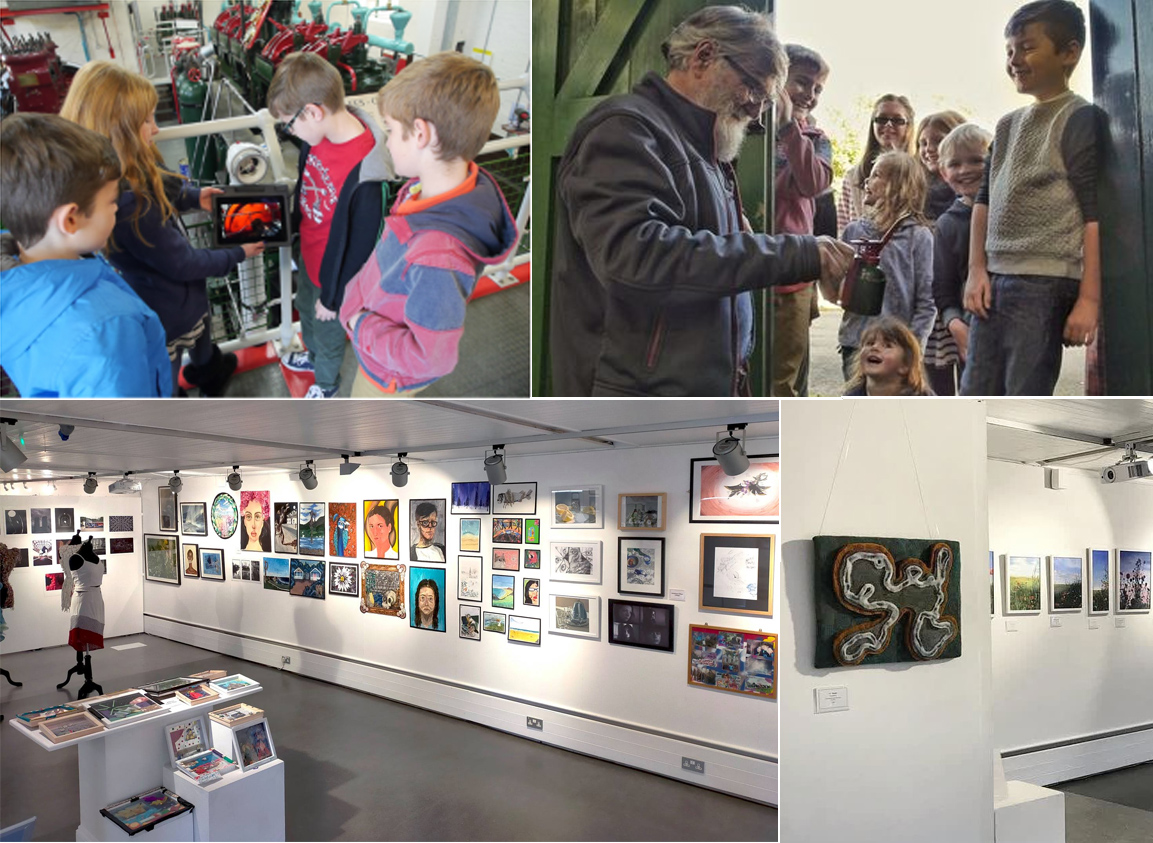 Photos: top Prickwillow Museum, bottom The Babylon Gallery Ely
As the summer holidays come to an end, parents are buying new uniform and stationery and getting ready for the autumn term. If this summer has been all about the staycations, confined to daytrips in your local area, you may be yearning to book a family narrowboat break for next year.
The Fenland waterways are not only a great place for a canal boat holiday, but they're also full of interesting and educational places to visit. Here are five lessons you could learn on a family narrowboat adventure.
Technology
Learn about the history of how the Fens were drained. Fenland water pumping technology started with wind pumps, then steam engines were introduced, followed by diesel engines.
At the National Trust's Wicken Fen Nature Reserve, you can moor up at the end of Wicken Lode, see how the Fens used to look before they were drained, and visit the last working wind pump. There's also a traditional fenman's cottage and a chance to explore the natural history of the area with nature walks.
Stretham Old Engine and Engine House is five miles south of Ely and its tall chimney is easy to see from a distance. It can be reached by boat from the Old West River. Stretham Old Engine is the last survivor in the southern Fenland of over 100 steam-powered pumping stations applied to fen drainage in the 19th and early 20th centuries. The steam engine is only run on certain days, so check the website in advance before you travel. https://strethamoldengine.org.uk
History
The Prickwillow Engine Museum is on the River Lark with a convenient mooring nearby. This museum showcases some of the region's finest examples of restored diesel engines. It's also within easy reach of Ely, with a spacious café, and attractive walks nearby. They have special event days listed on their website. https://www.prickwillowmuseum.com
You may also like: Are Museums Ever Fun? The Answer Might Surprise You
Art
There are impressive art galleries to explore in Peterborough, Ely and Cambridge. There are also several small, independent galleries around Peterborough sourcing original work in a variety of mediums, from talented artists. Ely's visitor moorings are close to The Babylon Gallery and while you're in Ely you can also visit The Stained Glass Museum at the cathedral.
University of Cambridge
An academically themed boat trip wouldn't be complete without a visit to Cambridge. It is the second-oldest university in the English-speaking world and the world's fourth-oldest surviving university. Wander among the stunning architecture of the various famous colleges and be inspired by walking in the footsteps of the many notable alumni, including eminent mathematicians, scientists, politicians, lawyers, philosophers, writers and actors. Many Nobel laureates, Fields Medalists, Turing Award winners, heads of state, and prime ministers have been affiliated with Cambridge as students, alumni, faculty or research staff.
Oliver Cromwell studied at Sidney Sussex College, Cambridge. His house in Ely is now the Tourist Information Centre and sometimes offers family fun days. The house has been refurbished to show how it may have looked during Cromwell's lifetime. There are eight period rooms and the kitchen dates from around 1215.
Narrowboating
This is an unconventional skill not taught at school; but learning to steer a canal boat and operate a lock is a fun outdoor activity. Steering a holiday boat on the Fenland waterways may seem daunting if it's your first time, but at Fox Narrowboats we have qualified instructors that will give you full training during the boat handover. If you're new to boating you may like: 3 Skippers Tips to Start Steering a Holiday Narrowboat
These five lessons will appeal to students of all ages, but this rich combination of history and art can be balanced out with lazy days cruising the boat, soaking up the benefits of being close to nature, grabbing a cake in a country tea room or mooring for dinner at a cosy waterside pub. It's the perfect way to absorb a bit of culture, without doing any studying or going back to school.
You may also like: 5 Family Goals You Can Achieve on a Narrowboat Holiday
Ready for your family canal adventure? Try booking a daytrip or a narrowboat holiday now. Check availability here.
Hey! Are you new here? Click 'Blog' (top right) and look for 'Follow Blog' in the right sidebar to receive more insider knowledge about canals and narrowboating. (We never share or sell email addresses, we'll only be sending you our local, insider knowledge, every two weeks.)