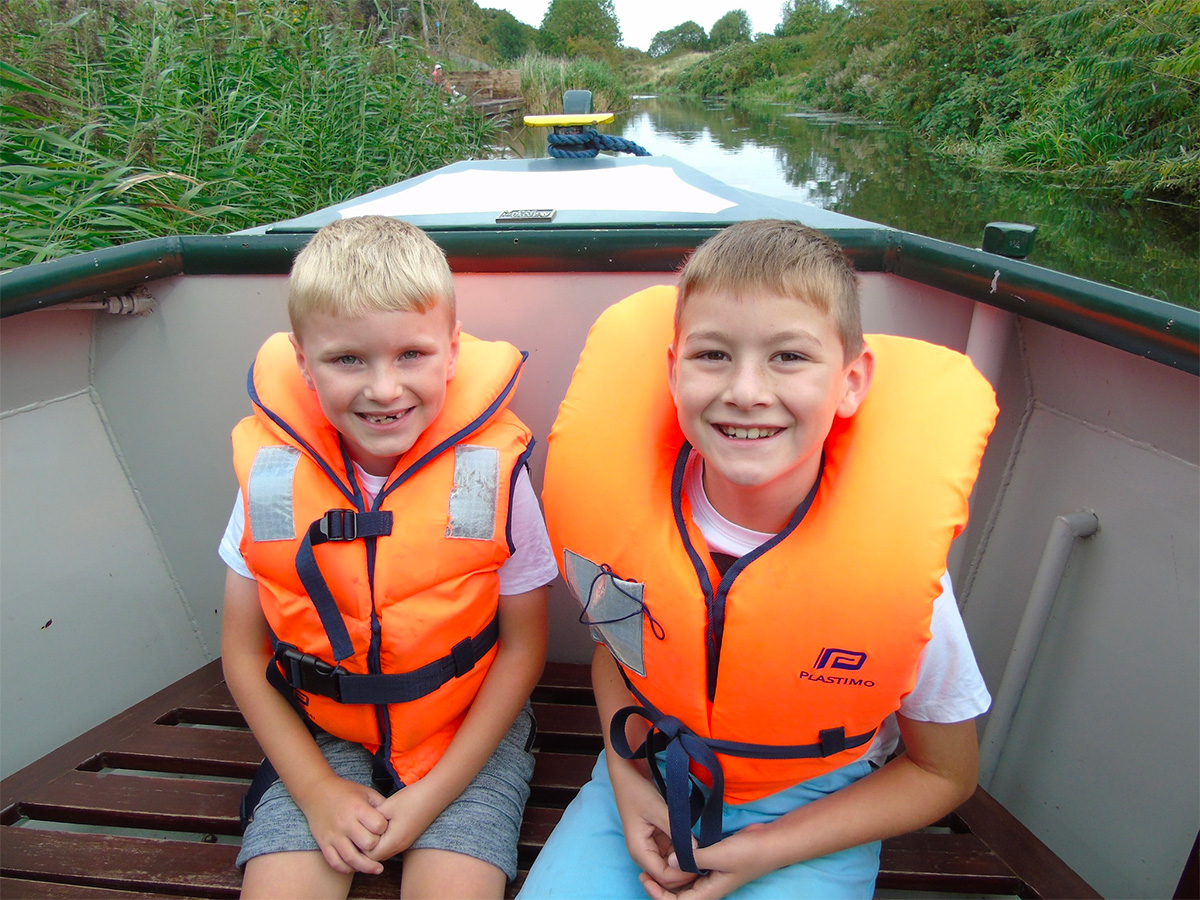 Want to escape the hustle and bustle of everyday life?
Need a break that will suit your whole family?
Want to enjoy quality time together and learn new skills?
A narrowboat holiday offers a unique and unforgettable experience for families, allowing you to travel at your own pace. Immerse yourself in the beauty of the Fenland countryside, explore charming towns and villages, and create lasting memories. In this comprehensive guide, we'll take you through everything you need to know to plan the perfect family holiday in Cambridgeshire.
Is a Narrowboat Holiday Right for Your Family?
Are you looking for a different kind of family adventure? Look no further than a Fox Narrowboats holiday. Picture yourself and your loved ones cruising along our unusual waterways, surrounded by breath-taking scenery and big skies. A Cambridgeshire narrowboat holiday offers a unique blend of relaxation, exploration, and quality time with your family. The flat, reclaimed land of the Fens has a very different vibe to the rest of the English canal network.
Narrowboats, (also known as canal boats,) provide a cosy and comfortable home away from home. Our traditional Fox boats are designed to navigate our local canals and rivers, offering a peaceful and slow-paced way to travel. With all the necessary amenities on board, including comfy beds, a kitchen, saloon and bathroom, you'll have everything you need for an enjoyable holiday.
What Safety Tips Do Families Need to Know?
While children of all ages can enjoy a boating holiday, it's important to assess their safety and ability to follow instructions. Younger children may require constant supervision to ensure their safety, and yet older children can actively participate in becoming valued members of the "crew" helping with steering, mooring and operating the locks. Just a few simple precautions will keep everyone safe. Life jackets supplied on board will provide peace of mind, especially if you have young children. Choose sensible, flat, comfortable shoes for everyone when the boat is underway, and save your fancy shoes for when you're heading ashore for an evening meal! Prepare for the unpredictable UK weather by packing comfortable clothes, shorts, fleeces and waterproofs for everyone.
You may need to remind the children of the importance of staying away from the water's edge while on board the narrowboat. Running on the towpath is to be avoided, and so teach everyone to keep a safe distance from the edge. Make sure children are supervised on board and explain how to stay safe during the journey. Be aware that locks have tall, slippery sides and fast-moving water: Children should never operate a lock without adult supervision.
Essential Planning
You can get the kids excited about the upcoming narrowboat holiday by involving them in the preparations and talking about the safety tips they will need to know. Explain the potential dangers, and that they may need to wear life jackets, depend on their age. It will be important to follow instructions and be mindful of their surroundings. Watching videos together can help to prepare your family before you go. Try YouTube for canal boat safety tips, and Robbie Cumming for boating inspiration.
Watch: Robbie Cumming Stars in Canal Boat Diaries
Younger children may enjoy the old ITV programme Rosie and Jim.
You may also like to plan your narrowboat holiday around family-friendly attractions and activities. Research destinations that offer playgrounds, nature reserves, and museums suitable for children. This will keep the children are entertained and engaged throughout the journey. There is also lots of inspiration for a family boating holiday on our blog.
Would boating suit your family? Check availability now for your next family adventure.
You may also like: The Top 5 Tips for a Family Narrowboat Break
For more essential tips about family boating holidays enter your email address in the box in the right side bar ('Follow blog') and we'll send you articles direct to your in -box. (We never share or sell email addresses, this is just to send you our latest blog posts.)