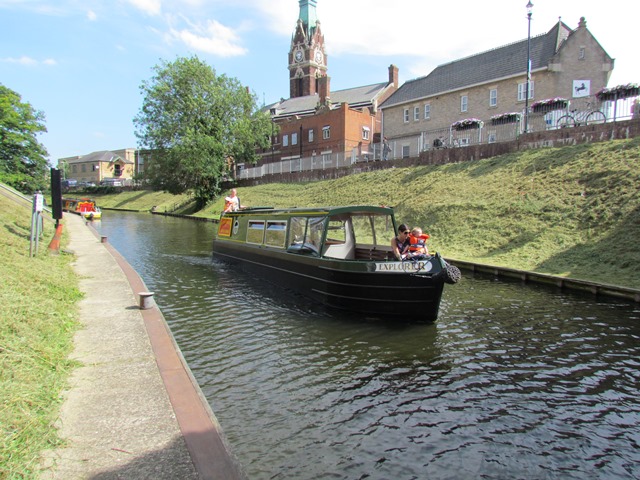 Want to get away from it all, but have no time for a holiday?
Then grab your nearest and dearest and take a day trip from March to Upwell, through the Middle Levels in Cambridgeshire. Getting up close to nature, and travelling at a relaxing pace can do wonders for your mental health, and leave you feeling rejuvenated, and ready to take on whatever 2020 throws at you next!
This lovely cruise will take about six and a half hours, and you are guaranteed dozens of fascinating photo opportunities along the way.
Other Boats
As you set off from our hire boat base in March you will see moored boats on their end of garden moorings, and see the backs of local houses, as you pass the overhanging trees. Glide under old arched bridges, alongside grassy green riverbanks, and become a passing spectator on rural life. You may see the local swans quietly going about their business, or a live-aboard narrowboat here and there, complete with portholes, fenders, and roof storage boxes. When you pass another cruising boat, be sure to nod a friendly greeting in their general direction.
Windmills
As the landscape opens up into stunning wide skies with the clouds reflecting onto the rippling water, you will travel through a spectacular wind farm. The vast flat panorama of big skies give you an amazing sense of freedom, and the tranquil spinning of strange windmills, is quite mesmerising.
Marmont Priory lock
Enjoy the satisfaction of approaching a lock that your crew mates have prepared in advance for you. Carefully steer through the gates, minding the cill, and working as a team, winding the paddles, and holding the ropes. Then leave the lock, tidily closing the gates behind you and head into one of the most picturesque villages in the Fens.
The Villages
At the twin villages of Outwell and Upwell pretty reeds line the grassy riverbanks, and the bushes and telegraph poles are reflected in the tranquil water. The chimneys and windows of red brick houses are overlooking the waterside, and little GRP cruisers are tucked cosily into their moorings. Absorb this sense of a slower pace of life, as your boat approaches the village church.
Fish and Chips
When you get to Upwell you may like to visit Rav's Fish & Chips, or J R Stott fish and chips, in Outwell. Then turn the boat and head back to the hire boat base under blue skies and fluffy clouds, with wide expanses of long grass on either side of you as you cruise. The flat scenery here gives a wonderful feeling of space, on the return journey. Then you pass the same steep gardens, moored boats and waterside murals again.
As you approach our hire boat base you will see a familiar sign, announcing our moorings, diesel, gas, and chandlery, and as you slowly turn the corner you will see the recognisable red and green livery of the other Fox narrowboats, moored in the marina.
You could finish off your day by wandering into March to eat at Shooters American Diner, Riverside Fish and Chips, The Exchange Tea Parlour and Restaurant. There are more food options in the tourist information guide supplied with the boat.
You may like to check out The Frustrated Boater on YouTube for short videos that show you the kind of things you might see on a Fox Narrowboat trip. There is a great little video showing the March to Upwell trip; taking you there and back in eight minutes!
Our day boats will carry up to 10 people, with lots seating at the front. In case of a rain shower there is a see through cover at the front and plenty of seating inside. Read more: Day Boat Hire details
You can book online or call our friendly reception staff who will advise and help you to book. Our day boats are popular at weekends, especially in the summer months so be sure to book early. If your trip cannot go ahead due to COVID-19 and government advice, full refunds will be given. Check out our Coronavirus Guarantee.
You may also like: Your Guide to Narrowboating in the New Normal