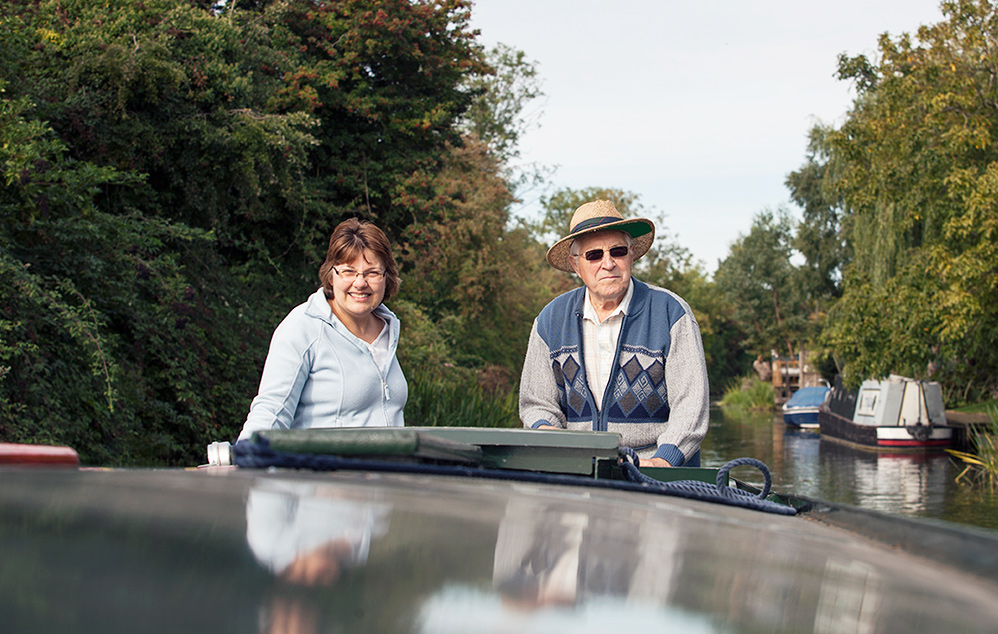 Did you miss these seven surprising stories on our blog this summer? Did you read 'Four Things You Don't Expect on a Narrowboat Holiday', or how two intrepid narrowboats overcome algae and other obstacles on the Old Bedford River? Starting from spring, here's a roundup of the surprisingly true adventures we had during this year's cruising season.
1) In April we welcomed Lee to the team, as our new marina operative. His work includes supplying diesel and pump-outs, mooring maintenance, site maintenance, boat presentation and boat bottom blacking. He is now starting his British Marine marina operative course: Staff Spotlight – Lee
2) In May we featured one of our more unusual cruises which offers four things that you don't normally see on the English canals, including the world famous sluice that held back the sea from drowning most of Cambridgeshire and Suffolk. 4 Things You Don't Expect on a Narrowboat Holiday
3) The boatbuilding and maintenance team were delighted to receive these kind words from Mike and Malena about the work undertaken on their boat over recent times. They also sent us 'before' and 'after' pics of their boat: Customer Testimonial of the Month June
4) During National Picnic Week in June, we offered three simple steps to the perfect waterside picnic. How to Use Your Canal Boat Holiday to Plan the Perfect Picnic
To get more surprising ideas of how to really enjoy narrowboating in the Fens subscribe to our blog in the right sidebar – look for 'Follow Blog'. (We don't send spam or salesy type stuff – just interesting articles about boats and waterways!)
5) In July, two boats Olive Emily (built by Fox Narrowboats and moored at Fox's marina) and the cruiser Marie II, successfully navigated the Old Bedford River from the tidal River Ouse at Salters Lode to the current head of navigation at Welches Dam lock. Non tidal access to the Old Bedford ended 11 years ago when the Environment Agency piled the entrance to Welches Dam lock, so it was wonderful to be able to cruise this ancient and attractive waterway once more. Waterways Campaigner and mooring customer John Revell tells the full story: Intrepid Narrowboats Overcome Algae and Other Obstacles…
6) On 19th July River Nene locals, Jan Pickles Price and her husband Haydn, launched a free online canal guide that's based on Google Maps. The response was fantastic; they received over 100 registrations for the site on the first day: New Website Takes Canal Navigation into the Digital Age.
7) Over the summer we welcomed many families to Fox Narrowboats for holidays, short breaks and day boat hire, dragging the children away from their TVs and tablets, and into the great outdoors: Canal Boats: The Antidote to School Holiday Boredom
However, the summer is definitely over now and the poles and planks have been removed from our hire boats. We've started our winter maintenance jobs, and bookings are already coming in for the 2018 season so there's plenty for us to be getting on with. If you're curious to know how we 'winterise' a narrowboat check out our 3 basic steps to help you protect your narrowboat or canal boat from the cold.
If you want to join us for an awesome day out, or a week on the waterways next summer check availability here: Book Narrowboat Hire Online.