Places to Visit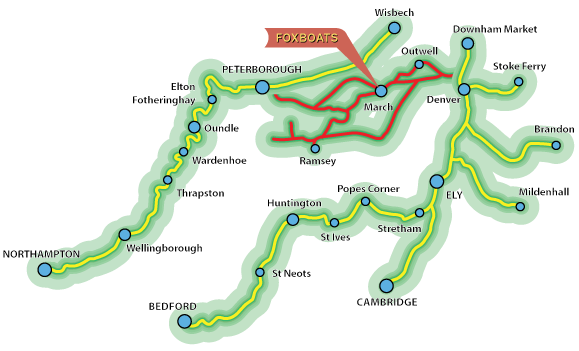 Click on a place name on the map
Places to visit on the waterways
The Fens boasts some of the most beautiful countryside in the UK described as a "hidden gem" by BBC countryfile presenter Adam Henson. Its a great place to escape that inner city hustle and bustle. You will find an abundance of wildlife & wild flowers. There are lots of traditional pubs, historic monuments and buildings dotted along the waterway routes. Hire a boat for a short break, week hire or more and you can visit Cambridge and Ely with its famous Cambridge University and Ely Catherdral
The fens is perfect for the boater who wants to explore "off the busy canals", and discovering history through museums, restored pump houses and old churches. See our blog for more detailed write up for amazing things to see and do both for seasoned boaters and families hiring a narrow boat for the first time.
1. Middle Level Waterways – March, Ramsey, Upwell & Outwell
Begin in March at our hire boat base, and then maybe visit the Ramsey Rural Museum. When you explore the Middle Levels you'll discover the twin villages of Upwell and Outwell. Upwell is one of the prettiest villages on the Fenland waterways. (Try mooring at The Five Bells Inn for a real ale.) Outwell Basin also provides some idyllic moorings and The Crown Lodge Hotel moorings are the last opportunity to moor for a drink before the tidal crossing at Salters Lode. From friendly lock keepers, to wind farms and kingfishers; Seven Surprising Differences We Discovered Cruising the Middle Levels.
2. River Ouse – St Ives, Ely & Cambridge

The River Great Ouse is a beautiful river which will allow you to visit St Ives, Ely and Cambridge. You'll be able to see historic buildings, parks and ancient monuments if you take this route. OuseFest is a local Cambridgeshire event that falls right in the middle of the summer narrowboat holiday season. Don't Miss #Ousefest on your Summer Narrowboat Holiday!
3. River Nene – Cambridgeshire, Northants

A journey through the Middle Level Navigations to the River Nene, offers many opportunities to moor in open countryside, unwind, and look out for kingfishers and other wildlife. The River Nene passes through Cambridgeshire and Northants where it connects the east of England to the rest of the UK waterway network. If you're looking for stunning countryside and attractive villages, beautiful lock surroundings with ancient mills, here are The 3 Best Moorings When Narrowboating on the Nene
4. Visit Ely
This city is known for its cathedral, whose famous lantern tower can be seen for miles around. But it's also worth visiting the many antique centres, ancient narrow streets, timbered houses and medieval gateways. You'll want to stop here and moor overnight. 3 Ely Secrets Every Hire Boater Should Know
5. Visit Cambridge
This world famous University City is known as the 'city of perspiring dreams', the home of students, bikes and colleges. Try shopping, restaurants and punting, while admiring the incredible architecture. 3 Things You Must Do When Visiting Cambridge
6. Visit St Ives
"As I was going to St Ives I met a man with seven wives…"
To visit St Ives on your Fox Narrowboats holiday you will need to spend a week on board because the journey time there and back is approximately 32 cruising hours. Oliver Cromwell's House has been refurbished to show how it may have looked during Cromwell's lifetime. The house has eight period rooms and the kitchen dates from around 1215. Find out more about moorings, cafes and the market at St Ives here: Old River Port St Ives
7. Do Museums
A visit to a museum can not only be surprisingly fun, but it is often a free day out! You will be spoilt for choice with Peterborough Museum, March and District Museum, Ely Museum, The Stained Glass Museum, Prickwillow Museum and The University of Cambridge Museums and Collections. Read more: Are Museums Ever Fun? The Answer Might Surprise You.
8. Do Pubs
Pubs are marked on the maps and cruising guides. We asked the Fox Narrowboats team what are some of the best pubs on the Fenland waterways? They were only too pleased to do some pub-related research, and suggested these three riverside pubs along some of our favourite holiday narrowboating routes. Our Top 3 Pubs for Your Fenland Narrowboat Holiday
You may also like Fenland Food and Dining: The Ultimate Boater's Guide.
9. Do Picnics
On a Fox boats narrowboat holiday you can stop just about anywhere you like. A picnic offers the opportunity to spend some quality family time together, gets everyone outdoors and costs very little money. Find out where to shop, where to stop and what to bring in: How to Use Your Canal Boat Holiday to Plan the Perfect Picnic
10. Do Canal Boating & Day Hire

No experience required! You will be fully trained as a narrowboat steerer as part of the boat handover routine. One of our RYA qualified instructors will explain how to operate the locks and will not let you start your narrow boat holiday until you are comfortable. The training will take place at the start of your holiday if you need it.
With over 400 Points Of Interest (POI) our cusotmised google map contains markers that can be filtered includes; moorings, pubs, restaurants, historic sights, churches, places, marina services and more. Text searches allow you to jump straight to the POI. Works on mobile phones.
Download archived illustrated maps (2013)
A map of the river Nene : nenemap
A map of the river Great Ouse : ousemap
Book now
Ready to do amazing things? Check here for availability of boats and dates to suit you.
Hey! Are you new here? Subscribe to our blog on the right to receive more secrets of the undiscovered Fenland waterways, by email. (We never share or sell email addresses, we'll only be sending you our local, insider knowledge, every two weeks.)