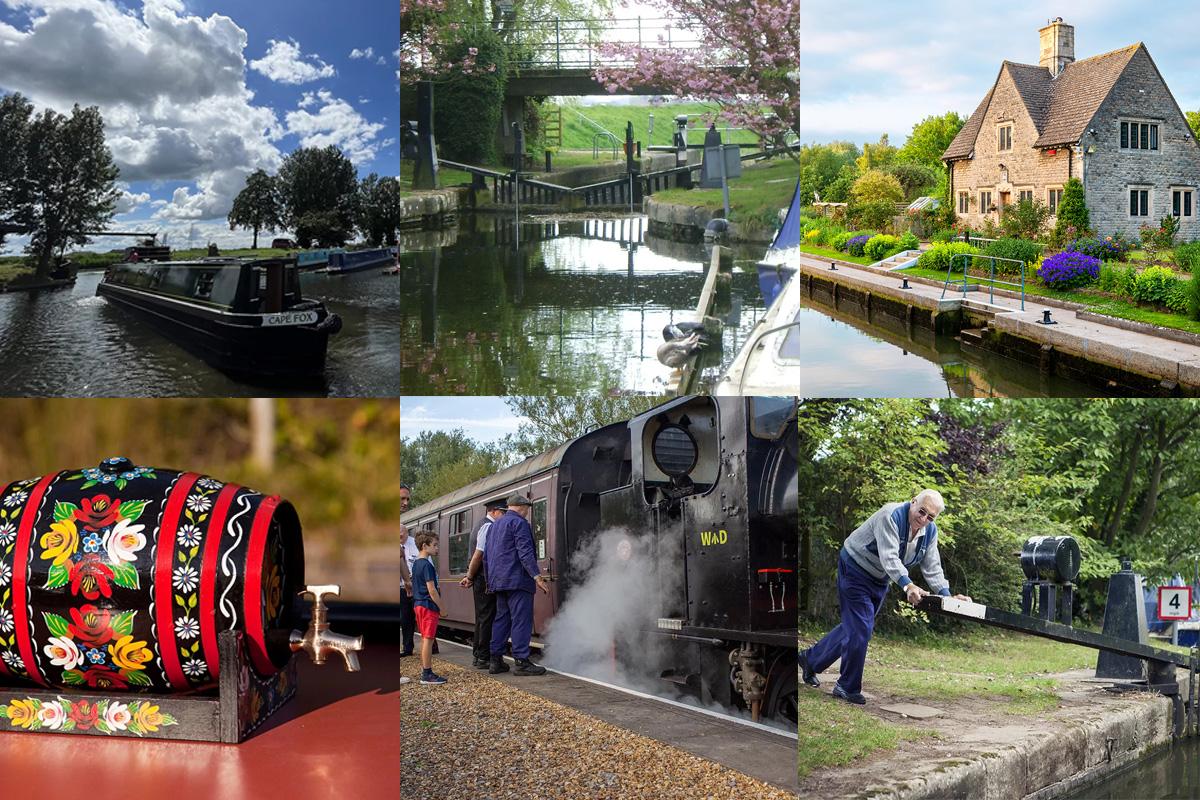 Have you been on a canal boat holiday before? Can you work a lock? Do you know your roses and castles from your slackers and penstocks? This year on our blog we covered all of these topics, plus we featured our local steam railway, and offered some cool tips for narrowboating in a heatwave. Here's a collection of articles gathered over another great year of holidays on the Fenland waterways.
Couples who narrowboat together, stay together! Am I right? OK, so maybe I'm biased, but I think canal boating is the perfect way to spend quality time with your partner. Over the years many celebrity couples have been spotted out cruising together on the English canals. Who have you seen on the waterways?
Read: 10 Celebrity Couples Who Narrowboat Together
Are you new to canal boating? Are you planning your first narrowboat holiday? Are you wondering if locks are really complicated? Don't worry. These simple tips will ensure that your first canal boat cruise goes smoothly, and that you impress your crew with your amazing lock operating skills!
Read: How to Work a Lock (Even if You've Never Done it)
What's different about the locks on the Fenland waterways? How do I get through a tidal lock? What are slackers, penstocks and staithes? Here are the three things you need to know!
Read: Three Things about Locks That Only Fenland Boaters Know
Will your short break or holiday with us be taking you to the river Nene? If so, you may want to check out the kind of events hosted by the Nene Valley Railway. Relax in a restored wooden panelled coach and go back in time, on a heritage steam or diesel train.
Read: Three Reasons to Visit the Nene Valley Railway by Narrowboat
Do you like to watch brightly painted narrowboats go by? Are you curious about the origins of canal folk art? Do you have any traditional canal ware at home?
If you like roses and castles you'll love: The Fox Boats Guide to Traditional Canal Ware
Are you looking for that elusive family holiday; the one that can please all of the people all of the time? Relaxing, yet adventurous, a change from everyday life, without the modern day hassle of traffic and airports?
Read: Why Narrowboating is the Perfect Family Holiday
Last summer extreme heat warnings were issued by the Met Office and the public were urged to use water wisely, due to drought.
Read: Five Cool Ideas for Narrowboating in a Heatwave
Instead of a holiday you could try day boat hire. Taking a day off to go messing about in boats will boost your mental health and create special memories with your loved ones. Get up close to nature and take photos as you travel at a leisurely pace through the Middle Level in Cambridgeshire. Our day boats carry up to 10 passengers, and everyone can have a go at steering.
Read: Day Boat Hire: The Antidote to Stress
And finally, as Bonfire Night approached we published a narrowboat guide to visiting the charming Northamptonshire village, which is connected to the Gunpowder Plot.
Read: River-Side Village's Surprising Connection to The Gunpowder Plot
Hopefully you've enjoyed reading these highlights from the year's blog. Never miss an article again. Just look for 'Follow Blog' in the sidebar on the right and enter your email address. We'll send you occasional stories, tips and advice about narrowboating around the Fens. (We never share or sell email addresses – your details are safe with us.)
If you want to take a canal holiday in 2023 check availability now. We have some great deals to look forward to.
You may also like: Why January is the Best Time to Book Your Hire Boat Holiday